***Warning - long / "woe is me" post ahead****
So a few months ago i found / joined this forum and my first post / thread was "help me be less awful at fifa" - plea for help because i was so annoyingly rubbish at the game. A good few helpful people chipped in and gave me some little hints and pointers and it defo helped a bit. I was still madly inconsistent but i uped my skill rating by 300 - 350 points over the next few weeks and battered on the door of G2 in WL, probably only missing out a few times due to deciding to play games at bad times (when tired or after a few ales on a sat evening).
But the last couple of weeks, i have gone backwards so much it is unbelievable. I scraped 14 wins last WL partly through having a god squad, and partly though a couple of crazy lucky wins (the type where the other guy probably smashed his controller).
Since then, its gone down hill fast and i feel like i am at rock bottom in fifa ability. I have gone from being very near Div 3, to droping to Div 5 and getting absolutely smashed up and down the pitch by Div 5 teams. Not even losing unluckly, getting totally destroyed.
Dont get me wrong, I appreciate there are plenty lower than Div 5, but i have spent a wad of cash to get this team, and i play a crazy amount of games so no excuse in being out of practice.
I am just completely lost at the moment with the game. I have been chopping and changing formations and playstyles, and things that worked for me for weeks at a time before, now dont work at all. I have even been changing my camera view, tried using a wired controller (to get rid of delay - it doesnt help). I have upgraded my squad to insane levels.
About a week ago now i splurged nearly all my non starting untradeables to do Prime Pele SBC. 98 Rated, surely even i cant make a mess of things with him.......and yet, i have. I get so little out of him its since. His shooting / finishing is class and the odd time i do manage to get a clean shot off with him from around 18 yards, its a stunning goal, but i so rarely get that far...... So add prime Pele, drop about 250 skill points. gg me
I hit my lowest ebb just now. Div 5, played a guy with a rank average, nearly all NIF squad. Not a player in this squad that should be much danger, and yet i got completely played off the pitch. He had an 85 rated team, and that was proped up by having 95 TOTS Alisson in goal. He played 4231 in game with TOTS Rhodri (who just bossed my PIM players) and NIF Frenkie De Jong as his DMs. Ahead of that he had NIF Zychech, NIF Jesus Navas and UCL Neres, behind NIF Rodrigo and they made me look so bad its unbelievable.
For context, here is the team i rocked out with. Was using 352 for this game: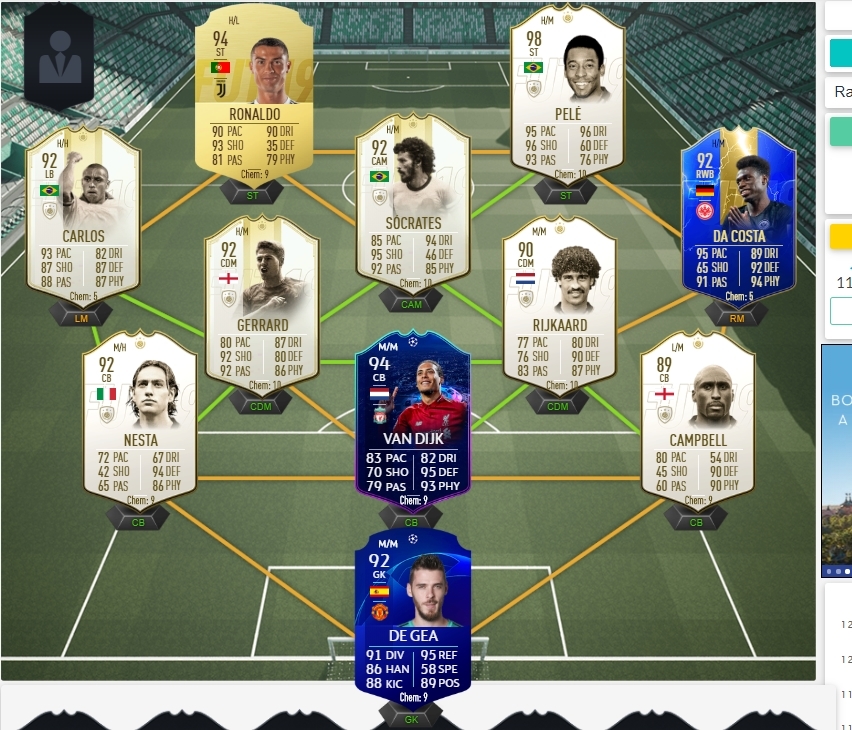 Here is the vid of the entire match (not expecting anyone can waste 16mins watching it all obviously)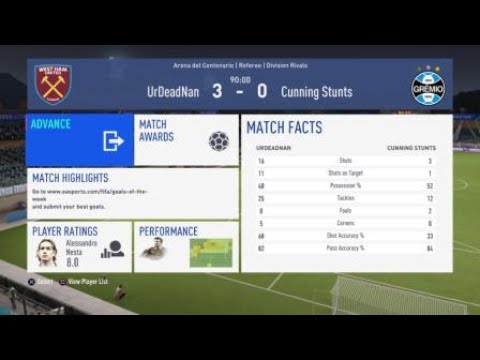 Goals against:
1)
00:49 in vid - This is just a player switch shambles by me. I initially switch to Da Costa (RM) to cover off the winger run, and that works well, so he comes inside. I want to control my DM at that point and for a split second the "2nd player icon" is above his head so i try to L1 switch, but as i do, it gives me VVD instead, and in my panic to then change back to the DM, i manage to bring VVD out of position, and then do still player switch to the DM, by which time its too late, huge gap, credit to the guy he sees this and passes into it and does well enough, although from there a blocked shot which somehow breaks in the air to his tiny player, half a yard from the goal line, is a bit lucky.....
2) 3:54 in vid - This one i am not sure about. Obviously i give away possesion, as i did so many times, when trying a simple pass between one CM and the other. He breaks and this time i decide to not control my defenders but to chase back with the DM, I dont get there, and at first glance he seems to just have an easy through ball and he is in. I get control of Campbell but its too late and nice finish. When i watch this back slowly, what in the name of all that is holy is Rijkaard doing??? He drops in under AI control, and he is the one covering Zyech, then for no reason he suddenly sprints 5 yards forward (under AI control, and he is not 2nd man pressing, you can see he never has the 2nd man icon above him). Is this something in my CT's that would cause this?
3) 09:04 in vid - Ok so the actual goal is from a corner, not sure i can do much there, but the build up move features another of my problems. I chase back with my RM, but cant get to it, he moves it inside and i get control of VVD. Now this is partly delay, i pressed for standing tackle with VVD pretty much as i got control of it, and by the time the game does it, i am lunging at fresh air and the ball is already gone. I see my opponents make these lunge tackles with defenders all the time, and every time they get the ball off me, but all to often my attempts look like that
Obviously the goals are the defending nightmare, and there are plenty other times in this game where he could easily have scored, and made me look so terrible defensively, but my attacking play was equally bad. Lost the ball everytime i got in and around the box. No final ball, and i can never ever seem to find my players in space the way that opponents seem to
Its obviously easy to say "oh its the servers" etc, and yes the gameplay is absolutely awful for me at the moment, but there is no way its all down to that. Not when its a game like this. The worst thing about this, is the opponent was nothing amazing. Barely a skill move to be seen, did not abuse any meta (that i could see). No far post crosses, no el tornado, not even high through balls to the wings. I am sure most of you watching / reading would have been delighted to be matched against him (or her?).
So eh yeah. Help..........