POTM Salah Player Review
Hello, and welcome to my review of this month's BPL Player of the Month card, Mohammed Salah. Now, it's safe to say the card looks extraordinary on paper, and possibly the best BPL striker in the game not named Gabriel Jesus. Before we get into the review, here is some important information.
Player:
SBC Price (Futbin Estimate From Scratch): 320,000
I Paid (Players in club + Purchases): 140,000
Team: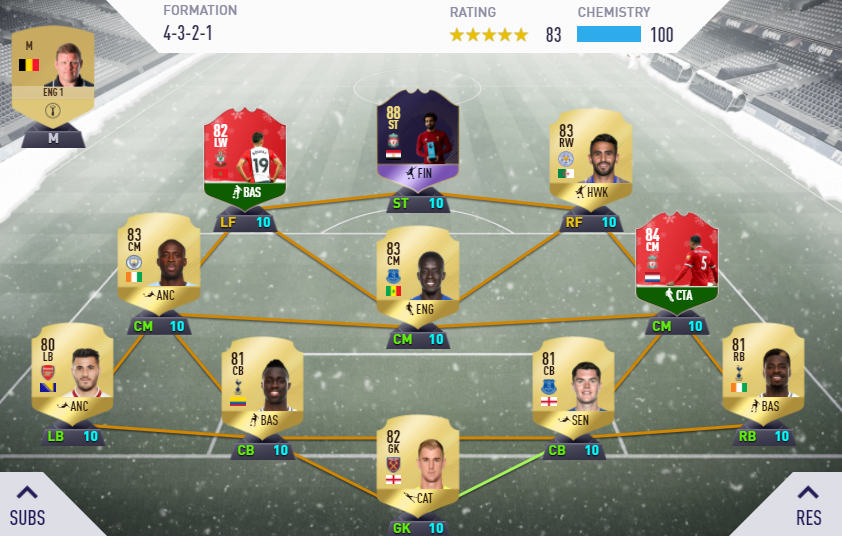 Salah's record:
Games: 21
Goals: 29
Assists: 6
Chemistry Style:
Finisher (+3 SHO, +3 PHY)
Now, onto the review. I'll be reviewing Salah stat by stat, with a final summary at the end, which you can skip to if you want a quick opinion.
Pace
Let's not beat around the bush, pace is often king in Ultimate Team, and Salah's on-card 96 will immediately grab the attention of most players, and in game, he definitely lives up to it. On the ball, if you beat a defender, they're gone. Even the quickest defenders with a Shadow chemistry style will struggle to keep up. But his pace shines brightest off the ball. One-two passes become deadly, with Salah bursting past defenders to meet the return ball. Salah makes for an excellent lone striker, playing off the last defender, waiting for the killer through ball, because once he's through on goal, there's no stopping him. There were a few rare occasions were his pace would cause rather large touches of the ball, causing him to lose possession, or the FUT gods seemed to intervene and slowed him down a little, but aside from that, if you're looking for pace, Salah won't disappoint.
9/10
Dribbling
If, like me, pace isn't the be all and end all for you, the 92 dribbling stat probably enticed you towards this card. However, I've reviewed many players with 90+ dribbling in the past who didn't play anywhere near that number. Thankfully, Salah is not one of them. He was an absolute joy to dribble around the pitch with, embarking on mazy runs, dazzling defenders and muddling midfielders. He turns very quickly, and executes skill moves as well as anyone. Ball rolls and stepovers become devastating in Salah's hands, combining with his pace to leave defenders no chance. Throughout all of my FIFA playing, I've used very few players who felt as menacing to a defence as Salah when running at them. His ball control was generally excellent, but let me down a few times in key areas, sullying his otherwise perfect dribbling.
9/10
Shooting
Next up is the very above-par 87 shooting. Now, it's important to remember, I'm using the Finisher chemistry style, giving him a boost, which I feel was needed. Salah's long shots are ridiculous. There's no denying that from range, he's a monster. Give him an inch and time to shoot, and you'll regret it. From either foot, he was deadly for me, be it power or finesse. His finishing was also excellent, however maybe not to the standard I'd expect of such a player. If he was in the box, I'd bank on him to score most times, but some I was a one on one opportunity go sailing just past the post, or just close enough to the goalkeeper to save it. But as I said, most times he was as lethal as you'd expect. But he can score from the most ridiculous of positions. If you get him, try a few long rangers and see for yourself.
8/10
Defending
Don't let the surprisingly high 53 on card stat fool you, he's not very good. Don't use him as a CM/CDM. Seriously, don't.
2/10
Passing
As part of a front three, I relied on Salah's passing quite heavily, and for the most part, he delivered. Generally, his passing was solid, not dropping possession and allowing for some fantastic link-up play. However, I noticed for longer passes, they were often intercepted, as he'd play them to close to defenders/midfielders. And at rare occasions, his simple passes would go straight to a defender, more so than Boufal or Mahrez. I definitely wouldn't say Salah was a bad passer though, far from it. His play between the two other strikers was fantastic at times, one touch passes cutting open the strongest of defences. Just be wary when playing longer balls across the pitch.
7/10
Physical
Probably the biggest worry about using this card is that he'll be weak, and won't get a chance to show his amazing abilities because defenders will destroy him as soon as he gets the ball. I felt the same, which is why I whacked the Finisher chemistry style on him, giving a large boost to his Physical, and man, it paid off. He's not a tank, by any means, and against stronger defenders, he won't be able to hold the ball too well, but better than you might think. His strength is often just high enough to do what you need to before he loses the ball, be that pass the ball off, or use his skills to beat the defender. Against less physical defenders, don't be surprised if he sends them to the floor, or holds them off easily. I'd definitely recommend boosting his PHY with a chemistry style, you'll be rewarded with fantastic all-round ability.
7/10
Overall
I love Salah. If you read the full review or just skimmed the ratings, you'd know that. His goals to games ratio may not be as insane as you'd expect, but that's playing as one of 3 strikers, with Boufal and Mahrez also scoring. Salah is everything I expected. He's quick, deadly on the ball and deadly with his shooting. His passing has been great, along with his surprising physicality. His biggest positive, and something which is difficult to talk about under any of his 6 stats is his off the ball ability. His running is phenomenal, finding positions to get the ball and making perfect runs beyond the defence. His build-up and attacking play with Mahrez and Boufal has been sensational, especially with the latter.
If you want to know whether Salah is worth it, I nigh-on bankrupted by club to get him, using nearly all of my coins and resources in my club, and I'd do it again. Would I do it for the 300k claimed by Futbin? It depends. If you're after a deadly striker, and have the right ways to link him up, I'd do it.
9/10
I hope you enjoyed this review. If you have any more questions about POTM Salah, or any players used, let me know. I'd also like to hear how you found Salah when you've used him, and whether you thought he was worth it. Have a good day, and once again, thank you.