Seeing as TOTS is right around the corner I feel that I need to ensure Toni is fairly treated this year, just like he thankfully was last year.
Toni has 17 goals and 2 assists in 32 games for Hellas Verona so far this season, and although he did start relatively slowly he has been banging in the goals on a regular basis for the majority of the season for a team that is only 12th in the league so it's not like he has world class players around him to provide the chances for him. He even managed a brace this weekend against Sassuolo despite Verona having a man sent off after around 20 minutes, so I think saying he carries them would be a bit of an understatement.
He even scored this quality finish at the weekend, as well as another fantastic volley a couple of weeks ago that you would have to find as I forgot where it came from.
Basically, Toni deserves a TOTS for the second year running, and at 37 years old he's still dominating Serie A. #TOTSToni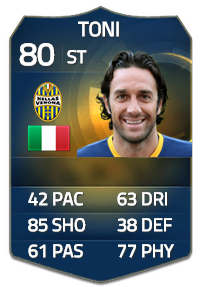 Don't worry, this will get bumped nearer the time so the Toni train will go on.