Welcome to the 32nd TOTW of Fut 15!
Ok so it is that time again, to get all excited for the potential 32nd batch of IF's for the Ultimate Team! Reality check again with last weeks score, back down from 15 to 9, so that was pretty poor. Hopefully do better this week.
Whilst this text is in red I am likely to either be away or at work and therefore will not be able to update.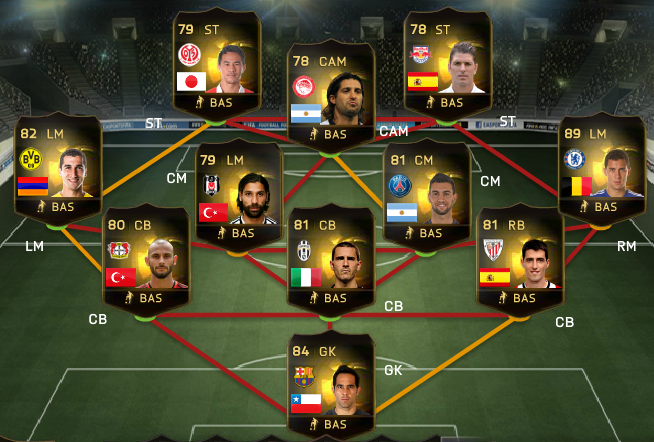 Towell > Olcay
Barclays Premier League:
CB: Wes Morgan - Leicester City - 71 > 73 > 74 (1 Assist and a Clean Sheet in a 2-0 Home Win (SAT)
LM: Eden Hazard - Chelsea - 88 > 89 (1 Goal in an important 1-0 Home Win (SAT)
Bundesliga:
GK: Yann Sommer - Borussia Monchengladbach - 79 > 80 (5 Saves and a Clean Sheet in a 0-0 Draw (FRI)
CB: Kyriakos Papadopoulos - Bayer Leverkusen - 78 > 80 (1 Goal and a Clean Sheet in a 4-0 Win (SAT)
CB: Omer Toprak - Bayer Leverkusen - 79 > 80 (1 Goal and a Clean Sheet in a 4-0 Home Win (SAT)
LM: Tobias Werner - FC Augsburg - 73 > 74 > 77 (1 Goal and 1 Assist in a 2-1 Win (SAT)
LM: Henrikh Mkhitaryan - Borussia Dormund - 81 > 82 (1 Goal and 1 Assist in a 3-0 Home Win (SAT)
STR: Shinji Okazaki - FSV Mainz - 77 > 79 (2 Goals in a 3-2 Away Win (SAT)
STR: Stefan Kießling - Bayer Leverkusen - 81 > 82 (1 Goal and 1 Assist in a 4-0 Home Win (SAT)
Liga BBVA:
GK: Juan Carlos - Cordoba - 71> 73 (7 Saves and a Clean Sheet in a 0-0 Draw (SUN)
GK: Claudio Bravo - FC Barcelona - 83 > 84 (Penalty Save, 3 Saves and a Clean Sheet in a 2-0 Win (SAT)
RB: Iraola - Athletic Bilbao - 80 > 81 (1 Assist and a Clean Sheet in a 4-0 Home Win (SAT)
STR: Antoine Griezmann - Atletico Madrid - 83 > 84 > 85 > 86 > 87 (2 Goals in a 2-1 Win (SAT)
STR: Aduriz - Athletic Bilbao - 80 > 81 (2 Goals (1 Pen) and an 8/10 in a 4-0 Win (SAT)
Ligue 1:
CB: Hilton - Montpellier - 77 > 79 > 80 (1 Goal and a Clean Sheet in a 1-0 Win (SUN)
RW: Javier Pastore - PSG - 80 > 81 (2 Goals in a 3-1 Away Win (SAT)
STR: Sofiane Boufal - Lille - 63 > 64 (2 Assists in a 2-0 Home Win (SUN)
Serie A:
CB: Leonardo Bonucci - Juventus - 79 > 80 > 81 (1 Goal and a Clean Sheet in a 2-0 Win (SAT)
CM: Ivaylo Chochev - Palermo - 66 > 70 (2 Goals in a 2-1 Home Win (SUN)
2. Bundesliga:
GK: Robin Himmelman - St Pauli - 58> 64 (6 Saves and a Clean Sheet in a 1-0 Home Win (FRI)
CB: Lasse Sobiech - St Pauli - 68 > 71 (1 Goal and a Clean Sheet in a 1-0 Home Win (FRI)
ALJ League:
LM: Thiago Neves - Al Hilal - 78 > 80 (2 Goals in a 3-0 Home Win (FRI)
ST: Waleed Al Gizani - Al Orobah - 64 > 64 (2 Goals in a 2-0 Win (SAT)
STR: Mohanned Aseri - Al Ahli - 59 > 64 (2 Goals in a 4-1 Home Win (SAT)
A-League:
CM: Roley Bonevacia - Wellington Phoenix - 64 > 64 (1 Goal and 1 Assist in a 3-2 Home Win (FRI)
CAM: Alex Brosque - Sydney FC - 65 > 69 (2 Goals in a 4-3 Away Win (FRI)
LW: Kenny Cunningham - Wellington Phoenix - 66 > 70 (2 Goals in a 3-2 Home Win (FRI)
RW: Jamie Maclaren - Perth Glory - 56 > 64 (3 Goals in a 3-1 Home Win (SUN)
STR: Tomi Juric - WSW - 65 > 69 (1 Goal and 1 Assist in a 2-1 Win (SAT)
A. Bundesliga:
STR: Jonatan Soriano - Red Bulls Salzburg - 76 > 78 (2 Goals and 2 Assists in a 6-0 Home Win (SAT)
STR: Louis Ngwat-Mahop - Altach - 63 > 64 (2 Goals in a 3-1 Win (WED)
STR: Patrick Seeger - Altach - 59 > 64 (1 Goal, 1 Assist and missed a Pen in a 3-1 Win (WED)
Allsvenskan:
GK: Stojan Lukic - Halmstad BK - 58 > 64 (9 Saves and a Clean Sheet in a 0-0 Draw (SAT)
Argentine Primera Division:
CB: Leandro Gonzalez - 67 > 70 (1 Goal a a 2-1 Home Win (SAT)
CB: Leandro Gonzalez - 67 > 70 (1 Goal and a Clean Sheet in a 2-0 Home Win (TUE)
STR: Carlos Luna - Tigre - 70 > 72 (2 Assists in a 2-0 Home Win (TUE)
STR: Fernando Cavenaghi - River Plate - 74> 74 (2 Goals and 1 Assist in a 4-1 Home Win (SUN)
Brazil:Chile:Columbia - Liga Postobon:
STR: Dario Lezcano - O'Higgins - 64 > 64 (2 Goals in a 2-0 Home Win (SAT)
Danish Superliga:
STR: Nicolai Jørgensen - Copenhagen - 71 > 73 (2 Goals in a 2-0 Win (SAT)
Ekstraklasa:
CB: Piotr Celeban - Slask - 70 > 72 (1 Goal and a Clean Sheet in a 3-0 Home Win (SAT)
Eredivisie:
GK: Sergio Padt - FC Groningen - 68 > 71 > 73 (5 Saves and 1 Assist in a 4-1 Away Win (SAT)
CDM: Nemanja Gudelj - AZ Alkmaar - 73 > 74 (2 Goals in a 3-1 Home Win (SAT)
CM: Tjaronn Chery - FC Groningen - 72 > 73 (2 Goals and 1 Assist in a 4-1 Away Win (SAT)
CM: Valeri Qazaishvili - Vitesse - 72 > 74 > 77 (2 Goals in a 3-0 Home Win (SAT)
RW: Luciano Narsingh - PSV - 75 > 77 (1 Goal and 1 Assist in a 4-1 Home Win (SAT)
STR: Luuk De Jong - PSV - 75 > 77> 79 > 80 (2 Goals and 1 Assist in a 4-1 Home Win (SAT)
Football league Championship:
GK: Gomes - Watford - 74 > 74 > 77 (10 Saves in a 3-1 Away Win over Promotion Rivals (WED)
CB: Craig Cathcart - Watford - 67 > 70 (1 Goal and a Clean Sheet in a 1-0 Home Win (SAT)
CM: Cole Skuse - Ipswich - 67 > 70 (1 Goal and 1 Assist in a 3-1 Home Win (TUE)
LM: Patrick Bamford - Middlesbrough - 65 > 69 > 72 (1 Goal and 1 Assist in a 2-1 Home Win (TUE)
RM: Matt Ritchie - Bournemouth - 69 > 72 > 73 (1 Goal and 1 Assist in a 2-2 Draw (SAT)
LW: Michail Antonio - Nottingham Forest - 68 > 71 (2 Goals and 1 Assist in a 3-3 Draw (SAT)
RW: Tom Ince - Derby County - 72 > 73 (2 Goals in a 4-4 Draw (SAT)
STR: Darren Bent - Derby County - 74 > 74 (2 Goals (1 Pen) in a 4-0 Home Win (TUE)
STR: Rudy Gestede - Blackburn Rovers - 68 > 71 (3 Goals in a 3-3 Draw (SAT)
Football League 1:
CB: Rob Jones - Doncaster Rovers - 64 > 64 (1 Goal and a Clean Sheet in a 1-0 Win (TUE)
CB: Luke Ayling - Bristol City - 64 > 64 (1 Goal and a Clean Sheet in a 6-0 Away Win (TUE)
CB: Aden Flint - Bristol City - 64 > 64 (1 Goal and a Clean Sheet in a 6-0 Away Win (TUE)
CM: Ben Gladwin - Swindon Town - ?? > ?? (3 Goals in a 4-2 Win, Not in Game? (Tue)
CM: Michael O'Connor - Port Vale - 64 > 64 (2 Goals in a 2-2 Home Draw (FRI)
LB: Andy Taylor - Walsall - 63 > 64 (1 Goal and a Clean Sheet in a 5-0 Home Win (TUE)
CM: Robert Hall - MK Dons - 67 > 70 (2 Goals in a 6-1 Home Win (SAT)
LM: Lewis Baker - MK Dons - 59 > 64 (1 Goal and 2 Assists in a 6-1 Home Win (SAT)
RM: James Tavernier - Bristol City - 65 > 69 (2 Goals in a 6-0 Away Win (TUE)
RM: Jimmy Ryan - Chesterfield - 63 > 64 (1 Goal and 1 Assist in a 6-0 Away Win (TUE)
RM: Dele Alli - MK Dons - 55 > 64 (1 Goal and 1 Assist in a 3-0 Away Win (TUE)
LW: Jordi Hiwula - Walsall - 58 > 64 (2 Goals in a 5-0 Home Win (TUE)
STR: Michael Smith - Swindon Town - 62 > 64 (Goal and 1 Assist in a 4-2 Away Win (TUE)
STR: Gary Roberts - Chesterfield - 66 > 70 (2 Goals and 2 Assists in a 6-0 Home Win (TUE)
STR: Sam Clucas - Chesterfield - 61 > 64 (2 Goals in a 6-0 Home Win (TUE)
Football league 2:
CB: Mark Ellis - Shrewsbury Town - 62 > 64 (1 Goal and a Clean Sheet in a 1-0 Home Win (SAT)
CB: Cian Bolger - Southend - 59 > 64 (1 Goal and a Clean Sheet in a 2-0 Home Win (TUE)
LB: Scott Griffiths - Luton Town - 60 > 64 (1 Goal and a Clean Sheet in a 3-0 Home Win (SAT)
RB: Joe Riley - Bury - 64 > 64 (1 Goal and a Clean Sheet in a 1-0 Home Win (TUE)
CM: Matt Sparrow - Cheltenham Town - 60 > 64 (1 Goal and 1 Assist in a 3-1 Win (TUE)
RW: Lucas Akins - Burton Albion - 59 > 64 (2 Goals in a 2-1 Away Win (SAT)
STR: Danny Haynes - Cheltenham Town - 65 > 69 (1 Goal and 1 Assist in a 3-1 Win (TUE)
STR: Kemar Roofe - Oxford United - 61 > 64 (2 Goals in a 3-0 Win (SAT)
Hellas League:
CAM: Alejandro Dominguez - Olympiakos - 76 > 78 (2 Goals and 1 Assist in a 4-0 Home Win (SUN)
Irish Premier Division:
STR: Michael Drennan - Shamrock Rovers - 60 > 64 (2 Goals in a 2-2 Home Draw (FRI)
Liga Adelante:
CB: Mickael Gaffoor - CD Numancia - 63 > 64 (1 Goal and a Clean Sheet in a 1-0 Win (SUN)
STR: Jorge Molina - Real Betis - 74 > 74 (2 Goals in a 4-0 Home Win (SUN)
STR: Reuben Castro - Real Betis - 78> 80 > 81 > 82 (2 Goals in a 4-0 Home Win (SUN)
Liga Zon Sagres
GK: Adriano Facchini - Gil Vicente - 71 > 73 (11 Saves and a Clean Sheet in a 1-0 Win (SUN)
CB: Bastos - Arouca - 67 > 70 (1 Goal and a Clean Sheet in a 2-0 Away Win (SUN)
STR: Jonas - Benfica - 79 > 80 (2 Goals in a 2-0 Win (SAT)
Ligue 2:
CDM: Thomas Ayasse - Troyes - 66 > 70 (1 Goal and a Clean Sheet in a 2-0 Home Win (FRI)
CDM: P.A. Camara - Valenciennes - 70 > 72 (1 Goal and a Clean Sheet in a 3-0 Home Win (FRI)
CDM: David Ducourtioux - GFC Ajaccio - 71 > 73 (1 Goal and a Clean Sheet in a 3-0 Home Win (FRI)
RM: Billy Ketkeophomphone - Tours - 65 > 69 (2 Goals in a 3-2 Away Win (FRI)
Liga Bancomer Mex:
CB: Yasser Corona - Queretaro - 66 > 70 (1 Goal and a Clean Sheet in a 4-0 Away Win (SAT)
LB: Daniel Arreola - Monarcas - 66 > 70 (1 Goal and a Clean Sheet in a 1-0 Home Win (SAT)
CAM: Ronaldinho - Queretaro - 80 > 81 (2 Goals in a 6 Min Sub Appearance (SAT)
MLS:
LM: Lamar Neagle - Seattle Sounders - 68 > 71 (2 Goals in a 3-1 Win (SUN)
LM: Fabian Castillo - FC Dallas - 71 > 73 (2 Goals in a 3-2 Home Win (SUN)
Pro League:
CB: Mijat Maric - Lokeren - 70 > 72 (1 Goal in a 5-1 Win (SAT)
CB: Frederic Brillant - Oostende - 65 > 69 (1 Goal and a Clean Sheet in a 2-0 Win (SAT)
LB: Ivan Obradović - KV Mechelen - 68 > 71 (1 Goal and a Clean Sheet in a 4-0 Win (SAT)
LW: Nicklas Pedersen - Gent - 70 > 72 (2 Goals in a 3-1 Away Win (FRI)
STR: Ghislain Gimbert - Zulte Wargem - 68 > 71 (2 Goals in a 2-2 Draw (SAT)
Raiffeisen SL:
LB: Jan Lecjaks - BSC Young Boys - 64 > 68 (2 assists + CS in a 4-0 Home Win (SUN)
CDM: Leonardo Bertone - BSC Young Boys - 48 > 64 (1 free kick goal + CS in a 4-0 Home Win (SUN)
RM: Renato Steffen - BSC Young Boys - 71 > 73 (2 Goals in a 4-0 Home Win (SUN)
STR: Goran Karanovic - Fc St Gallen - 64 > 64 (2 Goals in a 2-1 Away Win (SAT)
STR: Marco Schneuwly - Luzern - 69 > 71 (2 Goals in a 2-0 Home Win (SUN)
Russian Premier League:
CDM: Ivan Paurevic - FC Ufa - 62 > 64 (1 Goal and a Clean Sheet in a 1-0 Home Win (SAT)
RM: Quincy Promes - Spartak Moscow - 74 > 74 (2 Goals in a 3-1 Away Win (SAT)
Serie B:
GK: Alberto Brignoli - Ternana - 65 > 69 (6 Saves and a Clean Sheet with 10 Men in a Draw (SAT)
Sonata K-League:
CDM: Son Joon Ho - Pohang Steelers - 63 > 64 (2 Goals in a 4-1 Home Win (WED)
CAM: Lee Sang Ho - Suwon Bluewings - 64 > 64 (2 Goals in a 5-1 Home Win (SAT)
STR: Chong Te Se - Suwon Bluewings - 69 > 72 (2 Goals and 2 Assists in a 5-1 Win (SAT)
SPL:
CDM: Scott Brown - Celtic - 73 > 74 (1 Goal and 1 Assist in a 4-1 Home Win (WED)
STR: Lee Griffiths - Celtic - 70 > 72 (3 Goals in a 30 Min Sub Appearance, 4-1 Win (WED)
Scottish League:Tippeligaen:
RW: Daniel Holm - Valerenga - 66 > 70 (2 Assists in a 2-0 Home Win (FRI)
STR: Deshorn Brown - Valerenga - 68 > 71 (2 Goals in a 2-0 Home Win (FRI)
Turkey:
CB: Sezgin Coşkun - Eskisehirspor - 60 > 64 (1 Goal and a Clean Sheet in a 1-0 Win (SAT)
LM: Olcay Sahan - 75 > 77 (1 Goal and 2 Assists in a 5-1 Away Win (SAT)
Ukraine: