Welcome to the Xbox Community Centre Non Rare Lounge. Since i am going to be reasonably poor until March time when i trade my UT14, i have decided to focus on the cheap marvels that are non rares
Non rares have always been quite popular for a couple of reasons. Biggest reason being price, Non rares normally go for close to 350 coins (discard) unless they are really good. Also stats wise, Rares are normally rare because they have a stand out attribute whereas non rares normally have well rounded stats which in my opinion tends to make them all round better.
This is the place to find those non rare gems for your team, Build a full non rare team, Post your teams (which will be added to OP), Contributing to the thread and have general discussions about them. Feel free to suggest players and even include a review if you like and i will add it to the bio in OP.
Within this thread is a non rare database which i am doing myself. It includes Leagues + Nations which intertwine to help you find those players and make your teams. It is still a work in progress but will be completed soon enough. I have put a fair bit of work into this, so please appreciate it
Below is the contents for the database, use it along with "Ctrl + F" to find the League/Nation you want.
---
IF THERE IS A GREEN TICK ON THE PICTURE, IT MEAN I HAVE USED THAT PLAYER AND IT IS A RECOMMENDED PLAYER
Use Ctrl + F to find a certain league or nationContents
Post 1 - Leagues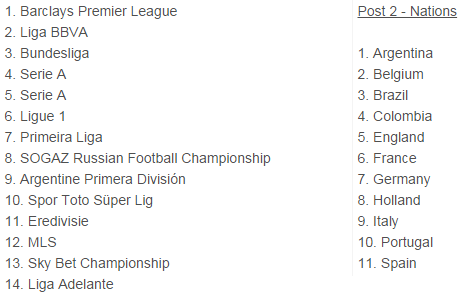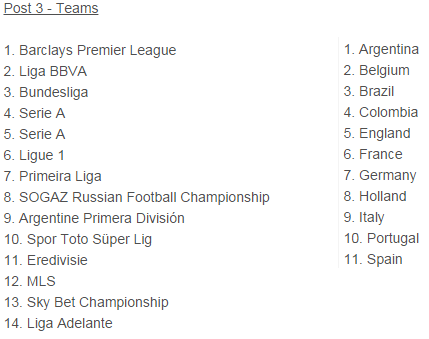 ---
Leagues

BPL Barclays Premier League
Gold
Morgan Schneiderlin -
90 Stamina, 85 Aggression, 83 Interceptions + Standing Tackle,
81 Long Passing + Heading, 82 Short Passing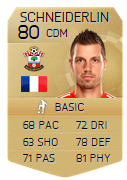 Younes Kaboul
- 86 Strength, 84 Aggression + Standing Tackle,
83 Heading Accuracy, 81 Jumping + Shot Power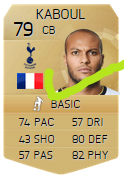 Ashley Williams
- 86 Strength + Jumping, 82 Standing Tackle, Heading + Aggression,
81 Heading Accuracy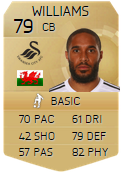 James McCarthy
- 91 Stamina, 83 Long Passing, 81, Slide + Standing Tackle,
80 Heading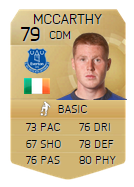 Kolo Toure
- 85 Strength, 84 Aggression, 81 Shot Power, Slide + Standing Tackle,
80 Heading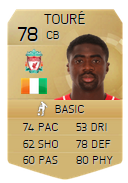 Ben Foster
Varela
- 84 Acceleration, 83 Sprint Speed, Shot Power + Dribbling,
80 Ball Control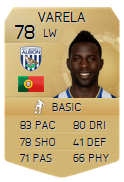 Jordan Henderson
- 91 Stamina, 83 Short Passing, 80 Long Passing + Jumping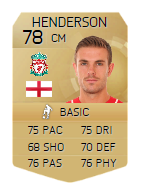 Danny Welbeck
- 86 Acceleration + Stamina, 85 Agility, 84 Agility +
Sprint Speed, 82 Short Passing, 81 Heading Accuracy, 80 Dribbling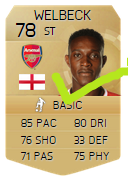 Gaston Ramirez
- 84 Dribbling, 82 Ball Control, 81 Agility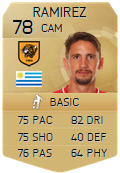 Mathieu Flamini
- 87 Aggression, 85 Stamina, 82 Interceptions,
80 Marking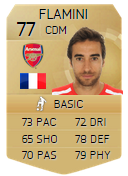 Stephane Sessegnon
- 90 Balance, 84 Agility, 82 Pace, Dribbling +
Sprint Speed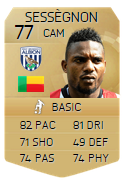 Rafael
- 84 Agility + Acceleration, 83 Balance, Stamina + Aggression
82 Sprint Speed, 80 Slide Tackle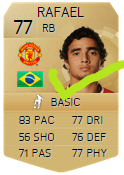 Charles N'Zogbia
- 87 Acceleration, 84 Balance, Sprint Speed, FK Accuracy,
Agility + Dribbling, 81 Ball Control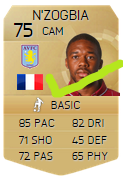 Shane Long
- 90 Jumping, 85 Acceleration, 83 Sprint Speed, 82 Stamina,
80 Heading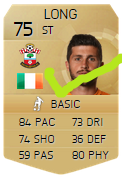 Jay Rodriguez
-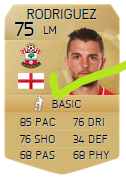 Silver
Vurnon Anita
- 89 Balance, 84 Balance, 82 Agility, 80 Aggression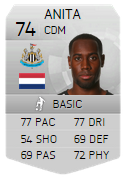 Kurt Zouma
- 85 Strength, 84 Jumping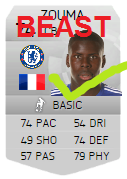 Michael Kightly - 82 Balance + Stamina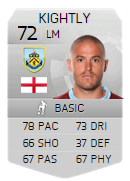 Sebastien Pocognoli
- 84 Stamina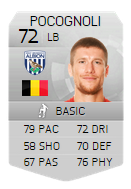 Kieran Trippier
- 85 Stamina, 84 Acceleration, 82 Sprint Speed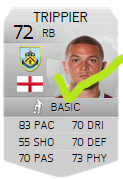 Ahmed Elmohamady
- 83 Sprint Speed, 81 Acceleration, 80 Jumping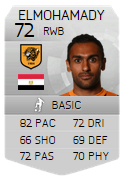 Yanick Sagbo
- 82 Jumping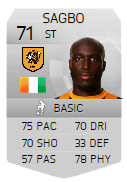 Chris Herd
- 90 Jumping, 88 Aggression, 80 Heading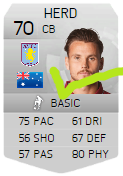 Aaron Cresswell
- 90 Balance, 84 Jumping, 82 Sprint Speed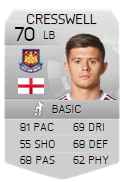 Diafra Sakho
- 88 Sprint Speed, 83 Pace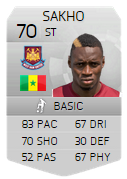 Manquillo
- 84 Acceleration, 82 Sprint Speed
Riyad Mahrez
- 87 Agility, 83 Sprint Speed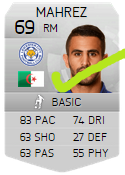 Liga BBVA
Gold
Gabi
- 86 Curve, 85 Short Passing, 84 Interceptions + Long Passing,
83 penalties + Vision, 82 Stamina 81 Shot Power + Reactions, 80 Ball Control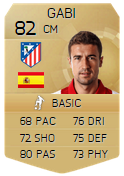 Susaeta
- 87 Curve + Sprint Speed, 85 Crossing+ Agility, 84 FK Accuracy,
81 Ball Control, 80 Dribbling
Inigo Martinez
- 88 Jumping, 86 Slide Tackle, 85 Aggression, 84 Interceptions,
83 Standing Tackle, 82 Shot Power + Marking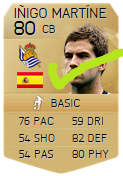 Ibai Gomez
- 85 Shot Power, 84 Dribbling + Curve, 83 Long Shots, Agility + Acceleration,
82 Ball Control + FK Accuracy, 81 Finishing + Sprint Speed, 80 Crossing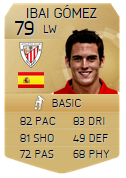 Moya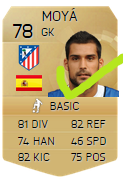 Mikel Rico
- 92 Stamina, 85 Reactions + Short Passing, 84 Jumping + Stand Tackle,
82 Interceptions, 81 Heading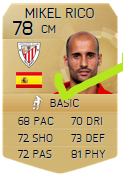 Diego Castro
- 83 Penalties, Dribbling + Acceleration, 82 Balance, Dribbling + Curve,
81 Ball Control, 80 Attacking Position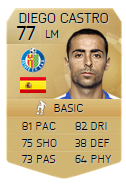 Cristian Ansaldi
- 92 Stamina, 86 Sprint Speed, 82 Acceleration, 81 Slide Tackle,
80 Agility + Reactions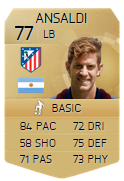 Benoit Tremoulinas
- 89 Stamina, 84 Sprint Speed, 82 Crossing + Agility,
81 Curve + Reactions, 80 Short Passing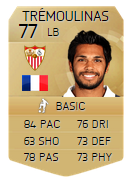 Nolito
- 84 Dribbling + Agility, 82 Curve + FK Accuracy, 81 Balance,
80 Attacking Position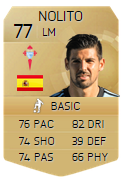 Daniel Carrico
- 91 Jumping, 85 Aggression, 83 Interceptions, 82 Standing Tackle,
81 Heading, 80 Heading Accuracy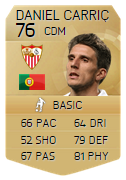 Pablo Perez
- 91 Aggression, 83 Stamina, 82 Short Passing, 80 Ball Control + Balance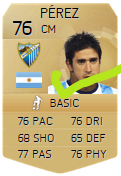 Silvers
Casado
- 86 Stamina, 83 Sprint Speed, 82 Jumping, 81 Shot Power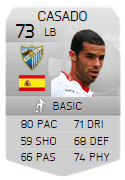 Michel
- 90 Stamina, 87 Jumping, 86 Sprint Speed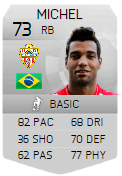 Lica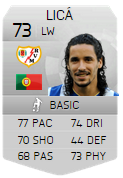 Liassine Cadamuro
- 83 Strength, 82 Aggression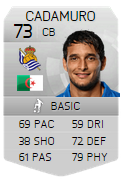 Jonny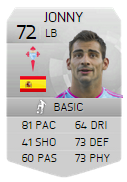 Saul
- 82 Acceleration, 80 Strength + Jumping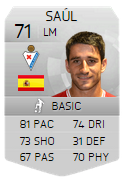 Aloys Nong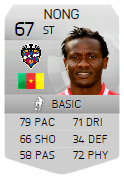 [Bundesliga
Gold
Lars Bender
- 94 Stamina, 86 Interceptions, 84 Standing Tackle,
83 Short Passing, 82 Reactions, 81 Defending + Heading, 80 Long Passing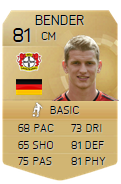 Diego Bengalio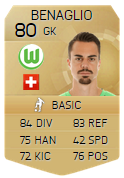 Gonzalo Castro
- 84 Agility, 83 Short Passing + Balance, 82 Jumping + Reactions,
81 Vision, 81 Ball Control + Dribbling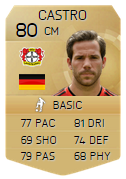 Ivica Olic
- 87 Stamina, 86 Aggression, 82 Heading + Sprint Speed,
81 Shot Power + Finishing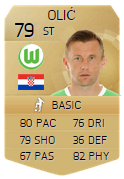 Valon Behrami
- 89 Aggression, 87 Stamina, 86 Slide Tackle, 83 Stand Tackle,
82 Interceptions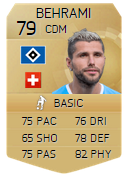 Valentin Stocker
- 84 Agility, 82 Attacking Position, Ball Control, Sprint Speed
+ Pace, 80 Vision, Crossing, Dribbling + Finishing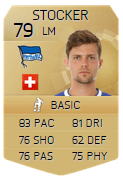 Kevin Volland
- 89 Stamina, 85 Balance, 84 Shot Power, 82 Acceleration,
81 Finishing, 80 Ball Control + Heading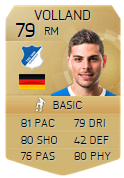 Omer Toprak
- 82 Marking, 81 Stand Tackle + Heading Accuracy,
80 Jumping + Reactions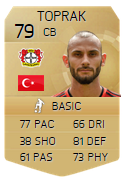 Aaron Hunt
- 82 Penalties, 80 Vision, Short Passing + Reactions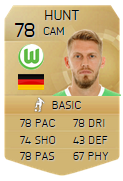 Ivan Perisic
- 85 Volleys, 83 Acceleration + Shot Power, 82 Jumping,
81 Heading Accuracy + Long Shots,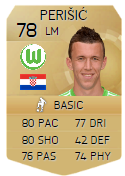 Max Kruse
- 84 Stamina, 81 Ball Control, Vision, Shot Power + Penalties,
80 Short passing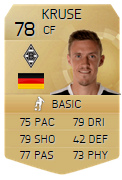 Marcell Jansen
- 83 Sprint Speed, 82 Shot Power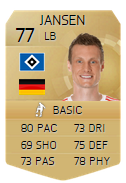 Carlos Zambrano
- 87 Aggression, 81 Jumping, 80 Heading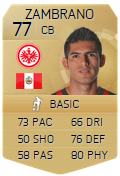 Kevin Grosskreuts
- 93 Stamina, 87 Aggression, 83 Sprint Speed,
81 Interceptions, 80 Crossing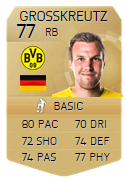 Josip Drmic
- 82 Sprint Speed, 81 Finishing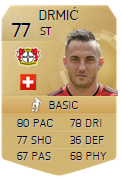 Sebastian Rode
- 87 Stamina, 83 Aggression, 82 Jumping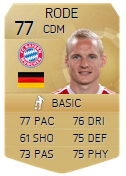 Nelson Valdez
- 93 Jumping, 90 Heading Accuracy, 83 Aggression
Koo Ja Cheol
- 84 Agility, 82 Dribbling, 81 Long Shots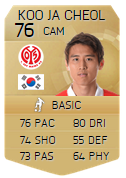 Admir Mehmedi
- 81 Agility + Dribbling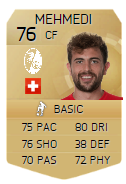 Zlatko Junuzovic
- 94 Stamina, 91 Agility, 90 Balance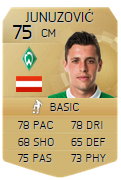 Silver
Antonio Rudiger
- 84 Aggression, 83 Sprint Speed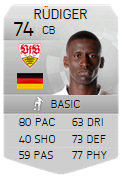 Timothy Chandler
- 84 Sprint Speed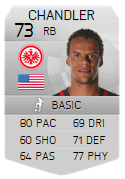 Erik Durm
- 86 Sprint Speed, 82 Stamina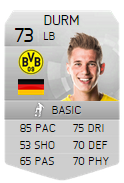 Tobias Weis
- 84 Aggression, 83 Balance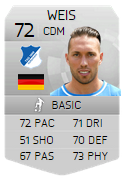 Hong Jeong Ho
- 80 Jumping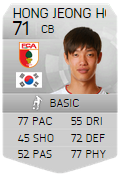 Felix Klaus
- 87 Acceleration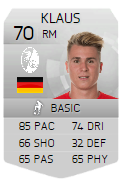 Simon Zoller
- 84 Acceleration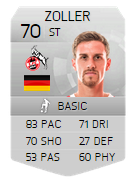 Branimir Hrgota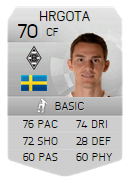 Shawn Parker
- 84 Acceleration, 81 Shot Power, 80 Jumping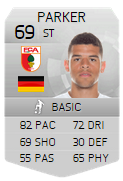 Serie A
GoldRodrigo Palacio
- 86 Acceleration, Ball Control + Attack Positioning,
85 Finishing + Sprint Speed, 83 Agility, Curve, Balance, Reaction, Dribbling + Penalties,
81 Long Shots + Volleys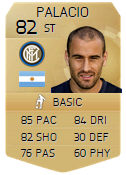 Nigel de Jong
- 87 Aggression, 86 Balance, 85 Interceptions,
84 Slide Tackle, 82 Short + Long Passing, Heading + Stand Tackle, 81 Strength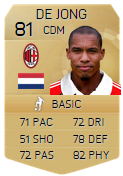 Hugo Campagnaro
- 85 Strength, 84 Standing Tackle, Jumping + Aggression,
83 Interceptions, 82 Marking + Slide Tackle, 80 Heading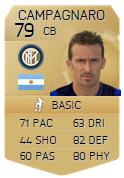 Federico Marchetti
- 84 Jumping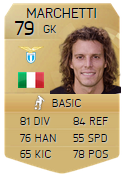 Adil Rami
- 90 Strength, 85 Shot Power, 84 Standing Tackle,
83 Marking, Interceptions, Aggression, 80 Heading Accuracy, Jumping + Slide Tackle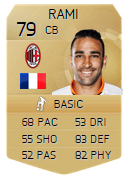 Jeremy Menez
- 86 Sprint Speed, 84 Dribbling + Ball Control, 82 Agility
Andrea Poli
- 82 Stamina + Short Passing, 81 Vision + Ball Control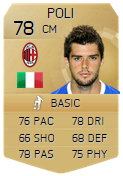 Senad Lulic
- 91 Stamina, 85 Sprint Speed, 83 Shot Power + Crossing, 81 Physical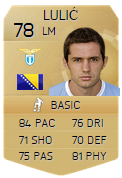 Juan Jesus
- 90 Jumping, 84 Strength + Aggression, 82 Standing Tackle,
81 Heading, 80 Marking + Interceptions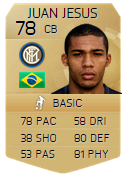 Philippe Mexes
- 89 Jumping, 87 Aggression, 84 Strength, 82 Slide Tackling,
80 Heading + Standing Tackle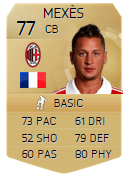 Stefan Radu
- 84 Interceptions, 83 Jumping, 81 Stand and Slide Tackle + Marking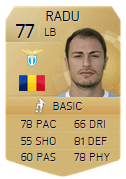 Marko Marin
- 91 Agility, 90 Balance, 86 Acceleration + Dribbling, 83 Ball Control,
82 Short Passing + Vision, 81 Curve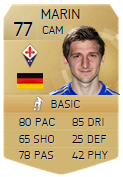 Angelo Ogbonna
- 87 Jumping + Strength, 83 Marking, Standing Tackle + Interceptions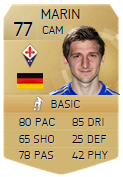 Mattia Destro
- 85 Attacking Postition, 82 Jumping + Finishing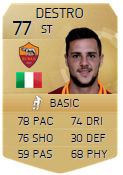 Morata
- 81 Strength, Finishing + Attacking Position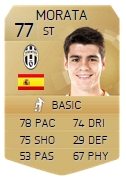 Christian Maggio
- 91 Jumping, 89 Stamina, 81 Sprint Speed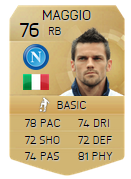 Perparim Hetemaj
- 90 Stamina, 89 Aggression, 88 Jumping, 86 Agility,
83 Balance, 81 Sliding Tackle, 80 Heading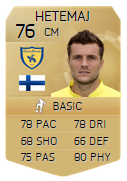 Adem Ljajic
- 83 Ball Control, 82 Dribbling, Agility + Acceleration,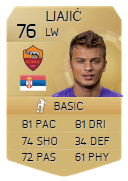 Romulo
- 86 Stamina, 83 Sprint Speed + Acceleration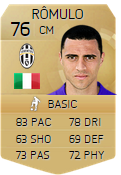 Alessandro Florenzi
- 85 Stamina + Agility, 84 Balance, 82 ACCELERATION,
81 Attacking Position + Volleys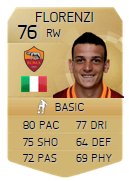 Mattia De Sciglio
- 87 Stamina, 86 Sprint Speed, 81 Crossing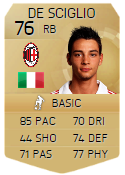 Antonio Nocerino
- 89 Stamina, 84 Aggression, 82 Balance, 80 Heading
Eder
- 86 Acceleration, 84 Agility, 82 Balance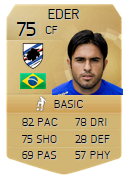 Manolo Gabbiadini
- 87 Shot Power, 84 Sprint Speed, 82 Long Shots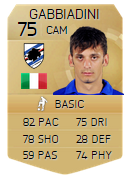 Ogenyi Onazi
- 90 Balance, 89 Agility, 84 Stamina, 83 Acceleration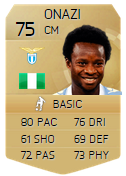 Silvers
Faouzi Ghoulam
- 84 Sprint Speed, 80 Crossing + Stamina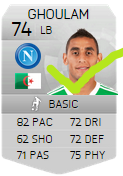 Nenad Krsticic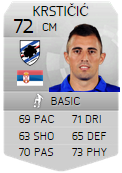 Emmanuel Badu
- 85 Jumping, 84 Acceleration, 82 Agility, Balance + Stamina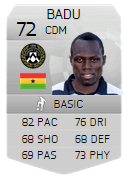 Edenilson
- 86 Acceleration, 85 Sprint Speed, 82 Agility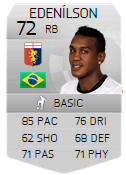 Giancarlo Gonzalez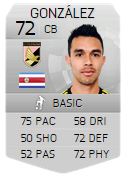 Luca Antonini
Daniele Dessena
- 86 Stamina, 81 Aggression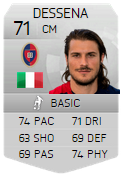 Leandro Paredes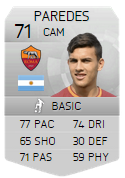 Brayan Perea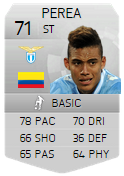 Salih Ucan
- 83 Agility, 82 Acceleration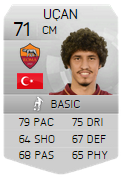 Richmond Boakye
- 85 Sprint Speed, 82 Jumping, 81 Acceleration + Shot Power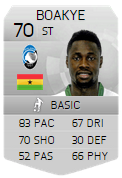 Isaac Cofie
- 81 Stamina, 80 Aggression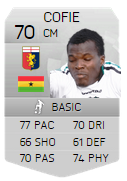 Juan Ignacio Gomez
- 86 Sprint Speed, 85 Jumping, 83 Acceleration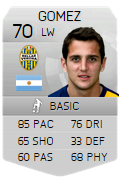 Ligue 1
Golds
Maxime Gonalons
- 91 Stamina, 86 Aggression, 84 Standing Tackle,
83 Interceptions + Heading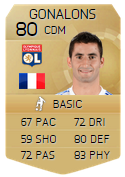 Marco Verratti
- 93 Balance, 87 Agility, 86 Short Passing, 85 Ball Control,
84 Vision, 83 Dribbling, 82 Reactions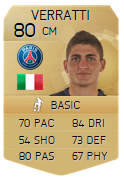 Nicolas Nkoulou
- 83 Interceptions, 82 Jumping, 81 Standing Tackle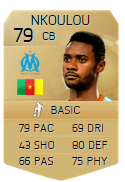 Andre Ayew
- 92 Jumping, 86 Agility + Stamina, 82 Sprint Speed,
81 Balance, 80 Ball Control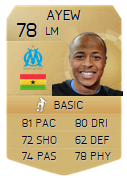 Romain Hamouma
- 85 Acceleration, 84 Agility, 83 Sprint Speed,
81 Dribbling + 80 Crossing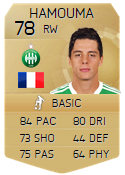 Marquinhos
- 84 Slide Tackling, 83 Jumping, 81 Marking, 80 Stand Tackle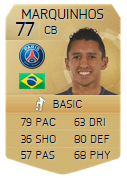 Gregory Sertic
- 83 Shot Power, 82 Aggression + Stamina, 80 Short Passing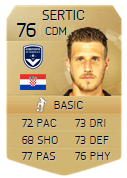 Danijel Subasic
- 80 Strength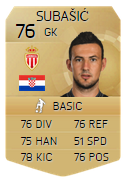 Michy Batshuayi
- 84 Agility, 88 Sprint Speed+ Finishing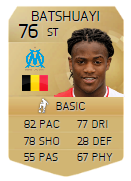 Samuel Umititi
- 85 Jumping, 80 Stamina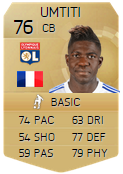 Clement Chantome
- 82 Vision, 80 Short Passing + Aggression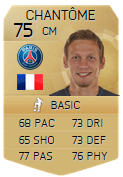 Gueida Fofana
- 83 Stamina + Shot Power, 82 Jumping, 80 Heading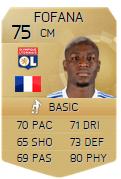 Silver
Rod Fanni
- 84 Sprint Speed, 80 Aggression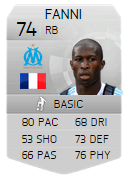 Prince Onaingue
- 823 Stamina, 82 Jumping, 80 Strength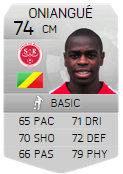 Simon Pouplin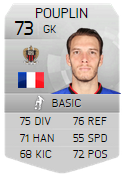 Bakary Kone
- 82 Jumping, 81 Heading Accuracy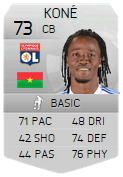 Foued Kadir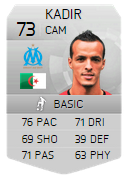 Philipp Hosiner
- 85 Sprint Speed, 84 Attacking Position, 82 Reactions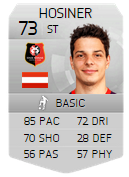 Uros Spajic
- 82 Aggression
Issa Cissokho
- 90 Stamina, 84 Sprint Speed, 81 Balance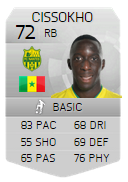 Anders Kondradsen
- 92 Stamina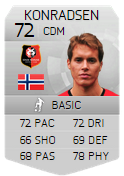 Brice Dja Djedje
- 81 Aggression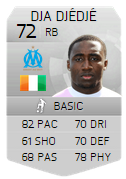 Primeira Liga
Gold
Nicolas Gaitan
- 88 Agility, 87 Dribbling + Curve, 85 Call Control + Acceleration,
84 Vision + Volleys, 83 Balance, Reactions + Crossing, 81 Passing, 80 Short Passing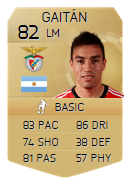 Helton
- 81 Jumping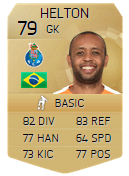 Adrian
- 88 Acceleration, 84 Ball Control + Dribbling, 83 Dribbling,
82 Agility + Reactions, 80 Attacking Postition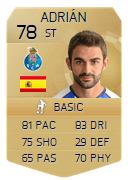 Lima
- 85 Shot Power, 83 Penalties, 81 Attacking Position, 80 FK Accuracy + Shooting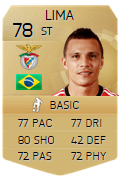 Juan Fernando Quintero
- 90 Balance, 86 Agility, 85 Dribbling, 83 FK Accuracy,
82 Ball Control, 81 Shot Power + Curve, 80 Short Passing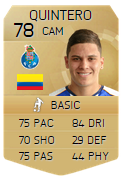 Ruben Amorim
- 82 Short Passing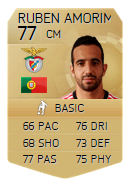 Danilo
- 85 Shot Power, 82 Long Shots + Sprint Speed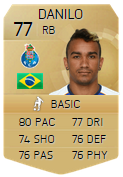 Hector Herrera
- 87 Stamina, 80 Aggression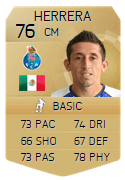 Eder
- 84 Strength, 82 Physical + Aggression , 80 Shot Power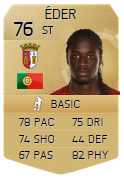 Pizzi
- 85 Acceleration, 84 Balance, 80 Agility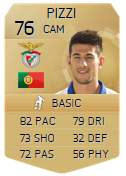 Vincent Aboubakar
- 87 Sprint Speed, 84 Strength, 82 Shot Power + Acceleration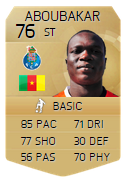 Casemiro
- 85 Jumping, 83 Shot Power, 82 Long Passing, 81 Strength,
80 Interceptions, Stamina + Standing Tackle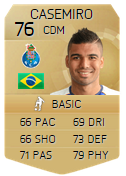 Cedric
- 88 Stamina, 83 Balance, Acceleration + Shot Power, 82 Sprint Speed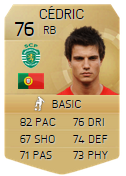 Silver
Luiz Carlos
- 92 Stamina, 90 Jumping, 85 Aggression
Marcal
- 86 Stamina, 85 Sprint Speed, 80 Reactions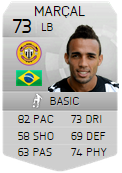 Marcelo
- 90 Jumping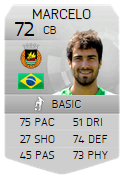 Pedro Santos
- 85 Sprint Speed, 83 Balance + Acceleration, 81 Agility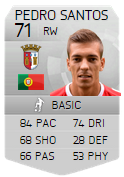 Paolo Hurtado
- 86 Sprint Speed, 80 Jumping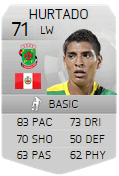 Mano
- 87 Balance, 84 Stamina + Jumping, 83 Agility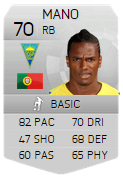 Joao Aurellio
- 81 Stamina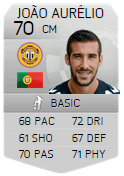 Mauro
- 80 Jumping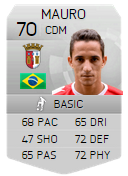 Jonathan Sliva
- 86 Stamina, 82 Sprint Speed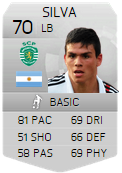 Diogo Amado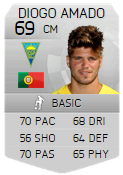 Ruben Neves
-0 85 Jumping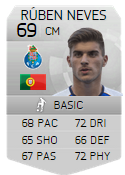 Fabrice Fokobo
- 89 Jumping, 86 Aggression, 80 Strength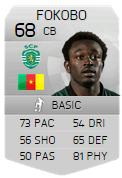 SOGAZ Russain Football Premiership
Golds
Igor Denisov
- 91 Stamina, 87 Aggression, 84 Standing Tackle, 83 Interceptions,
82 Short Passing + Marking, 80 Defending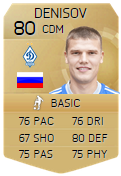 Roman Eremenko
- 84 Vision, 83 Short Passing, 82 Stamina, Long Shots, Dribbling,
81 Ball Control, 80 Curve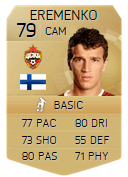 Manuel Fernandes
- 84 Long Passing + Ball Control, 83 Short Passing,
Acceleration + Dribbling, 82 Dribbling, Aggression, Long Shots, Shot Power + Agility,
81 Passing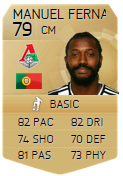 Javi Garcia
- 90 Jumping, 89 Strength, 88 Aggression, 85 Heading Accuracy,
83 Interceptions, 82 Standing Tackle, 80 Marking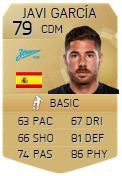 Lassana Diarra
- 87 Aggression, 85 Standing Tackle, 84 Interceptions,
80 Slide Tackle, Marking Stamina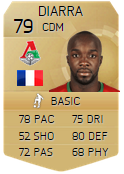 Roman Shirokov
- 85 Short Passing, 83 Vision, 82 Long Passing, 81 Attacking Position,
80 Penalties + Shot Power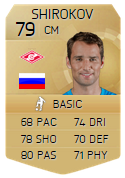 Dame N'Doye
- 87 Strength, 84 Shot Power, Stamina + Heading Accuracy,
82 Attacking Position + Finishing, 80 Aggression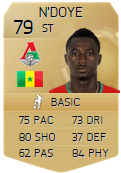 Balazs Dzsudzsak
- 88 Crossing, 87 Shot Power, 85 FK Accuracy, 84 Curve,
83 Long Shots, Agility + Acceleration, 81 Stamina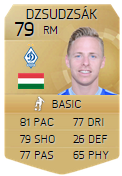 Alan Dzagoev
- 84 Vision, 83 Penalties, 82 Reactions + Acceleration,
81 Ball Control, 80 FK Accuracy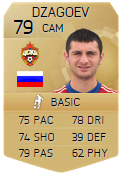 Domenico Criscito
- 86 Strength, 82 Aggression + Sprint Speed, 80 Stand Tackle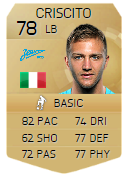 Yura Movsisyan
- 84 Sprint Speed, 82 Shot Power, 81 Finishing,
80 Attacking Position + Long Shots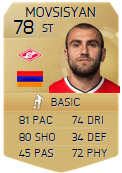 Ivelin Popov
- 83 Short Passing, 81 Acceleration, 80 Attacking Position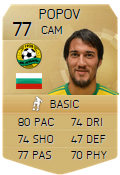 Yuriy, Lodygin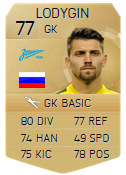 Alan Kasaev
- 83 Stamina + Sprint Speed, 82 Acceleration, 81 Balance,
80 Attacking Position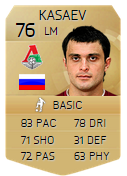 Mario Fernandes
- 83 Sprint Speed, 81 Marking + Stamina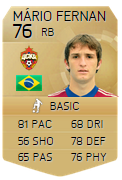 Salvatore Bocchetti
- 82 Jumping, 81 Heading Accuracy, 80 Aggression + Acceleration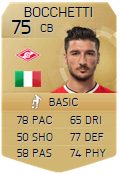 Silver
William Vainqueur
- 86 Acceleration, 85 Stamina, 84 Aggression,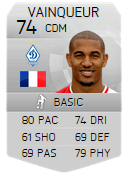 Artem Rebrov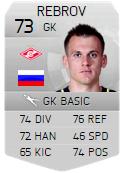 Georgiy Schennikov
- 84 Acceleration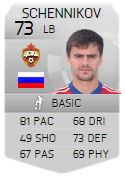 Pavel Yakovlev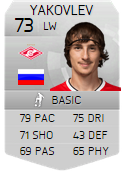 Andrey Eschenko
- 86 Balance, 81 Sprint Speed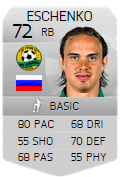 Georgi Milanov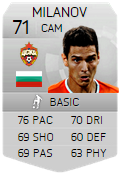 Evgeniy Makeev
- 87 Acceleration