Home Ground
Goodison Park
After 2 struggling season's things finally got too much for The Merseyside Club as they find themselves Relegated from the Top Division for the first time since 1950 and only the 3rd time in the clubs History have they been relegated. It may not seem like it, but Everton are a Sleeping Giant with many Honours to show for it. Can The Toffees recover and return back to The Premier League? Time will tell, but it will be a HUGE rebuild for whoever is in charge. Maybe with new Ownership or Board Members? The fans sure hope so as Bill Kenwright is not a popular figure and things need to change somewhere.

Domestic Honours
First Division:
Titles (9): 1890–91, 1914–15, 1927–28, 1931–32, 1938–39, 1962–63, 1969–70, 1984–85, 1986–87
Second Division
:
Titles (1): 1930–31
FA Cup
:
Titles (5): 1905–06, 1932–33, 1965–66, 1983–84, 1994–95
Football League Cup:
Runner-up
(2): 1976–77, 1983–84
FA Charity Shield:
Titles
(9): 1928, 1932, 1963, 1970, 1984, 1985, 1986 (shared), 1987, 1995
Full Members Cup
:
Runner-up (2): 1989, 1991
Football League Super Cup:
Runner-up
(1): 1985–86
European Honours
European Cup Winners' Cup:
Winners: (1): 1984–85
Club Records

Firsts
First FA Cup match – v. Bolton, First Qualifying Round, 12 November 1887 (drew 0–0)[4]
First League match – v. Accrington, First Division, 8 September 1888 (won 2–1)
First match at Goodison – v. Bolton, First Division, (won 4–2)
First European match – v. Dunfermline F.C., Fairs Cup, 25 September 1962 (won 1–0)
First League Cup match – v. Accrington Stanley, (won 3–1)
Record wins
Record League Victory: 9–1 v Manchester City, 3 September 1906; v Plymouth Argyle, 27 December 1930 (W Dean & J Stein both scored 4, a first for Everton)
Record FA Cup Victory: 11–2 v Derby County, FA Cup, 5th Round, 18 January 1890 (Hat-tricks from Fred Geary, Alec Brady and Alf Milward)[5]
Record League Cup Victory: 8–0 v Wimbledon, League Cup, 2nd Round, 29 August 1978
Record Aggregate League Cup Victory: 11–0 v Wrexham, League Cup, 2nd Round, 1990
Record European Victory: 6–1 v SK Brann, UEFA CUP, Round of 32, 21 February 2008
Record Aggregate European Victory: 10–0 v Finn Harps, UEFA CUP, 1st Round, 1978
List of National Records/Fun Facts

Goodison Park was the world's first purpose made and designed dedicated football ground.
Goodison Park is the only club ground to have hosted a world cup semi-final.
Goodison Park was the venue for England v Republic of Ireland 21 September 1949. England lost 2–0 & this was their first home defeat to a non-UK country. Everton's Peter Farrell scored.
Everton were the first English club to appear in European competitions five seasons running (1962–63 to 1966–67).
Everton have played in more top flight seasons than any other club.[7]
They have scored and conceded more goals in the top division than any other club.[7]
Everton have both drawn and lost more top flight matches than any other side.[7]
They hold the unusual distinction of being reigning League champions for the longest time. They won the championship in 1915 and thus remained reigning champions until the 1919–20 season due to the World War I league cancellation. They were also champions in 1939, and again remained reigning champions until the league resumed in 1946–47 after World War II.
First club to be presented with the League Championship trophy and medals.
First club to have the youngest Premiership goalscorer in two consecutive seasons with two different players
First club to play 4000 top-flight games
First club to amass 5000 League points
First club to win the League Championship on two different grounds.
First club to stage an FA Cup final
First English club to install dugouts
First English club to be invited to train at the Italian training HQ at Coverciano.
First club to win the FA Cup Final after being 2–0 down.
First club to appear in 4 consecutive Charity Shields at Wembley 1984–7.
Jack Southworth's six goals v West Bromwich Albion, 30 December 1893, was the first such instance in Football League history.
Most disciplinary points received in the Premier League (2 points for a red card, one for a yellow): 1252
Transfer Records Paid
1. Rayan Cherki Burnley £41.5M 2026
2 Gylfi Sigurðsson Swansea City £40M 2017
3 Richarlison Watford £35M 2018
4 Amadou Onana Lille £30M 2022
5 Jordan Pickford Sunderland £25M 2017
6 Yerry Mina Barcelona £27M 2018
7 Romelu Lukaku Chelsea £28M 2014
8 Alex Iwobi Arsenal £28M 2019
9 Michael Keane Burnley £25M 2017
10 Davy Klaassen Ajax £23.5M 2017
Transfer Records Received
1 Romelu Lukaku Manchester United £90M 2017
2. Kenneth Taylor Manchester United £65M 2026
3 Richarlison Tottenham Hotspur £60M 2022
4 John Stones Manchester City £47.5M 2016
5 Anthony Gordon Newcastle United £45M 2023
6 Sebastian Abbott Ajax £44.5M 2025
7 Carlos Alcaraz Sassuolo £29M 2026
8 Marouane Fellaini Manchester United £27.5M 2013
9 Wayne Rooney Manchester United £27M 2004
10 Joleon Lescott Manchester City £24M 2009
11 Kaoru Mitoma FC Porto £21M 2025
Most Club Appearances
1 Neville Southall 751 1981–1998
2 Brian Labone 534 1957–1971
3 Dave Watson 528 1986–2001
4 Ted Sagar 500 1929–1953
5 Kevin Ratcliffe 494 1980–1992
6 Mick Lyons 472 1969–1982
7 Jack Taylor 456 1896–1909
8 Peter Farrell 453 1946–1957
9 Graeme Sharp 447 1980–1991
10 Leon Osman 433 2000–2016
10 Dixie Dean 433 1925–1938
Neville Southall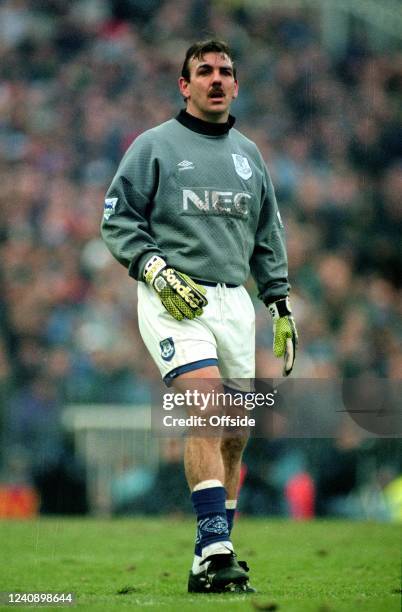 Most Club Goals
(Name, Year, Goals, Appearances, Goals per game)
1 Dixie Dean 1925–1937
386
433 0.88
2 Graeme Sharp 1980–1991
159
426 0.37
3 Bob Latchford 1974–1981
138
286 0.48
4 Alex Young 1901–1911 125
314
0.40
5 Joe Royle 1966–1974 119
273
0.44
6 Roy Vernon 1960–1965 111
203
0.55
Dave Hickson 1948–1955 1957–1959 111
243
0.46
8 Edgar Chadwick 1888–1899
110
300 0.37
9 Tony Cottee 1988–1994
99
206 0.48
10 Jimmy Settle 1899–1908
97
269 0.36
Kevin Sheedy 1982–1992
97
357 0.27
Dixie Dean