Welcome to the 47th TOTW of Fut 15!
Downers is away so I'm in charge this week, expect a strong bronze bias, minimal updates and at least one spelling mistake. You guys may remember I did a few of these last year where it was highlighted I had been spelling prediction wrong my entire life but more importantly both were seen as the two greatest threads of their time, I wish the same this year.
First Draft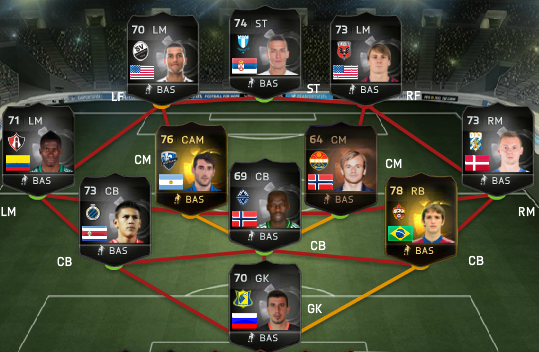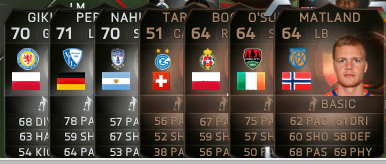 Leagues/suggestions
2. Bundesliga:
Terodde - brace - STR
Perthel - goal/CS - LB
ALJ League:
A-League:
A. Bundesliga:
Allsvenskan:
Durdic - 2 goals - STR
Argentine Primera Division:
Brazil:
Chile:
Colombia - Liga Postobon:
Danish Superliga:
Jesper Lauridsen - Assist + Clean Sheet + BAMF - LB
Ekstraklasa:
Rafał Boguski brace in 2-0 win for Wisła Kraków over Lech Poznan from RM. 62>64.
Cierzniak - 7 saves/clean sheet - GK
Eredivisie:
Football league Championship:
Football League 1:
Football league 2:
Hellas League:
Irish Premier Division:
Steven Beattie- RW - Cork City - 2 assists in 4-0 win.
Mark O'Sullivan - Brace - STR
Mark Timlin - Brace - LM/STR?
Liga Adelante:
Liga Zon Sagres
Ligue 2:
Liga Bancomer Mex:
Ariel Nahuelpán brace from ST for Pachuca in 2-1 win against Querétaro. 66>69.
Arizala - brace - LM
MLS:
Ignacio Piatti brace for Montreal in 3-2 win over NYFC from CAM. 76>78.
Rolfe - Brace - LM
Kljestan - goal/assist - CAM
Davies - Brace - STR
Ashe - 2 assists - LB
Kah - Brace - CB
Pro League:
Sven Kums only goal and CS for Gent in 1-0 win over Genk from CDM. 70>72.
Raiffeisen SL:
A.Traore - Goal/CS - LB
CAM - Delgado - FC Basel - goal + assist
GK - Lopar - FC St. Gallen - many saves, three one-on-ones among them. Only beaten by a joke of a pen.
Russian Premier League:
Mario Fernandes only goal and CS for CSKA in 1-0 win against Anzhi from RB. 76>78.
Belorukov - goal/CS - CB
Serie B:
Sonata K-League:
SPL:
Stefan Johansen goal and CS for Celtic against Ross County from CDM. 74>74>74>77.
Stewart - LM - Brace
Tippeligaen:
Turkey:
Ukraine: