Hello !
After very satisfactory results (8/8 in Play-offs, 6 wins out of 7 in Division Elite) and gameplay, it's time to share my 451(2) tactic with you !
The 451(2) will give you...
- Lots of movement in midfield
- Lots of solutions in attack
- Very fun (with good results) tactic
- A ton of assists from LM/RM/CM except the central
- It's not a defensive tactic, some defensive situations are delicate so you must be good
Gameplay:
https://video.twimg.com/ext_tw_video/1449021330108596227/pu/vid/1280x720/k82hwpFy7-Eh1mEY.mp4?tag=12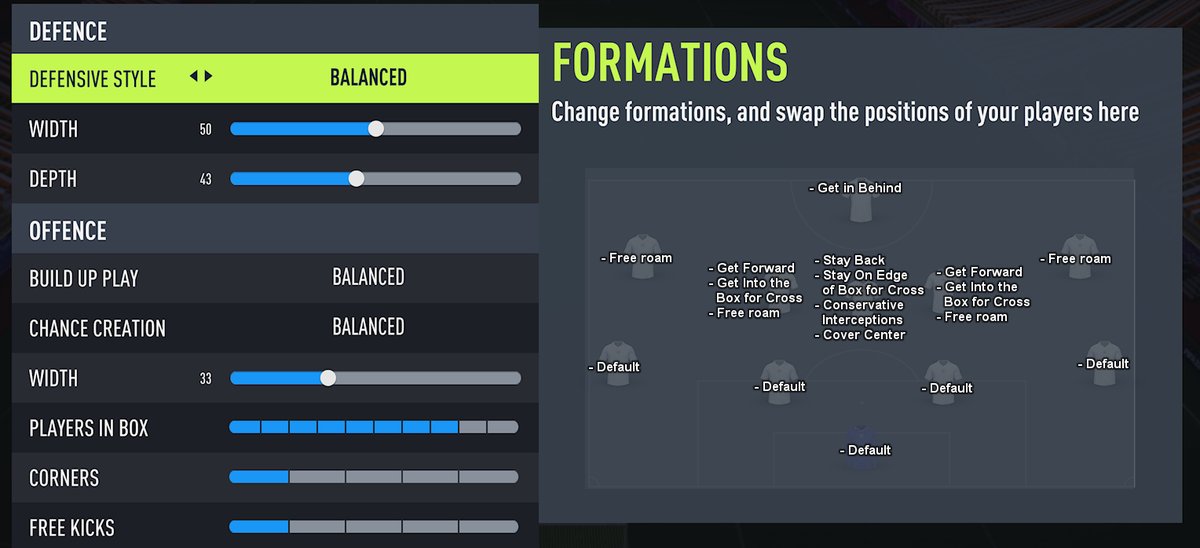 Player statistics
(LM/RM/CM left and right) in Elite Division/FUT Champions:
The profile of the players ? ST:
The tactic are very effective on the counter attack so if your ST is fast, it's very good.
If your ST isn't necessarily fast, that's okay as the tactics are also great for play built with lots of attacking movements. Don't bet everything on pace. Between Werner and Benzema, I prefer Benzema but between Benzema and IF Mané, I choose Mané.
Left and right CM:
Your left and right MC are like CAM in attack so don't choose players like Kanté who are not good with the ball and who have no positioning. We want players like Kimmich, Llorente, Goretzka, Bruno, KDB, Barella, Milinkovic-Savic, etc. In terms of workrates, High / High is perfect, High / Medium is excellent. A physical player is also making a difference this year so think about it.
CM:
It's very simple, it's your CDM. You must choose a player with High in defense, and also good in defense. Personally, I really like physical players like Kessie.
LM/RM:
They give a lot of assists so take good passers, pace is a goodbonus but not essential. In game, they play like left and right CAM, they combines a lot. I prefer to play with Ferran Torres than Adama.
LB/CB/RB:
With the instructions in attack, players move a lot on the pitch which can cause some problem in defense so fast players are essential. Players like Manolas, Koulibaly, Gomez, Van Dijk, Cordoba, Maldini.