My FIFA brothers and sisters,
just before i start, i really appreciate you all contributing to the threads. I know sometimes we all have different opinions and views. Let us try to respect each other with decorum and understanding. No name calling or personal insults please. Game is ending, just play for fun. Don't be vexed. We are all from the same community. Take care all
So BETA is out, expect some of the regulars to be busy with that
Tonali card will be useful this WL
So this Weekend League, with 8
Serie A
starters in your starting 11.
It's likely 90% of teams will have Ronaldo and Dybala!
You can be rewarded with
7 wins - 1 out of 3 TOTS picks (OVR 88 and above)
12 wins - 1 out of 4 TOTS picks (OVR 88 and above)
15 wins - 1 out of 5 TOTS picks (OVR 88 and above)
I hope for 12 wins myself
But my litmus test is this, if i lose ALL my first 5 placement games, i will revert back to my Bundesliga squad. Can try Witsel and Meunier and Akanji WHOM I HAVE NOT GIVEN a run yet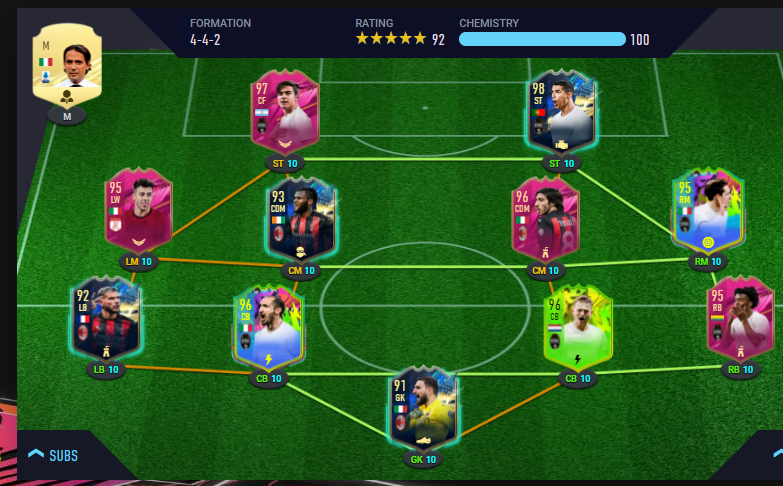 so what about you guys
- How's your connection and gameplay
- new formations to test
Keep safe and take care. Wishing you all a great weekend as always.
Good luck. Be nice to each other online, the games ending. Don't be stressed
where's my usual WL brethren at?
@David12344
@JustusX
@DannySTFC
@JuiceTerry
@abhreebhu_45
@greif44
@Quase
@Mdm
@Hugoku
@FutsalBros0710
@Chewbaccary
@NucksNation
@chiholam
@keith210277
@All4fun1991
@The_giant616
@ChaseO
@Zeke1216
@Nickthegreek20
@Orison
@McFandan
@Destin8or
@ToiletChimp
@Kevin
@SpiderMonkeybpg
@Loco_kniene
@limjitwe
@johntempera
@RangerCraig
@FrankFrank
@mox08
@oneskyworld
@tommyk11
@Jukesy01
@Amargaladaster26
@DanishDynamiteUS
@YidArmy
@Kevin19896
@SteveieB123
@ucan87
@TheonlywayisS6
@Thefranchise92
@Springveldt
@Murf1985
@Ruprecht
@madlion
@D0lvl
@Sujitsky123
@Damo_Suzuki