My FIFA brothers and sisters,
Still here? I admire your tenacity
I am sure Akanji is keeping you all busy so he can be used this Weekend League
So this Weekend League, with 8
Bundesliga
starters in your starting 11. I cannot tell you how excited I am, i have been playing with such a team for many periods in FIFA21
If i choke, it's on me....
You can be rewarded with
7 wins - 1 out of 3 TOTS picks (OVR 88 and above)
12 wins - 1 out of 4 TOTS picks (OVR 88 and above)
15 wins - 1 out of 5 TOTS picks (OVR 88 and above)
I hope for 14 wins
I think what i have below is likely my final Bayern team. I don't see any more players being added
Just a short tribute to my heroes. Especially those departed, Costa, Boateng, Alaba. I look forward to next season but pre-season has not been kind to us
There are also big shoes to fill, Neuer, Lewandowski, Muller in time to come...
DATS MY TEAM! Mia San Mia (team name)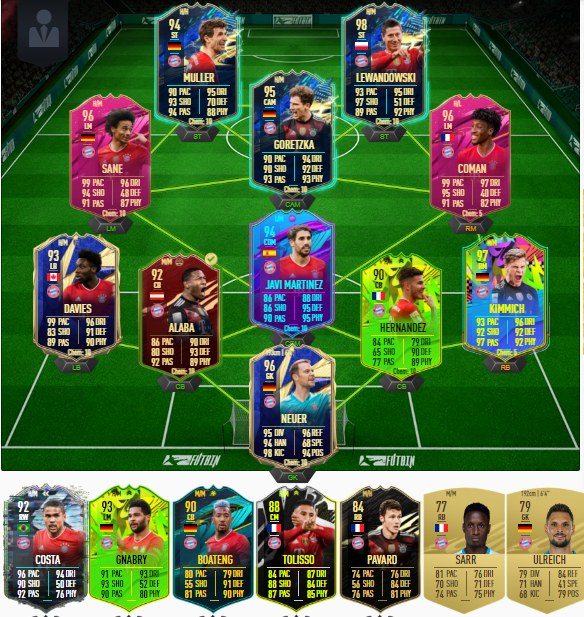 so what about you guys
- How's your connection and gameplay
- new formations to test
Keep safe and take care. Wishing you all a great weekend as always.
Good luck. Be nice to each other online
where's my usual WL brethren at?
@David12344
@JustusX
@DannySTFC
@JuiceTerry
@abhreebhu_45
@greif44
@Quase
@Mdm
@Hugoku
@FutsalBros0710
@Chewbaccary
@NucksNation
@chiholam
@keith210277
@All4fun1991
@The_giant616
@ChaseO
@Zeke1216
@Nickthegreek20
@Orison
@McFandan
@Destin8or
@ToiletChimp
@Kevin
@SpiderMonkeybpg
@Loco_kniene
@limjitwe
@johntempera
@RangerCraig
@FrankFrank
@mox08
@oneskyworld
@tommyk11
@Jukesy01
@Amargaladaster26
@DanishDynamiteUS
@YidArmy
@Kevin19896
@SteveieB123
@ucan87
@TheonlywayisS6
@Thefranchise92
@Springveldt
@Murf1985
@Ruprecht
@madlion