Have been out of forum with my avatar greyed out for some time.
Jsut wanted to share my team I've been working towards all that time.
Klose, Nesta and ADP are swaps. Pirlo tradebles, but not selling him.
Just short review on all them:
- Klose, he is my attacking boss. Idk, when I see him in the box, his movement without the ball is outstanding. He always getting off the mark and into free space. All you need is to set up pass and shoot with him after 1-2 touches. His dribbling and ball control are decent, but not as Meta suggest, but j don't care. His headers are amazing, scored at least 20 after 300+ games. Very consistent finisher.
- Nesta, oh my God!!! With Shadow he is almost impenetrable wall. Only struggling against really good opponents. He even scored banger for me yesterday. You know when you accidentally trigger cb run, so I did it, and he actually found nice gap, through ball and 1st time shot, bang, De Gea let the ball in between his nuts.
- ADP, me amore... I'm biased very badly as Juve fan. But he is amazing. Balanced is the issue, but you just need to learn how to deal with it, and he is deadly infrok of the goals. I put Maestro on him, didn't like him with Engine, was missing few chances. With Maestro, that extra shot power helped I suppose. His passing is decent, but not Pirlo level good. Finally, his heading is alright as well. Score 2 headers already.
- Alisson after patch and with Cat chemistry he is transformed into something amazing. Won me few games already.
Overall I'm happy with Swaps, but I wish they would leave Icon SBC just remove icon requirements. That would be alright.
I'm on PC, and my gameplay is very decent, unless I connect to someone 5000km away, what happens from time to time.
Who do you want from Swap 3???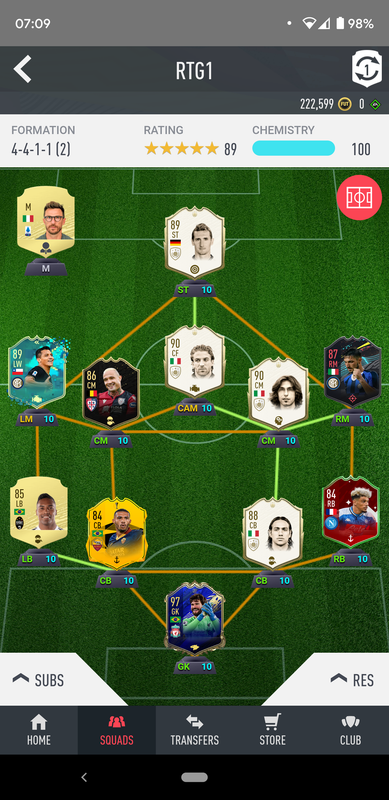 After some time of enjoying Pirlo I came to terms with the fact that my untradeble Modric IF was better and numbers of GpGC confirm that.
Sold everything I could and got this beauty 😍. First time I got him so early in the game. Last year only got him in July I think.