Leoni's 433(5) custom tactics
General concensus is that these are the perfect 433(5) tactics for a possession based high pressing game.
@EisenErmin
myself and someone else I can't remember who all achieved Gold 1 having applied these tactics.
@Leoni
himself achieves elite using these mostly. Massive thanks to him for his work in coming up with these, and his friendliness at sharing them 🤝 👍 🙇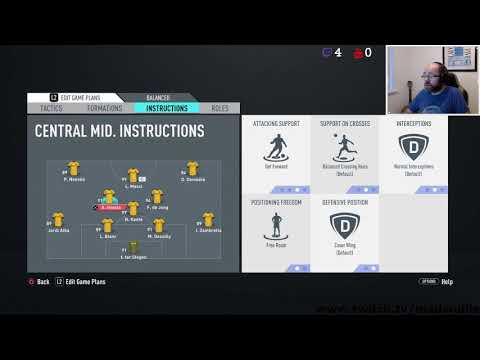 @Feurez elite finish 433(5) cts and blurb
Btw

@Feurez

and

@Salvatori

if you lads could post your tactics here I'll add them to the op given they are proven elite finish instructions.

It's a pain in the arse to trawl back and copy paste on my phone or I'd just use your old posts 🙇

It's an honor.

433(5)

POHT 5 width 6 depth

Balanced 6 width 4 players in box

Instructions:

GK Sweeper Keeper

CBS default

LB/RB inverted/balanced

CDM Stay back/cover center

LCM Get forward/free roam/cover center/get into box

RCM cover center

LW stay wide/get in behind/come back on defence

RW come short/cut inside/come back on defence

CF default

I like my fullbacks on inverted to not have them overtake the winger on the outside because it is an area that is not very dangerous offensively (crossing is useless in FIFA 20) more likely dangerous for myself when I lose the ball and the opponent can counter. On inverted the fullbacks are more centralized and the way to get back is shorter when losing possession.

The LW stays wide so the attacking LCM (CF/CAM type player) has space to make runs inside the box.

As the RW I have Suarez at the moment so it makes no sense to have him on get in behind. He should act like a supporting striker/winger hybrid, rather helping in building up attacks than finishing them.

By the way, when the GK has sweeper keeper as instruction, he should have decent speed. I play Neuer FB who has 63 speed which really helps clearing through balls
@Salvatori 442 CTs
Formation:

442 Standard (2 x CM)

Tactics

Defensive style = Balanced

Width = 5

Depth = 4

_________________________________________

Offensive Style = Balanced

Width = 5

Players in box = 4

Corners = 2

Free Kicks = 2


Instructions

GK - Default (if i had a keeper with 60+ speed i would use sweeper keeper)

RB/LB - Stay back while attacking, Overlap

CB - Default

RM / LM - Come back on defence, get into the box for cross

RCM (defensive) - Stay Back While Attacking, Cover Centre, Stay on the Edge of Box for Cross

LCM (attacking) - Get Into The Box For Cross , Cover Centre

ST - Stay Central


Summary / Approach

This system really is designed around balance - hence the very balanced settings. It is probably not well suited for extreme possession types, nor for extreme counter attack types. IT aims to blend the chance to mix in both.

The absolute key to the 442, in my eyes, is to use the passing triangles. Always look to pass in a triangles - there are so many and you can link so many players like that, and it generally means you always have a passing option. This is not really set up by any particular instructions, just advice i got given on how to effectively use the 442 from better players than me. IF you are struggling, ask yourself if you are using your passing triangles, or are you trying to over play and force things, or are you going side to side too much?

In terms of the instructions - Stay back on FBs is just far more controlled. Sure i use them to attack, and i always can by triggering them. One of my "triangles" i use a lot is LB to LM, triggering the LB run as i do the first pass, then LM to LCM, then LCM to LB, who has now advanced. If i have them on balanced or join the attack, i find 2 things happen - 1) I get caught out on the counter, because they bomb on regardless of whether the situation is suited to it and 2) They get ahead of the ball too quickly,so are not really a suitable possession outlet.

I really like the wingers on minimal instruction - come back on defence simply ensures they track an opposing fullback if one attacks. IT does not drag them too deep in general gameplay, and given that most opponents dont attack with fullbacks anyway, it often does not have a huge impact. The lack of any "get in behind" or "come short" or "cut inside" etc just works for me - they are exactly where a winger should be. I use the through ball from fullback to winger a lot, especially against narrow opponents.The addition of "get in box" also really helps because if i have the ball on one wing, the opposing winger moves in to be a real threat. I dont do crossing (litterally ever!) but winger cuts back to RCM, now there are lots of options in the box for the next pass.

Thats about it. Not everyones thing, but its taken my game up a level or 2.
Delboy13710 's 3421 tactics
Managed to finish e3 ! 🙂

Using 3421 and the (5) of course as my only 2 formations . More impressed with some of the wins I managed against some Elite players/Teams .

Great result, mate. Congrats!

Even more impressive using two off-meta formations even though I think the formation always have to fit someone's play style and probably none of us would like to play the proclaimed meta YouTube 4231 style. I don't even know if anyone around here would be more successful results wise using the 4231.

Did you change your play style much when playing 3421 compared to the (5)? Want to test it this week along with other formations that favour possession based play style

Thanks man ,

Does play differently , same principles possesion football but with the 3421 the possesion is out wide instead of centrally .I Have loads of good wingers so made sense to give it a try, I find offensively I was creating alot more clear cut chances

I was switching to the (5) after I went 2 up . As playing possesion football through the middle is alot easier when the opposition is trying to score .

How are you running the 3421 exactly mate? Cts but more importantly player instructions? Congrats on the weekend league result

Cheers copy and paste job from a few pages back .

Pressure on heavy touch

5

5

Possesion

5

5

2/2

LM/RM Get in behind

LCM/ stay back /cover centre

RCM/ Cover Centre

RF/LF False 9/ stay Central

ST Get in behind

Just basically all out attack and suicide defending .
(5) Custom Tactics 3rd December
Instructions:
LW: come back, free roam, GiB, get into box
CF: false 9, come back on defence
RW: come back, free roam, come short, get into box
CMs: Get forward, get into box, free roam, cover wing
CDM: cut passing lanes, stay back, cover centre
LB: balanced, aggressive, overlap
RB: stay back, aggressive, overlap
Here they are as a video if you prefer that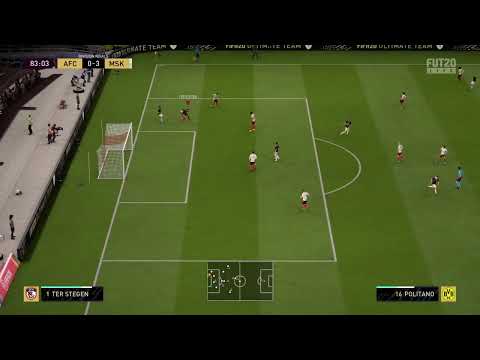 A lot more defensive than I used to play but it means I'm not leaking as many stupid goals. Still enjoying the 10 depth although
@Leoni
says it causes issues at higher levels
Custom Tactics 15th November
Currently using a mixture of barcelona and man city's tactics for the 433(5). See this video for details.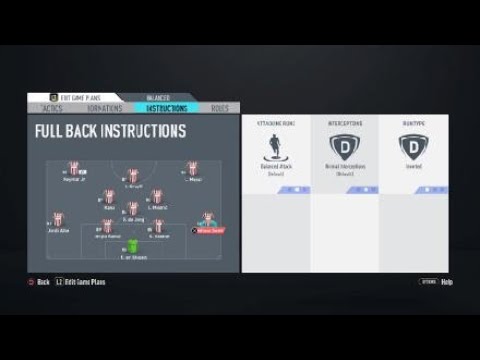 Custom Tactics 26th October
Current tactic I'm using

For the (5) I'm using

Poht
5/5

Balanced
6/4/3/3

LW: FR, GiB, SF
CF: F9
RW: FR, CS
CMs: GF, FR, CW
CDM: CPL, DBD, CC
FBs: Overlap

And at the start I put attacking full backs on in dpad tactics and turn it off if need to be more defensive.

👍
This is a link to my YouTube where I upload probably too many 433(5) matches.
Also I've started streaming the (5) - no camera or mic yet guys sorry to disappoint.
www.twitch.tv/madwullie

@EisenErmin mini guide
General thoughts about the 433(5) and other 433 variations (
@EisenErmin)
Might be helpful for "new" players and "veterans"
The 433(5) is perfect for buildup play at slow or normal pace (not rushing it) and getting all players involved. I average possession of 60% (up to 70%) and accuracy of >85% (up to >90%). More often than not I am looking for the best chance to finish and I do pass a lot even inside the box when I see an open teammate (don't get me wrong, it is not passing without any purpose or timewasting at all). The most important advice I can give is: LET GO THE SPRINT BUTTON in buildup play. It really helps in spotting save passing options and helps your teammates to make deadly runs.
Some "golden rules" for the 433(3) that will improve your game a lot if you force yourself to do it. Don't fall into the usual habits. Instead play focused and try to implement some of the following tips into your game. Results don`t matter at first, it is just about getting better in certain areas. The wins will come, trust me.
A) Don't sprint in attack unless you have a huge opening/space. In buildup, in the box, in tight areas,…don't sprint!!!! If in doubt = don't sprint. If you lost the ball = more often than not sprinting was the reason for it. By not sprinting you might miss a breakaway or opportunity to counter-attack once or twice per game, but you will keep the ball 20 times per game where you would have lost it when sprinting. That's 20 times were you give the opponent the opportunity to come at your goal!! Try it out: Play a game and NEVER sprint at all (only in defending sprinting is allowed). You will be surprised how good your passing, vision and chance creation will be.
B. ) Pay attention which player the opponent is controlling. That's way easier when not sprinting btw. If your opponent is manually tracking runners = you can just move foreward/looking on the radar/planning your next move/…. as your player is not pressured at all. That's huge this year as AI defending is not aggressive at all, leaving you unpressured almost always if the opponent is not putting pressure on the ball manually. If the opponent is pressuring/attacking your player = you can simply pass it around. If the opponent is not tracking runners = jackpot, as you can play a through ball and your runner is in behind. Opponents that defend like last year (AI defending and sitting deep with everyone) just rely on your mistake to give away the ball by making a stupid pass or running into them. Don't do them the favour. My mantra was and still is: "If they don't want the ball, they don't get the ball"
C) Dictate the speed of the game. Mix it up, play safe and then risky depending on the situation. Don´t be fooled in always going foreward. Passing sideways or backwards is great for keeping the ball, to have a look at the radar and your players on the pitch and then start the attack again. The 433(5) is a passing formation like no other, so make use of it. A high speed box to box game is not what you want for 90 minutes.
D) Play 1-2-3 passes, not only 1-2 passes. The 433(5) allows lots of really nice passing combinations. Example: 1-2 pass is CM to CF to CM while 1-2-3 pass is CM to CF to RW to CM. You can involve even more players in one attacking sequence. Think ahead and don't spam 1-2 passes without any purpose. The 433(5) is about outplaying the oposition, not about 1-2 spamming and 70% passing acuracy. (Of course go for the easy 1-2 pass if you have the chance to easily beat the defender.)
E) Be unpredictable: most opponents cover passing lanes now and if you pay attention you will notice were they move their player in certain areas. Exploit that! If you do them the favour to pass into their cover they will feel rewarded and keep doing so. If you mix it up, dribble or make a skill move or even shoot from long range from time to time, you keep them guessing and have to leave their own "comfort zone". Same is true against players that move the GK. Don't shoot were they most likely expect you to shoot. Make a ball roll, a fake shot or whatever you like and then shoot into wide open areas of the net.
F) Keep any eye for teammates and tap in goals. When in shooting situations right in front of the keeper and your teammate(s) are like 10 yards to the left or right(and not offside of course), just pass it to them for a tap in goal. I see so many players shooting instead of passing. Shooting may have a chance of 80% to get into the net, while a pass for an empty net tap in has 99% chance for a goal, what`s the right move here? Got it?
G) Don´t get isolated and don´t rush head first into 3 defenders Getting isolated with your player on the ball is quite easy to avoid if you have good vision and think ahead. But sometimes it is happening regardless. So if you are realizing that you got yourself isolated: stay calm, slow it down, use the close dribbling and protecting/shielding the ball and buy yourself some time to give your teammates a chance to come towards you for an easy pass or make runs into open space.
The other thing to avoid at all costs is running head first into a brick wall of opposition players. Every game you will see your (average) opponent sprinting with his striker into an area occupied by several of your players. The chance to benefit from doing so is very slim. Almost always you are going to lose the ball. Conclusion: If you are outnumbered pass it backwards or to the side instead of running into a dead end or even worse straight into the opposition for a turnover.
I hope that these thoughts are helpful and even though most of you already know these things in theory, but if you are honest: you (and me) will make bad decisions (often the same bad decisions over and over) each and every game even though you/we know better, right?
Try to work on some things here and there and your game will improve for sure.
Thanks for reading and may the 433(5) rule the Weekend League!
Initial Post
Might as well get this baby up and running while we're getting ready for release. Must admit the month or so off has given me a little of the buzz back for 20, although my experience in the beta has kinda dampened that enthusiasm somewhat. Still, no need to be angry about something that hasn't happened yet. Release versions (and early patches) have rendered beta and demo experiences null and void in previous years and no reason to think this year will be different.
As usual I'll be tinkering with the (5) as much as possible while also trying out other formations here and there. I used to also try out 4231 but its infamy as meta last year means I'm not so keen. I'll probably try out the 4411 versions as well.
Bring it on.