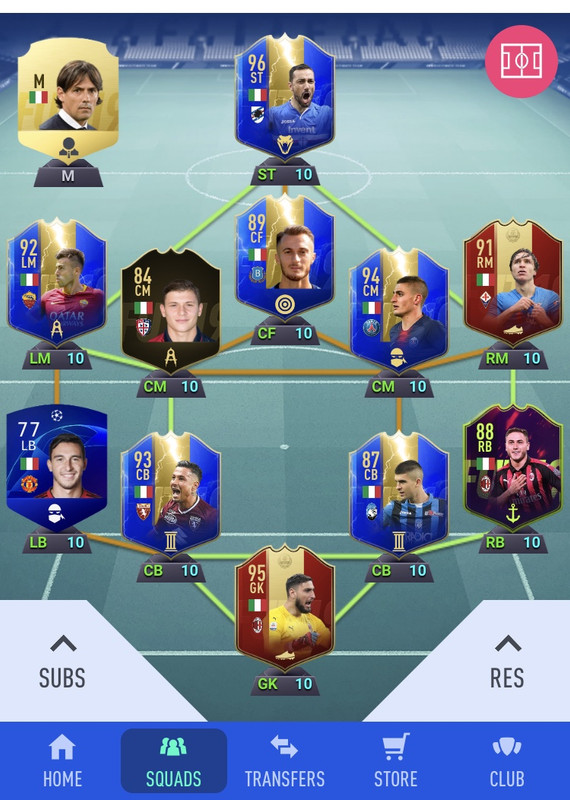 Wanted to do a full Azzurri squad with no icons. Here's the lowdown in no particular order of my preferred 4-4-1-1
GK - G Donnarumma TOTS (red)
This keeper. When he's brilliant, he's unstoppable. When he's not, my goodness the mistakes he make. Not the worst keeper in the game but Onana or Sirigu could easily keep him on the bench in terms of consistency.
RB - Calabria (FFS)
Honestly not much choice. And being a Lazio fan, I rather deploy him than Florenzi. Decent with Anchor
CB - G Mancini (TOTS)
Got him untradeable. Use backbone chemistry. Gets the tackles in, no frills. Don't expect much
CB - A Izzo (TOTS)
Got his IF and SIF red so have to say this card is deserved for him. For the price he's not too bad and does defend well.
CB - Chiellini (TOTS)
His price tanked to 100k but is now over 200k. Paired with anchor chemistry. Even his 91 IF is good enough. Will get you the occasional corner set piece goal. If you're on a budget, stick with Izzo and Mancini. Even the Azzurri is known for their defence. There are multiple icon options available too.
LB - M Darmian (UCL Gold)
It was either him or IF Criscito. Used the latter most of fifa 19 so decided to go with Darmian. H defend workrate suits my style. No fireworks and defends well. He's not going to launch great crosses on the overlap if that's your plan. Had to put a shadow of him
RM - Chiesa (TOTS)
Honestly. Not a great card like his 18 tots. Lacks the flair in game and unlike his legend Father. Gets you the assists and the odd goal but didn't find wonderful distribution in his play. His 95 pace feels clunky too. Not much competition also specifically to Italians.
LM - El Shaarawy (TOTS)
Such an elusive and pricey card. He does have some Leroy Sane type of flair. For the price value. Not a great card. But you've either got this or Insigne cards at LM. This was the only Roman exception I made as a Lazio fan.
Used Architect chemistry in both my wings above
CM - Veraatti (TOTS)
Performed better than expected. With shadow at RCM. He's the Italian Kante. Quite consistent in real life too. He won't score goals and win you headers. But he will shut down passes and close opposition attacks down. His price is criminal where his PSG peers cost so much more
CM - N Barella (SIF)
If you're not using icons you're in for a shock. There is a shortage of good Italian midfielders. This player blew me away at LCM coordinating passes (also Architect chemistry) - seems a hidden gem. Hope he'll shine at 20.
CF - A Donnarumma (TOTS)
Had been using Cutrone FFS earlier but a chance to link Siblings in an Azzurri shirt was so tempting. Put Marksman on him. Not bad. Got me goals and assists. Even with his head. Can't complain for less than 30k coins.
ST - Quag (TOTS)
Belotti and my beloved Ciro had mediocre Season, thus the lack of great cards. We all saw how Quag shown out tremendously in Serie A. Had his IF red too. What a player. Spearheading my Italian Stallions above. At his age too. Legend. Most of you had trouble selling him earlier but it's all good now. Would either use Hunter or Hawk chemistry.
Special mention
ST - M Kean (Silver rare)
Great card with hunter. Decent scoring ratio. Excited to see him on 20 with Torres. Surprised he left Juve but could be a smart move instead of slugging out with Gonzo.
Wishing you guys a nice weekend and 2nd last WL.