So WL, usual fare. I will end up on 15 wins, but thats by the by. Played 21 so far and in there a mix of:
Easy wins
- i have a super team and sometimes that just shows
Absolute spankings
- Sometimes matchmaking aint kind. I am a G3 player so G1 or Elite just destroy me and thats cool
Lagfests -
Few this weekend where it was pretty clear a one side connection decided the game - both in my favour and not. It is what it is
Great games
- Actually a good 5 or 6 this weekend where i enjoyed it. In those i would say i am 3 - 3. Good game of fifa with no broken mechanics, just 2 decent matched players and sometimes i win, sometimes i lose
Then there is the worst:
4231 sheep
- Every single time this WL i have faced a 4231 player with clearly Drop back and 1/1 with fast build up, i lose. Sometimes i lose 5 or 6 nil because every time they attack via a through ball to wide CAMs, my defenders dont track it, or they are just in behind because of it. Meanwhile my patient build up play is useless against them with everyone back behind the ball. If i dont lose 5 nil (usualy i give up at 3 in these games as its so obvious), then its worse - i smash them all game but still get beat.
My last game a great case in point. Here are the full time stats: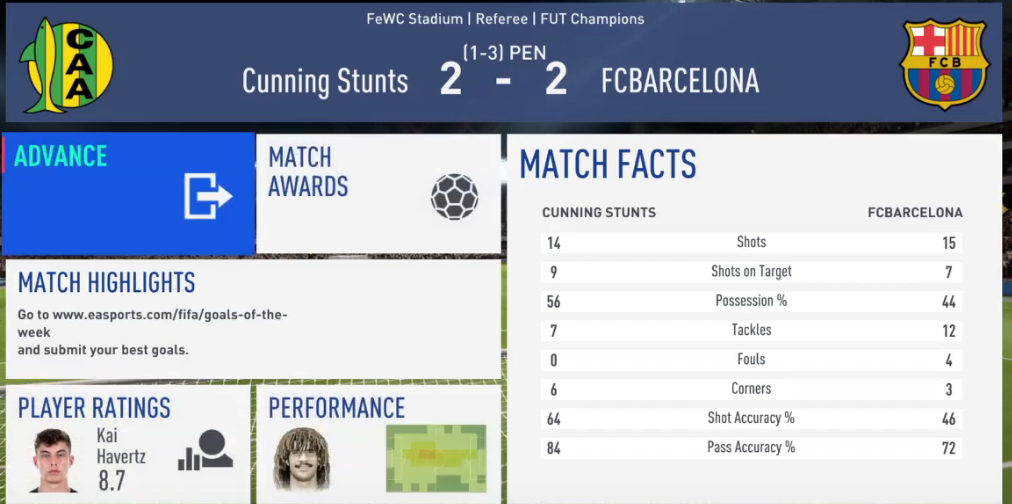 Personally, i always ignore shot counts - mean nothing. He brought on Ibra and spammed long shots so he could aim corners at him. But the possession shows that whilst it was hardly a totally one sided game, i was better. But more than that is the pass completion rate. I mean this guy had a 72% completion rate (it was actual 69% at 90mins!) - shows exactly his style. Try through balls all the time.
Yet i lose this game on pens. Sorry for the length, but here are the 4 goals in the game:
Me - Ok, there is an argument this is a first time shot abuse, but its a FK routine i use often. Short, pop it off then smash it. I will happily admit there is good fortune in this going in off Carlos's 2 star WF
But this guys defense approach was constant foul me, so i have no issue with scoring a goal like this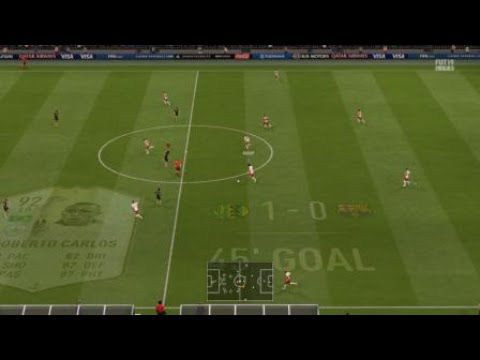 Him - 81 mins and its his first corner as you see at the start, that says something. I clear the first one, but it always goes to an opponent when i do. Ok maybe not the best initial tackle attempt on Zlat, but then he spams a long shot to get another corner, and scores it when my man on the line is about as usefull as a parking cone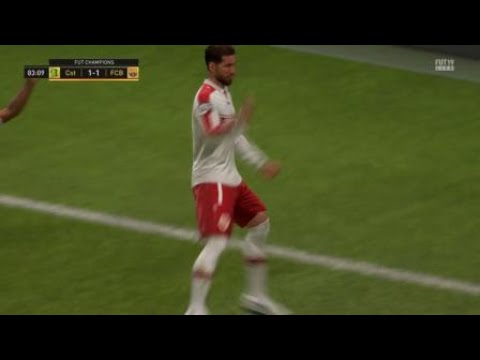 So now to ET, and from my own goal kick, i take the time to work a move. Dunno how many passes, but i think this counts as a decent goal, playing fifa the proper way? I mean his defending is not great but i think its reasonably well worked?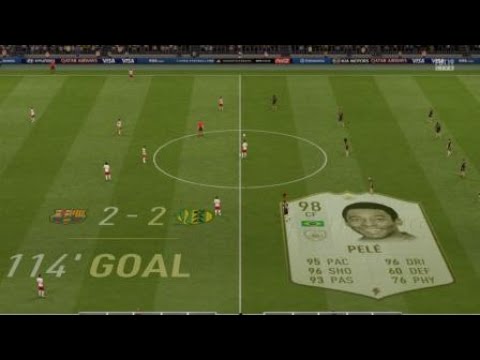 Now to his - Ok, so you could call this well worked, its not a bad move........but its how 90% of 4231 sheep score against me at the moment - through balls that my AI defenders wont track. As per usual player switching does me zero favours.......but these through balls man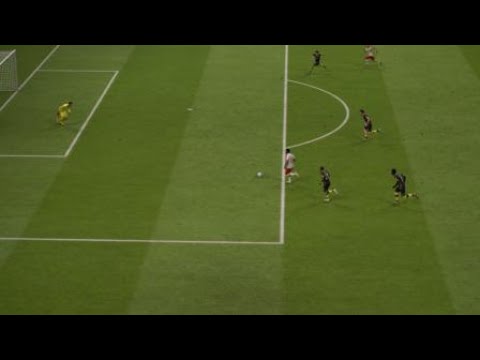 SO at the end of that absolute essay....... What is the advice for non Elite players on how to do better against these clowns? I vary my approach - this game mostly 352, but i flip to 433 and 41212(2) when the game calls for it - like previous game guy was spaming long air balls to his wingers against a back 3, so switch to 41212 and had him rage quiting within 30mins. I just cant for hte life of me stop these stupid quick counters and through balls from this type of sheep player.
Is there really no way other than to join them? Play the same shape and approach against them? I cant bring myself to do that.........