This is my approach to the 442(2) formation. I always enjoyed playing it, be it in FIFA or PES, and since the new patch I feel it is one of the strongest formations at the moment. You are extremely safe in defense, and still potent in attack, without having to resort to just counterattacking or spamming crosses. I took a break from FIFA in december, usually finishing gold 1 to elite 3. Deleted my team since I was just fed up with the state of the game. Now came back with the new patch, and having more fun than ever, although playing with a cheap squad. After a week, I am boucing between 1700-1800 skill rating at the moment, using a ~ 100k team. So if you are already an amazing player, this might not be for you.
But if you are struggling at the moment, or just looking for a new formation, I am sure this will be an interesting read for you!

Since this will be a pretty lengthy guide, I will put my instructions and custom tactics here, in case you dont have the time to read through all of it.
Instructions:
Strikers: none

Wide midfielders: get into the box for crosses

CDMs: Stay back while attacking

Fullbacks: none or stay back while attacking.


Custom tactics:

Defensive style: balanced
Width: 4
Depth: 4

Offensive style: long ball
Width: 6
Players in box: 5
I would still recommend to read through the full guide to get an idea which players to chose, and why I set it up the way it is.
Overview:

1. Pros and Cons
2. Player selection
3. Instructions
4. Custom Tactics
5. How to create goals/playstyle
6. Teams
Pros:

Very balanced formation. You can create chances a lot of different ways, and adjust to what your opponent is doing.

Very solid in defense. Having two CDMs always helps, and having two banks of four defending makes it very hard to break down.

Good against two of the most popular formations, 4231 and 41212(2)

Great for players on a budget. Although they definitely help, you dont need outstanding players in every position to compete, as long as you select the right player types.

Effective against high pressuring opponents.
Cons:

Not great at dominating possession. If you are a player that likes to have 60+ % possession, this is probably not for you. I still usually end up with more possession than my opponent, but its not our main goal.

Can struggle against 433 variations, especially the 4321

Pretty strict regarding workrates and player types you need.

If you like to play primarily through the middle and dont like wingplay, this formation is probably not for you
Player selection:

Since I try to play with as few instructions on my players as possible, having the right players with the right workrates is vital. For the people on a budget, I will point out the key stats for the players in their respective positions. Look for players that have those, and you can easily upgrade from there.

Added: When it comes to the absolute high end players, workrates become less important. These kind of players usually take up good positions on their own, and often are too good to pass up on. For example a Vieira in midfield is simply too good to pass up on, despite his m/h workrates. Same goes for Ronaldo, Cruyff and similar players. If they dont behave how we want them to, we can always balance it out with instructions.
Strikers: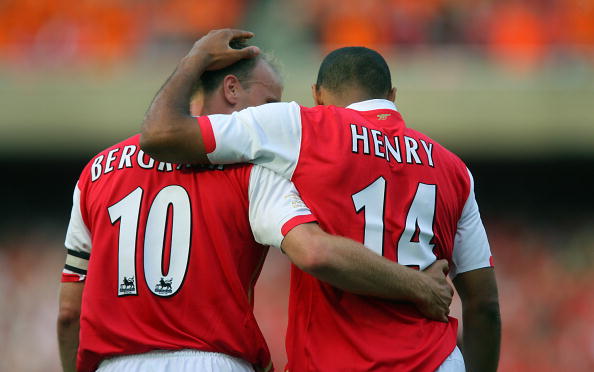 The key to your attack, and probably the position you should spend most on. Since we dont have an offensive midfielder, the strikers will have to make up for it by being versatile and well rounded. They usually will have most of your goals AND assists by far. We dont use any instructions on our strikers, so we need players with good positioning and the right workrates.

We use a setup with one target man, and one playmaker. This is probably the most used setup in a 442. The playmaker links the midfield to the attack, while the target man uses his hold up play for other players to make runs off of him.It gives us a lot of versatility in attack, allowing us to play through the middle, while also being a threat from crosses.
Player selection holdup striker:
Workrates:
Medium/Medium, High/Medium. H/L and H/H are not recommended, since we dont want him to drop back much, and H/L leaves to much of a gap to the midfield.
Key stats:
Finishing, positioning, strength, short passing, paired with decent agility/dribbling.
This striker will score most of your goals. He needs to have decent heigth and strength, but also enough dribbling and agility to create chances for himself.
Player selection playmaker:
Workrates:
High/High, Medium/Medium (less ideal). This player is supposed to drop back, linking your midfield and your attack. H/H workrates are ideal here. Others can work, but you probably have to adjust the instructions.
Key stats:
Dribbling, agility, short passing, finishing. Basically your traditional small/nimble striker.
In general, I would avoid strikers with 3*wf or less. It is hard enough to get a shot off in the box, having to deal with getting the ball on the right foot of the striker is just a huge disadvantage. 4* skills are always nice to have, but not really necessary.
Wide midfielders: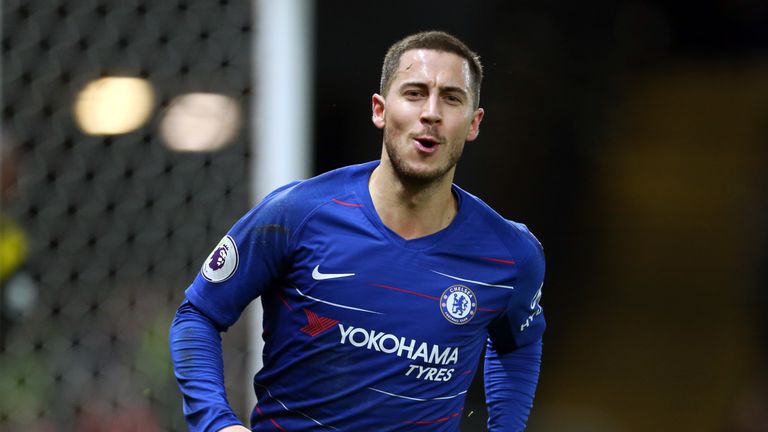 Although there goal and assist numbers wont be close to those of our strikers, they are still a vital part of our attack. They will usually carry the ball upfield, then make overlapping runs off of our strikers. If the opponents midfield is crowded, they will truly shine by getting in behind the defense and create chances from there. You can also use them to cut inside and create from there. They will also take up some of the playmaking duties.
Player selection:
Workrates:
H/M, M/M, H/L. If you are on a budget and have to go for cheap players here, try to get players with High/Low workrates. Higher rated players make good runs on their own anyways.
Key stats:
Pace (85+), dribbling, short passing, crossing, at least decent finishing.
If you can, chose players with 4* wf, so you are a threat from cutting in, aswell as getting in behind and passing or crossing it in. Since their defensive duties are limited, I prefer fast and agile players over players like Perisic and Bale.
Central midfielders: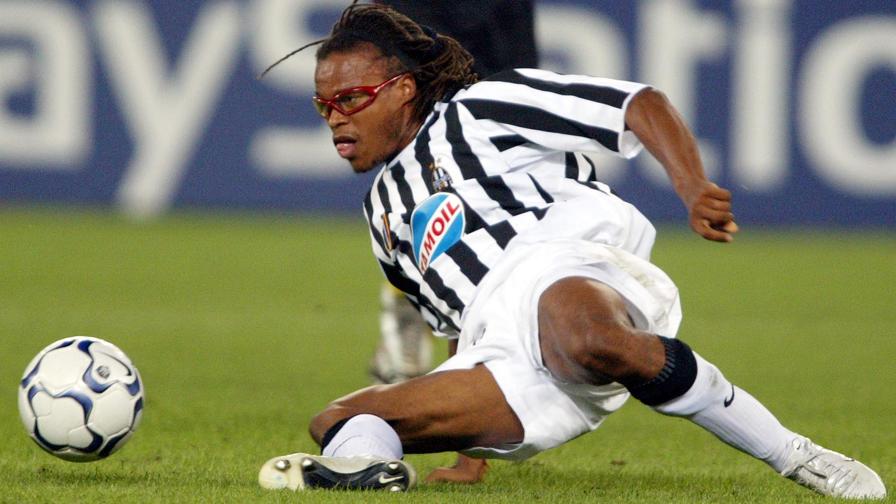 The engine room of your team. In our setup, we absolutely need two box-to-box midfielders here that can start the attack as well as defend.
Workrates:
H/H, H/M. Since we already have a huge gap between midfield and defense, having a high attack rate on both midfielders is really important. I definitely would not go for M/M or M/H players here, since your attack will suffer a lot.
You will notice that when one midfielder goes forward, the other naturally stays back to cover for him, so you can even get away with having a H/L midfielder like Pogba.
Key stats:
Heigth/strength, interceptions, short and long passing, long shots, 70+ pace. If you are on a budget, prioritize the defensive stats first. Having decent dribbling is great to have, but these type of players are usually quite expensive
We really want two true box-to-box players here. Neither pure CDMs nor a CAM will be ideal.
Defenders:

I wont go into much detail here, it is mostly personal preference. Note that your fullbacks naturally stay back, so prioritizing their defensive stats over attacking ones makes sense.
As for your central defenders, having decent short passing on them is really helpful. If you are outnumbered in midfield, it is nice to use them as an extra passing option.
Instructions:

I try to use as few player instructions as possible. I feel that my team works better when I chose how my players should play by their workrates. Adding instructions often contradicts either the workrates of the players, or your custom tactic.

Strikers:
No instructions. We dont really want them on get in behind, cause without a cam or even a cm, it would be tough to even get the ball to them. Target man/false 9 are options here, but with the right workrates, its not necessary. If you use strikers where the workrates arent ideal though, feel free to balance it out with instructions.
Wide midfielders:
Get into the box for crosses. This lets your wide midfielders get into great goalscoring opportunities, especially if you have the ball on the opposite side of the box.
CDMs:
Stay back while attacking. This combined with high attacking workrates means that your CDMs will join the attack, but instantly track back whenever you lose the ball. You can also try this on balanced if you feel save in defense.
Fullbacks:
No instructions. Having them on stay back is not necessary. They cant really push up high, because your wide midfielders are already in that space, and you need your fullbacks as an extra passing option in buildup play. If you feel you need the extra safety, put them on stay back.
Custom tactics:

Our custom tactics are tailored to how we set up the team, but you should use these as a base, and experiment until you find one that suits your playstyle.
Defensive style:

Balanced
Width: 4
Depth: 4
There is no need to sit super deep with this formation, since its already set up very defensive.
Offensive style:

Long Ball
Width: 6
Players in box: 5
We dont use the longball tactic to spam through balls from deep, but it leads to our attackers constantly making runs. Width and pib I left more or less on balanced, to keep our options in attack open.
New custom tactic: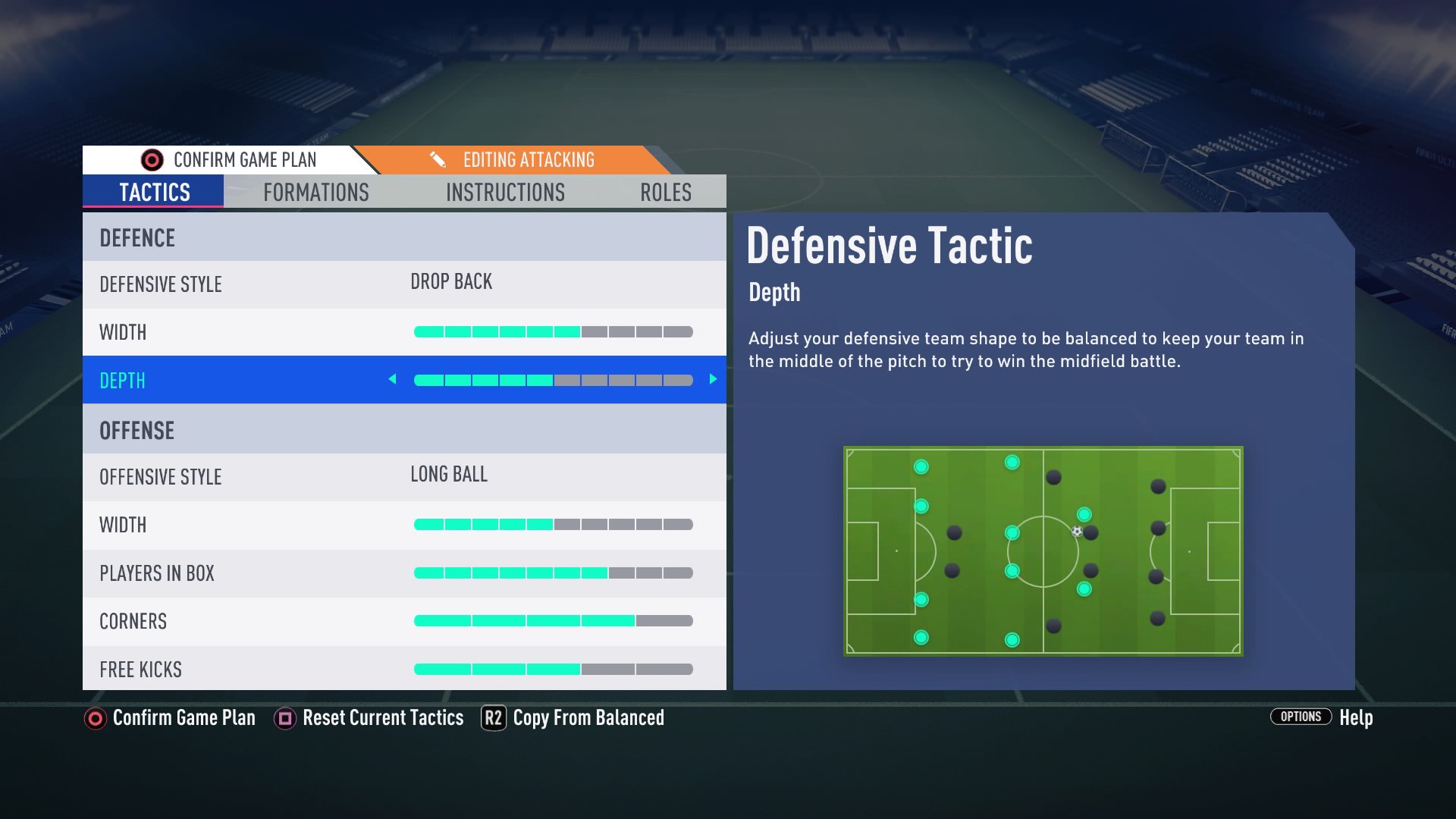 Drop back allows us to commit more players forward, without losing defensive shape. Narrowed the width a bit for easier possession play
Alternative tactics: (credit to @EisenErmin )

Tactics and instructions:
pressure after posession loss
width: 6
depth: 5
balanced attack
width: 7
players in box: 6
corners: 4
freekicks: 3
LM+RM: get into box for crosses.
Everything else on default
A lot more offensive oriented than the one I am using myself, but a lot of people seem to find success with it, so I wanted to include them in the guide. Also a great tactic when chasing a game!
How to create goals:

The advantage of this formation is that we can create chances in a lot of different ways, and we should make use of it.
In buildup play, we usually build up through the wings. This has two main reasons: First of we dont have a real cam, so building up your play through the middle can be a bit difficult. Second, building up through the wings is a lot safer. If we lose the ball on the flanks, its usually no big deal, since the opponent will still have to work it to his strikers, and your cdms will be in position. If you lose the ball in the midfield area, we are usually in big trouble.
There are a couple different go-to strategies to create chances in this formation:

1-2 passing between your strikers: If you see the opportunity, go for it. This always has been the easiest way to put one of your attackers through on goal. Against good defenders, this usually wont work, since they wont pull a cb out of position. But if you mix up your attack, it is always an option.

If you see the 1-2 pass is not on, you will have your wide midfielders overlapping on the flanks. From there you can either lay it off again to your strikers, or go for goal yourself.

Crossing: Generally we aim to finish every attack with a shot on goal. So if you are not good at crossing, or dont have strikers that are an aerial threat, use it sparingly. Keep an eye open for runs to the far post, they usually end up in a goal or corner, no matter the heading stats of the player.

Through balls from your CDMs to your strikers. You will rarely get the opportunity to use this, especially against opponents sitting deep, but keep an eye out for an opportunity. Trigger the run of your striker manually, wait until he is in his "running animation", and the moment when he is on the shoulder of the cb, you play the throughball. If you get the timing right, and theres space in behind, you will be clean through on goal.
Its important to mix all of these during a match to keep your opponent guessing.
Scoring techniques:

Since the patch, a lot of people seem to have trouble finishing in the box consistently. The trick is that there is no "one size fits all" shooting technique. You have to chose the right shot type for the situation.
If you have no space and need to get a shot off fast, just use a power shot. Either blast it near post, or far post with your strong foot. The power you need depends a lot on the players you have, so just experiment a bit with it.

If you have space and know you can get the right angle, use the low driven shot. Use this if you are on the goal side of your strong foot, ie with a right footed player on the right side and vice versa. If you manage to time it, its almost a guaranteed goal.

If you are on the goal side of your weak foot, low powered finesse shots are really strong. Its my go-to method in 1on1 situations. Depending how far away from the goal you are, power your shot up just 1 or 2 bars, and the ball will trickle into the goal while the goalie jumps over it.
Example teams:
Cheap team (this is the one I am currently using):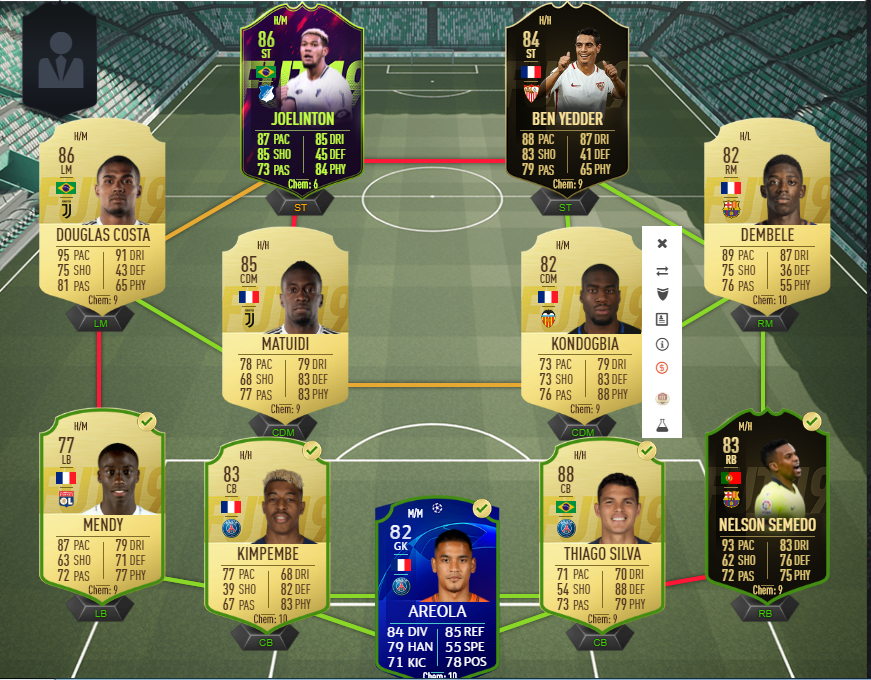 If you just want to give the formation a try, I would recommend you to use this. Replace if Ben Yedder with the normal card, and Joelinton with one of the many Serie A strikers, and you can try it out for very cheap.

Expensive team: (the team I am currently working towards)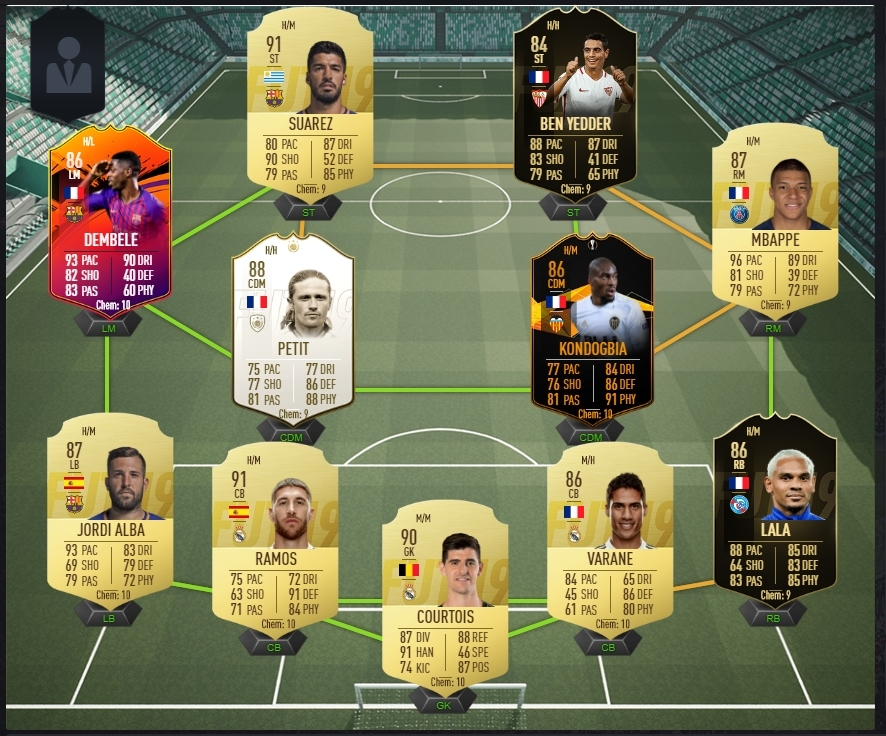 Bundesliga: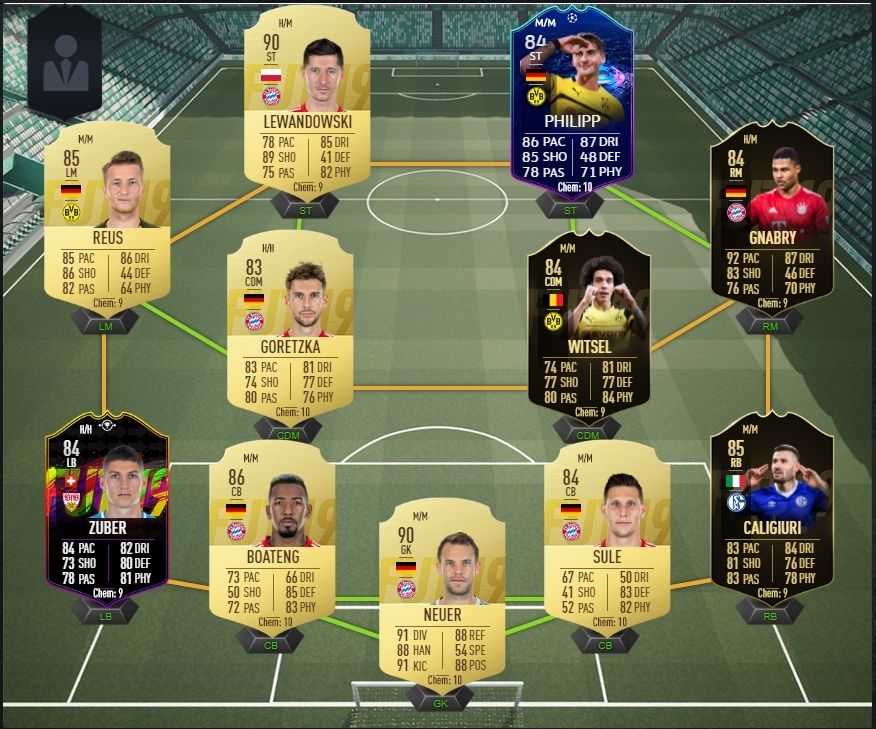 La Liga: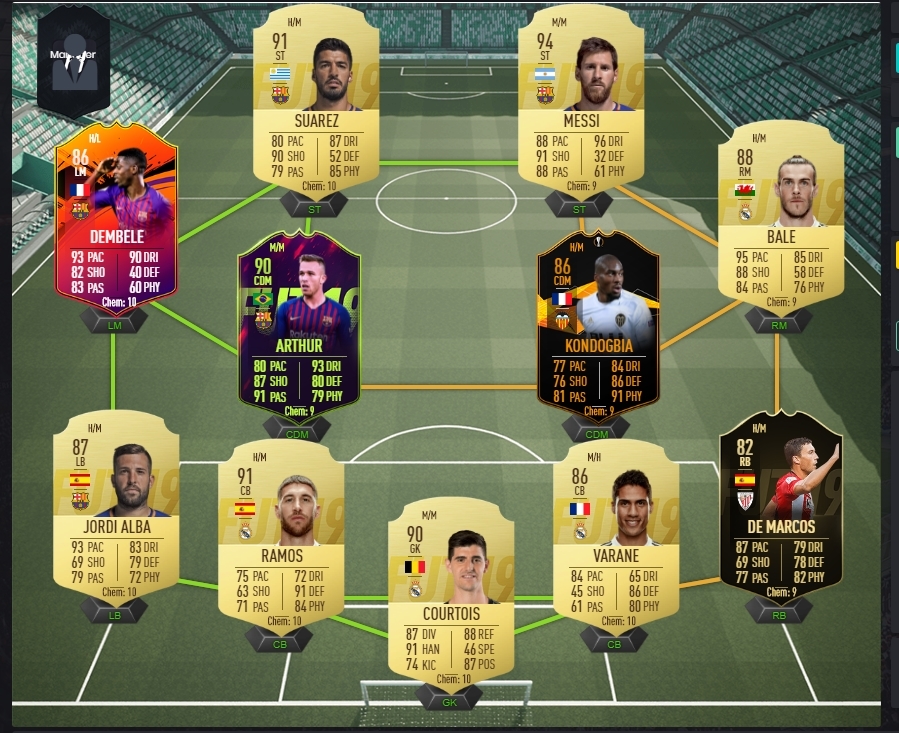 Serie A:
(no good h/h or m/m striker)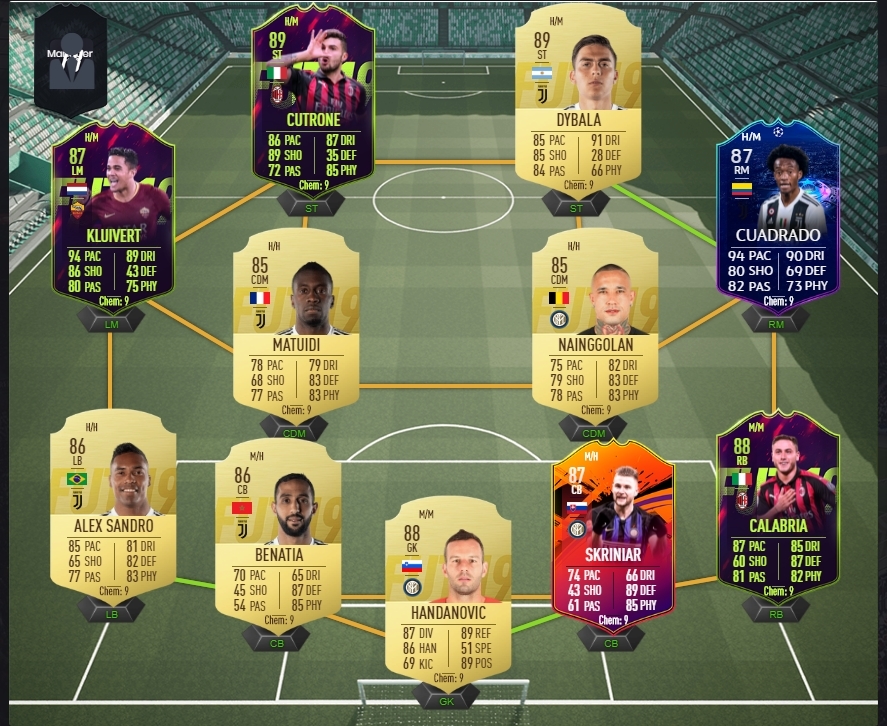 Premiere League:
(lacks a great second box to box midfielder)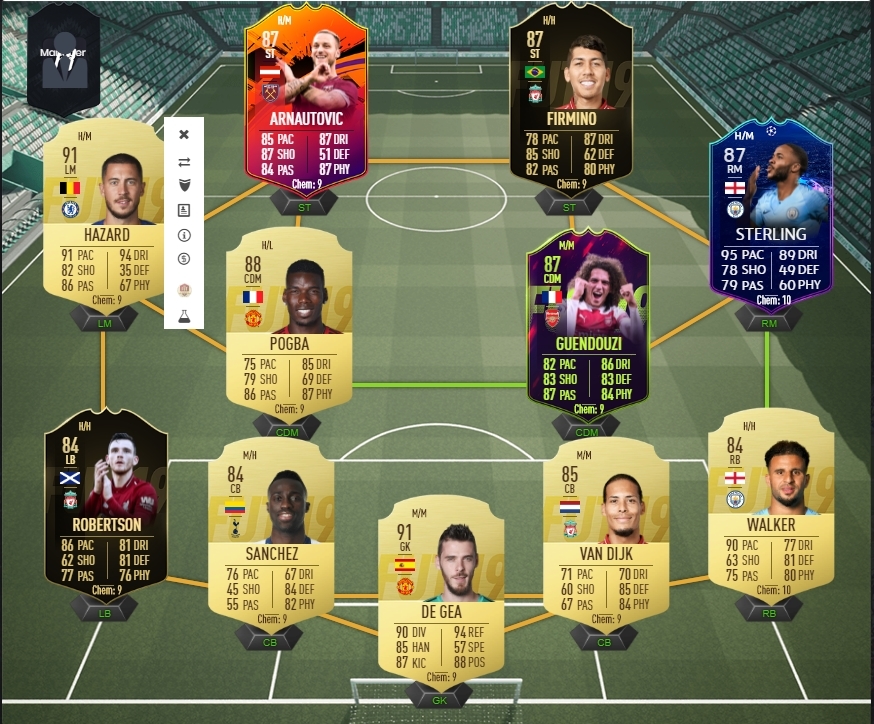 Gameplay videos:

I ll be adding gameplay videos against different types of formations and opponents over the next weeks.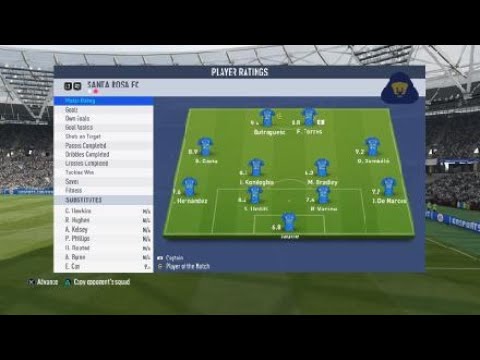 This marks the end of this guide. If you have any questions or improvements/critique, just ask and I will get back to you as soon as possible!