Evening Lads and Lassies,
Used to be a big poster/ fifa addict, got married had a kid and priorities changed. I wanted to share my experience from this year just to compare notes with those that have to squeeze in the cheeky game after the L1's bedtime (and you've finished watching that episode of of paw patrol to see if they did save the day, go on! Admit it, we all do it.) and the missus has got her binge of soapshite out of the way and you've managed to convince them it's okay to mindlessly shout a game for a couple of hours.
Me personally I'll be lucky to squeeze in 3-4 hours a week
Mainly focused on SB's and a bit of seasons, had a couple of cracks at DKO's for the cards during TOTS and a solitary month of WL last month. I can honestly say despite many years of getting aimlessly frustrated at this game I've come full circle back to loving it
The array of cards, choices of gameplay, range of movement with players. I think back to the first iteration of FUT and can't help but appreciate the game we've been given now. Yes servers are still shoddy and there's trolls around every corner but this does well for me as a nice daily distraction.
So here's what 6hrs p.w and not a penny spent on the game got me: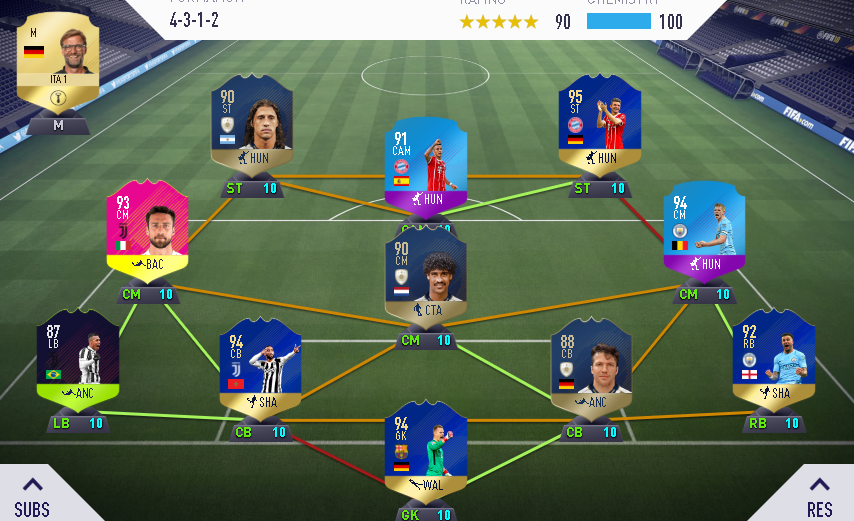 Everything barr Matthaus, Sandro and Marchisio is untradeable, think that leaves me with 550k in coins if i sold (which I probs won't, might get 92 Kolarov again.... those longshots
Had some okay luck with packs from MM's and SBC's etc, traded to mediocre success and resulted in this. Got maybe 400ish games on most of the players max. Don't really have a fave player but the longest serving has to be SBC Thiago. Has around 350 games and has served me well.
Some big casualties for SBC's have been untradeable TOTS Insigne, Thauvin, Pique (packed him 2 or 3years in a row untradeable... hated every single one
) and the german LB.... (names gone.... getting old
)
So would love to hear feedback from other parent's with limited time and see there successes.
To anyone that still remember's me, I've been lurking and checking in occassionally glad to see you're still around and have actually become useful members of the community.... even Ryan as the resident grumpy old guy