I've been saying this for 7 years now.
Firstly, let m say that the proof is in the pudding:
FIFA 09 Metacritic user score: 7.5 (PS) / 8.0 (Xbx)
FIFA 10 Metacritic user score: 7.5 / 7.5
FIFA 11 Metacritic user score:
8.0 / 7.5
---
tactical defending introduced in 12----
FIFA 12 Metacritic user score: 7.2 / 6.7
FIFA 13 Metacritic user score: 6.6 / 6.1
FIFA 14 Metacritic user score: 6.3 / 4.2
FIFA 15 Metacritic user score: 5.6 / 4.2
FIFA 16 Metacritic user score: 4.3 / 2.9
FIFA 17 Metacritic user score: 4.8 / 5.1
FIFA 18 Metacritic user score:
3.4 / 2.8
I'll explain why "Tactical Defending" has ruined the game.
Contain & 'contain-bots'
The very concept of contain, and 'team mate contain' is not only unrealistic (the defender mirrors the attacker, like he knows the direction the attacker will go before the attacker himself knows it), but it's both excruciating to play against, and to use.
When using the contain feature, it mind-numbing just watching your defender mirror the attacker, when really you want to win the ball - you can ofcourse stick out a big clumsy leg using standing-tackle, but for most players, manually tackling is too risky. The majority of players will either
A.
Use contain, or
B.
Control another defender and use 'team mate contain'. It's comical to watch "team mate contain", often an attacker will dribble up close to 1 or 2 'teammate contain-bots' only for them to stare at the ball while trotting backwards.
Can you imagine if this was real life? You would be wondering why the defenders were not tackling, but just staring blankly at the ball as they moved in the direction the attacker moved. Better players will jockey potential pass channels hoping to get in interception, while his teammates contain - maybe he hopes the attacker will run too close to the contain-bot who will initiate an auto-tackle.
When playing against a defender who is "containing" it's equally as boring, the defender never commits unless you run into him, dribbling past a contain-bot (holding contain creates a bot) is near impossible so it leads to a pass. And another.
Pass, pass pass pass pass.
An auto-tackle may come in if you get to close - then the tackle animation kicks-in, giving you no chance to react quicker than the defender and beat him. This is an auto-mated sequence.
Ball control
Ever since 12 onwards, if you read through the metacritic reviews you will often find comments along the lines of:
"Stuck in the mud"
"my players feel like they are 50 stone"
"I've seen battleships turn around quicker"
"Button lag is horrible"
The reason for it? It's not bad coding, it's not button lag... it's the dumbing down of player ability to compensate the defensive balance.
Take a quick look to remind yourself of the kind of control you had in FIFA 11: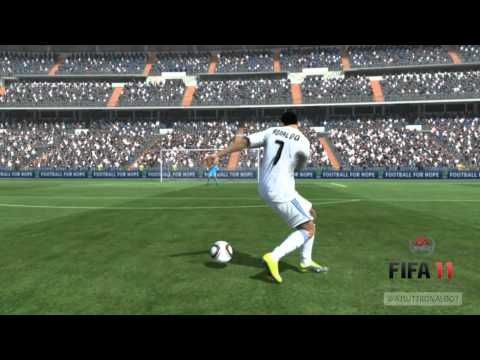 It was smooth as butter. It was super responsive, dribbling was difficult to master but felt great when you pulled it off. Now 5-star payers are tripping over their own feet like drunks.
Imagine you had that kind of control over the ball in any title from 12-18? You would easily beat any defender trying to manual tackle. If your ball control was as sharp and as responsive as above, it gives little opportunity for an opponent to win the ball with a manual tackle.
Although, your skills would be useless against a 'contain-bot', it would lead to very sharp pass-and-move sequences with the defending player having little chance of winning the ball back until a shot comes.
So, because the defending system is so poor, and so flawed, it has lead to a dumbing-down of player ability. You can no longer turn smoohtly and realistically like 11 or previous - your ability of what you can do on the ball has greatly diminished to try to rebalance a failed "contain" system that EA will just not drop.
Shooting
Hard to believe how overpowered it is now. Why? Because scoring from 25 yards into the top corner is the only way any kids will feel like they get enjoyment out of this chore of a game. Forget making shooting so easy, is harder to miss from 30 yards... i just want players who can smoothly control the ball and doesn't feel like he is wearing concrete boots.
Konami have focused heavily on gameplay, once they sort of their servers and terrible User-Interface menu's, FIFA will be in huge trouble if they don't swallow some pride and ditch "Contain".
Wake up and smell the coffee EA, your "tactical defending" system DOESN'T WORK. BIN IT, then fix the rest of the game.