Hey Guys,

I wont be updating this guide anymore or answering questions about teams and so on. I have quit Fifa for the year and cant find any motivation to keep on playing.
Ive seen lot of streamers and content makers give up the game over the last two months and i have the same feelings towards the game as most of them.

The input delay just keeps getting worse each weekend. When you grind 40 games and you feel that like half of them is out of your hands due to delay or players not being responsive properly i cant find the motivation to keep on playing.

You are free to continue the discussion about the 4231 formation. It still works great for me in seasons, but its a different story to keep possession when the game is heavily delayed like in the WL.


Goodluck to you all in your future Fifa games
2018-01-08 Updated the guide with new CT´s & Instructions that i use with great success. Also gameplay video added in futchamps with above CT/Instructions. Gameplay video added on the buttom of the post.
Hi everyone.
This is my guide and
my view
on the 4231 narrow formation. Ive played the 4231 narrow since Fifa 14 and i wrote a similiar guide back when Fifa 16 was released. Lately some people have been messaging me about the 4231 narrow formation and what instructions and tactics i use. So i thought why not make a simple guide again.
My hope is to inspire people to try out this wonderful formation and hopefully this might be a good start to transition from those boring 41212(2) , 4312 and 4321.
Little about me
I am no a pro player, not even close. Probably slightly above avarage. I do occasionally win div1 and finish Elite in the WL, but mostly i never manage to play 40 games. I lurk the forums several times a day and mostly express my hate for the current state the game is in and the Meta-game.
Ive been playing Fifa since back in 98 which is almost 20 years now, absolutely insane!
English is not my first language, i hope you can disregard any spelling errors this guide might have.
Introduction
To start with, the 4231 might be one of the most balanced formations in the game. Depending on your custom tactic and instructions, this formation can either be very attacking or very defensive. For example the ability to have all your 3 CAM´s + striker to stay forward. The 2 CDM´s provide defensive cover where its most important this year, in the middle of the pitch. Its probably the best way to counter the META since you will always have at least 1 CDM shielding your back line which helps alot to stop counter-attacks. 4231 is also great for possession as it creates alot of triangles to pass around. This makes it easier to counter high pressure.
Honestly it plays out very well against any formation be it narrow or not.
Strenghts of 4231
- Lets you control the tempo of the game
- Easy to have alot of possession
- Once attack is established outside your opponents box he will struggle to attack
- Counters narrow META formations and high pressure
- Can be either very attacking or defensive.

Weakness of 4231
- Hard to pressure opponents that timewaste
- Not ideal if you are a goal down and the clock is ticking close to 90th
- Hard to hybrid
- Not suited for direct play
How to use the 4231 formation
As mentioned before the 4231 formation is great att keeping possession while maintaining a strong defensive structure and still keeping enough people forward to create goal chances.
Your goal should be to always start the buildup from your GK to your fullbacks and pass you way up the pitch.
Remember just because you are playing possession style dosnt mean you have to play slow. You want to make alot of quick short passes. You want you opponent to be switching player as much as possible, draging players out of position. You shouldnt run out of passing options, if you do you CT or player instructions are off. You should be able to transition from defense to attack both using the flanks and the middle.
If your opponent is using highpressure make sure to switch sides. If your LCAM has the ball and you find your self in a situation you cant go forward anymore. Pass back to your LB and switch the play with a cross to your RB that will basically have the whole right lane for him self. The key of playing possession successfully is to have patience and not force a pass. Sometimes it might be better to pass backwards to a player that will open more space and oppertunity to pass foward. And remember the faster you move the ball between your players the more your opponent will struggle keeping his defense intact.
Building your 4231 squad (My Template)
I personally always put in alot of thought when building my squads. Fifa18 can be so random at times i try to leave little as possible to chance. I have some simple rules when building my squads. Note that some players i suggest might not have the suggested stats im looking for by default. This can be addressed with a chemistry style.
DefenseFullbacks |
80+ pace . If his pace is closer to 80 stick a shadow card on him. Good passing/crossing and 75+
in both defending and physical stats. Workrates H/H or H/M
RB : Valencia , Walker, Florenzi, Aurier, Zanetti, Pereira, Cancelo, Karsdorp
LB: :Marcelo, Alaba, Sandro, Alba, Kolasinac, Ghoulam, Rose, Carlos Zanetti
Centerbacks|
Pace over or close to 75. Helps with good passing. 82+ in both defensive and physical overall stats. Also make sure they are tall, dont fool your self and play with someone like Umtiti or Marquinhos that dont have the height. Workrates doesnt seem to mather so much here.
Maldini, Ramos, Chiellini, Blanc, Rijkaard, Sokratis, Varane, Koscielny, Baily, Koulibaly, Toprak, Virgil van Dijk, Rudiger, Smalling
Defensive Midfielders|
Might be the most important position this year. Since these guys are the ones you will want to control when defending. You want your CDM´s to be tall, strong and fast. Think of more a box-to-box midfielder. They should be able to score longshot and make accurate driven passes as much as they chase down and tackle your opponent. You can comfortably use someone like Pogba here because he has so strong physical presence. I personally avoid smaller midfielders like Matthäus, Fernandinho, Kante and so on. Workrates H/H M/H H/M
Petit, Vieira, Desailly, Vidal, Pogba, baby Gullit, Naingolan, Marchisio, Matudi, Goretzka, Brozovic, Herrera, Tolisso
Its perfectly fine to use someone like Bakayoko who is a great defender and ball winner. But you have to live with bad passes and any scoring oppertunity he gets in going to waste.
Attackers
I have one very important rule here that i never break. Never. I can not explain to you guys how important this is.
All your CAM´s and your Striker should ALWAYS have 4 star weakfoot and 4 star skills. This is a must if you want to be unpredictible in attack. This is t he difference between scoring and not scoring. This of course narrows the players you can use. BUT with everyone pausing and switching formation in game, you can significantly increase the amount of players you can use on these positions. Even if i consider it to be a ❤️❤️❤️❤️ move i will be listing winger you can use with a formation change once the game starts. Obviously if you dont use skillmoves you are welcome to use players that are 3 star or less.
Central Cam |
This will be your guy that sets up most plays. Basically he should have high stats on everything except defending. It helps alot of he has decent physical stats. 4 star WF
Gullit, Pogba, KDB, Mertens, Rui Costa, Eriksen, Scream Perisic, Gomez, Fekir, Jesus, Ibrahimovic
Wide Cam |
4 star weak foot and 4 star skills to start with. (Exceptions for weak foot can be made for great players like Dybala, Bale etc. You want to have as much pace as possible on these positions, together with good finishing, dribbling, passing and if possible physical presence.
Mertens, Perisic, Gomez, Dybala,Reus, Hazard, Martial, Henry, Overmars, Pires, Willian, IF Alessandrini, Promes, Anderson, Mbappe, Bale,
Striker|
4 star weakfoot is a must. You want your striker to be as effective as possible. I personally with my playstyle prefer a strong and tall striker. Or at least a striker that can frequently score headers of crosses or corners. But it works great to use smaller and more agile strikers as well. I dont find pace so important here as i rarely go for troughballs. I try to play the ball to my striker when he is in the box.
Targetman | Ibrahimovic , Suarez, Kluivert, Crespo, Benzema, Balotelli, Henry
Smaller agile strikers | Aguero, Mertens, Jesus, Gomez, Mbappe, Martial,
If you can live without 4 star weak foot and 4 star skills your options become alot more.
Custom Tactic & Instructions
When it comes to CT & Instructions you really first want to think of how you will be playing and not just copying CT´s from someone else. I will be posting mine, but take a minute and reflect over how you want to play and how you want your players to behave. For example having your striker set to "Get in behind" while having passing set to 30 will confuse your player. You have one instruction telling him to make runs behind while at the same time you have your custom tactic set to the player coming close for a pass. This also effects your defense in a way. Custom tactics with 60+ passing will tell your players to be ready for longer passes making them standing far away from each other resulting in a hit in defensive positioning and potentially big gaps in your midfield.
If you play possession its better to leave your striker on default, that way he will naturally make him self available for passes, and you can always manually trigger runs if you need to.
My Custom Tactics & Instruction and why i use them
Build up play
Speed 70
Passing 30
Positioning Organised
Speed on 70 because even if we play possession we want our players to move fast in the buildup. Especially against high ressure you dont want to get closed down and run out of passing options.
Passing set to 30 because we want to create those triangles. You players will come close to the ballholder offering a short passing option. Together the speed and passing settings allow you to make quick short passes when moving up the pitch.
Positioning organised because we want to keep our team in their positions. We dont want our defenders to wander out of positions in case we lose the ball.
Chance Creation
Passing 60
Crossing 40
Shooting 65
Positioning Organised
Passing on default. Which will be more covered in the Instructions section. But basically you will have 4 attacking players. You dont want your CDM´s to take risky runs forward in the buildup play.
Crossing to 40. Because we want our Striker , CAM or wide CAM´s to be in the box so we can stick the ball to them.
Shooting on 65, because simply longshots are OP this year.

Defense
Pressure 50
Aggression 50
Team Width 45
Close to default. Just because throughballs are so effective we dont want our defender line to push up too much
Aggression to 50 simple because we dont want to drag our defenders out of position. We are happy to chase and close down passing options with our CAM´s and CDM´s. Our defenders need to stay in their position



Player Instructions
ST - Get in behind
LCDM - Stay back, man mark
RCDM stay back, Cut passing lanes
Fullbacks on balanced or if you are a great defender try them on always overlap. Your fullbacks overlapping will make your wide CAM´s cut inside which is very useful.
Agains meta formation 41212(2) this is extra helpful because even if you get cought on the counter it dosnt really mather since you have your CB´s and CDM´s. Against 433 formations or formations with wingers in general i strongly recommend to keep your fullbacks on balanced.
There are countless of teams you can use if you switch formation in game. Its up to you, i wont be posting any of these teams since i really dont want to encourage that but its all up to you.
Also please note that this guide is mostly directed to people who enjoy possession and creating goal scoring chances by stringing together 10-20 passes. The style of play , with instructions and CT im using will not work with direct play or fast counter-attacking. If you play this formation succesfully with direct play you are more than welcome to share your instructions and CT´s and ill make sure to add them in the first post section of the guide.
Updated CT & Instructions 2018-01-08
70
30
ORG
60
50
65
FF
50
50
45
Cover
Instructions
ST - Get in behind
LCDM - Stay back, man mark
RCDM stay back, Cut passing lanes
My Current team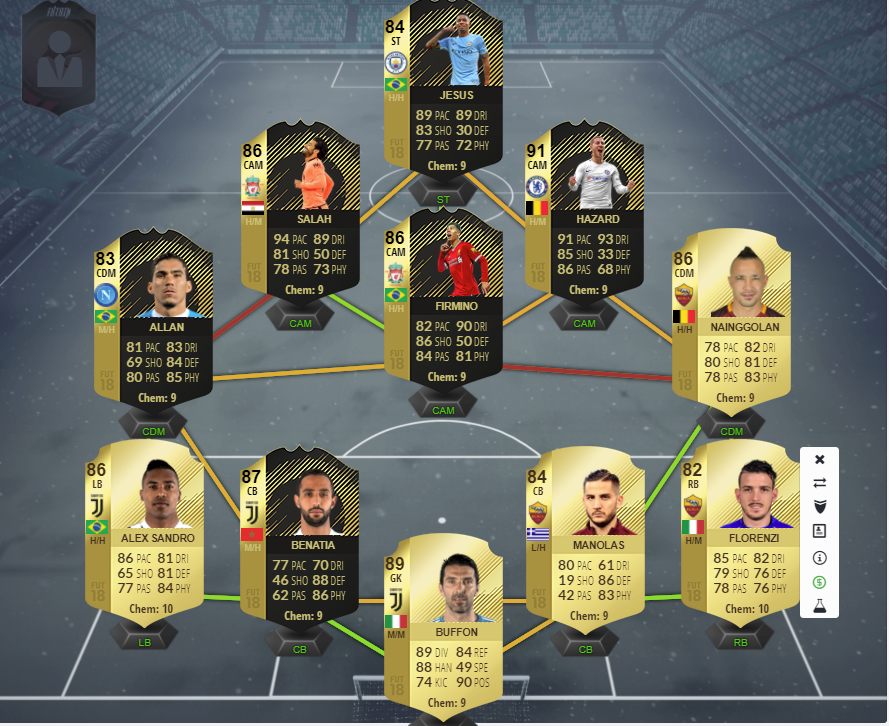 Futchamps Gameplay. (Will try to add more, the delay was heavy in this one)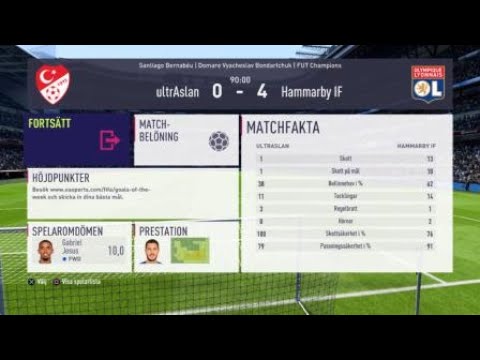 https://www.youtube.com/watch?v=t6dVaWzAOUc