"There was a man, who had nothing. But he wants everything. To reach his aims he focused especially on perseverance, discipline, creativity, willingness to learn and passion. He knew that every time has its own conditions, advantages and disadvantages. He managed to believe in his dream and could realize it. Every day was used. The most of them very successful, if there were setbacks these were the motivation to do it even better. I am Futsby and you are invited to go with me along this path..."
Who am I?
I am Futsby. 23 years young, German, hungry for success with a certain inclination to drama. Last year I was more or less successful as "Wolf of FUT" and I want to attack even more this year in the german EA Fifa Forum. Now I am here, too.
Repeat the past and avoid mistakes!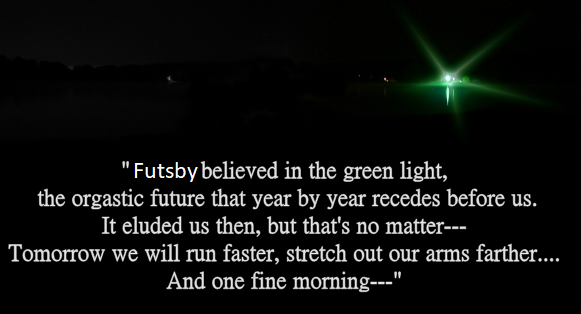 What awaits you here?
- personal, sometimes very concrete, trading and investment tips with low,
medium and higher risk
- dissemination of advice and feedback from other international FUT-
Traders and shorts comment from me
- motivation, jokes and answers to FUT developments
- "last minute deals" and much more ...
... and of course a lot of GIFs .
.
I give you a promise:
Each of you here can reach a double-digit million amount in FUT. Without Fifa Points. Without FUT Champions. Without having to deal with FIFA 24 hours a day. You just have to read and act with the same energy and strategy as I do and many others here. I like to help you.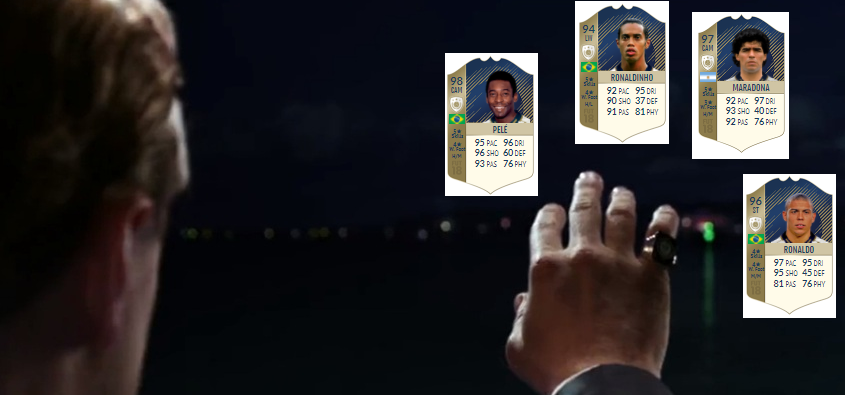 What do I expect from you?
- bring in your own opinions, ideas, questions and suggestions for improvements
- be fair with each other
- forbearance, if a tip does not work
AND:
Sell in the hype or if you are happy with the profit, old sport!
Follow me on Twitter too, so you don't miss a tip and read it first. That would me make very happy and give me some motivation. There you can also write me personally at any time, if you have a special question and hope for a detailed answer. The push function is activated.
Of course, I will continue to work hard here and you can register here so as not to miss a "party".
Excuse me for bad english. I use the Google translator to get in touch with you as fast as possible.
My plan for the next days + The trafing methode with Bronzepacks
1.) The investment plan for the coming days
My situation today:
My transfer list: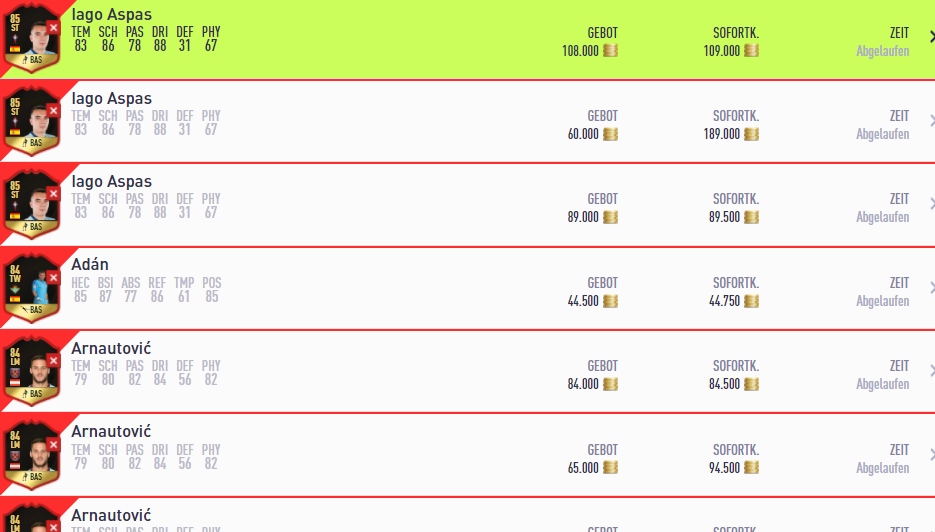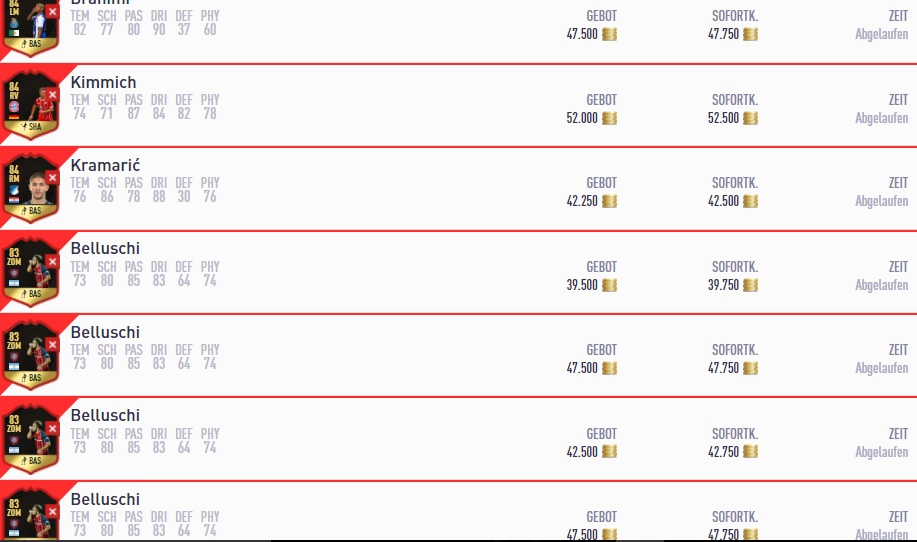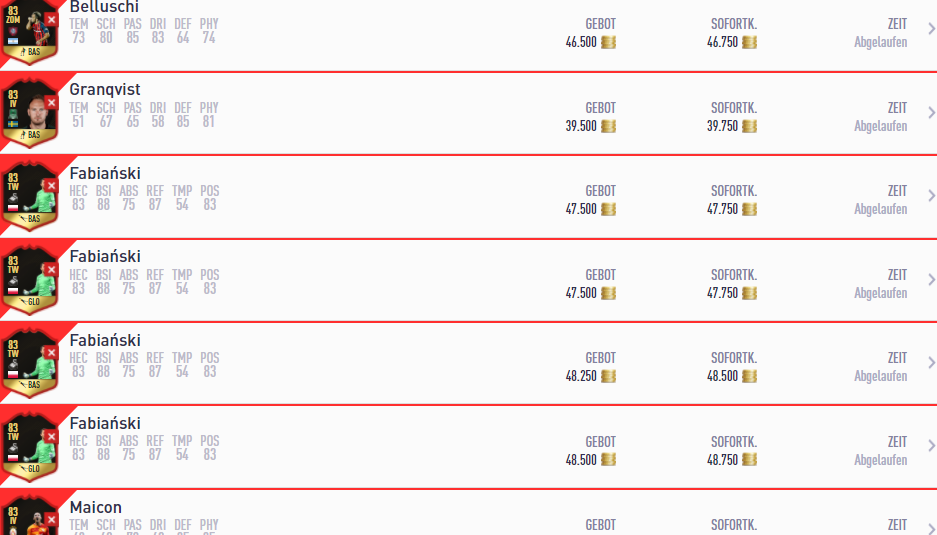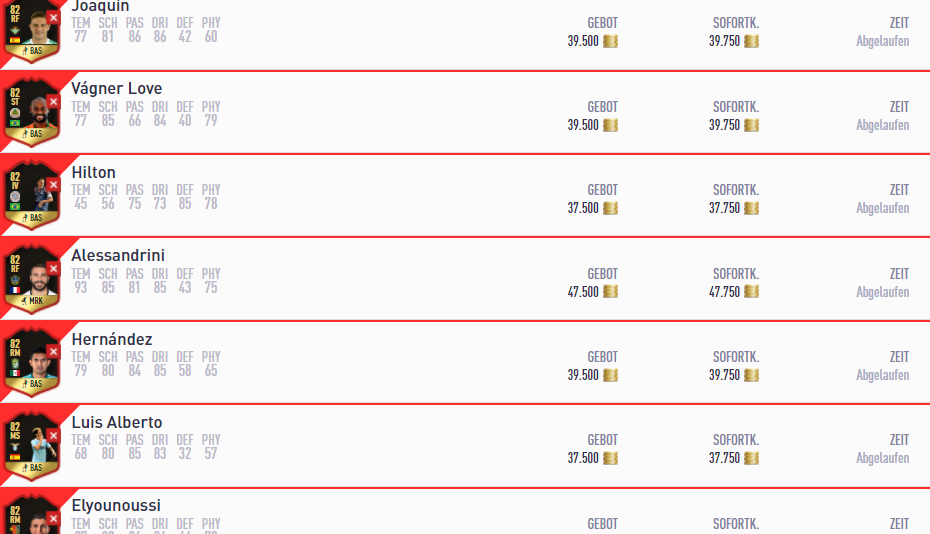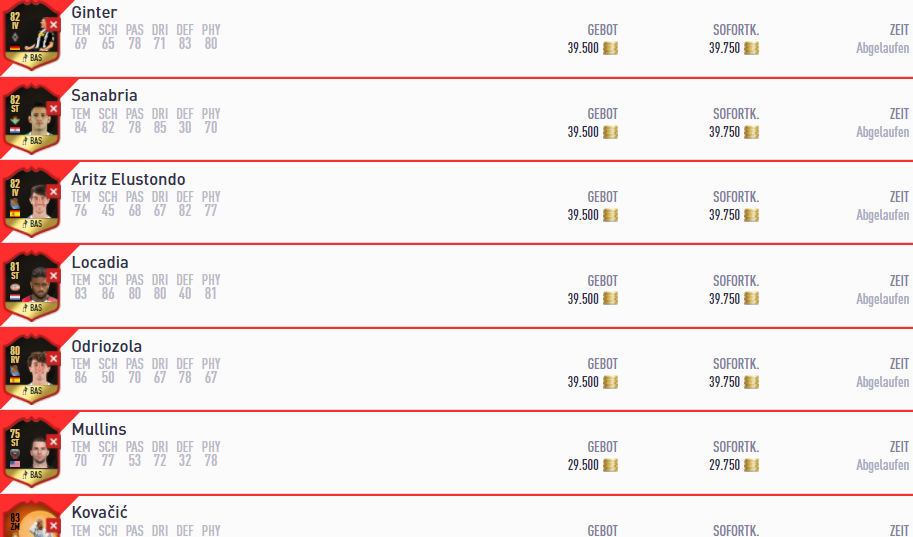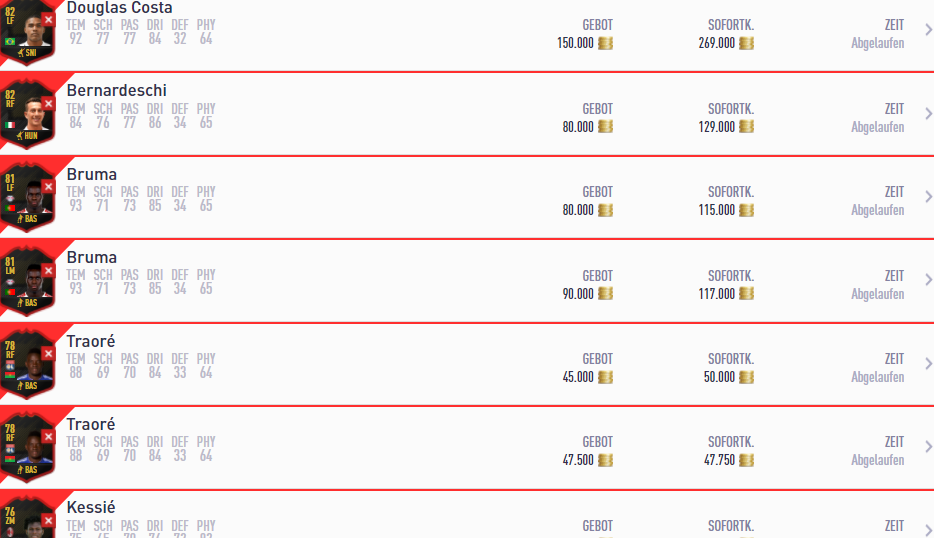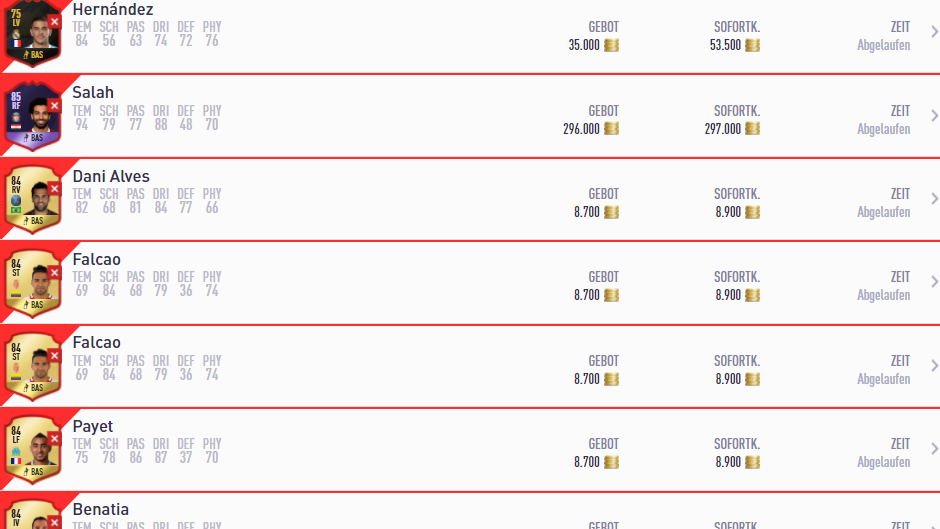 I have some more 83 + 84 rated player there
My watching list: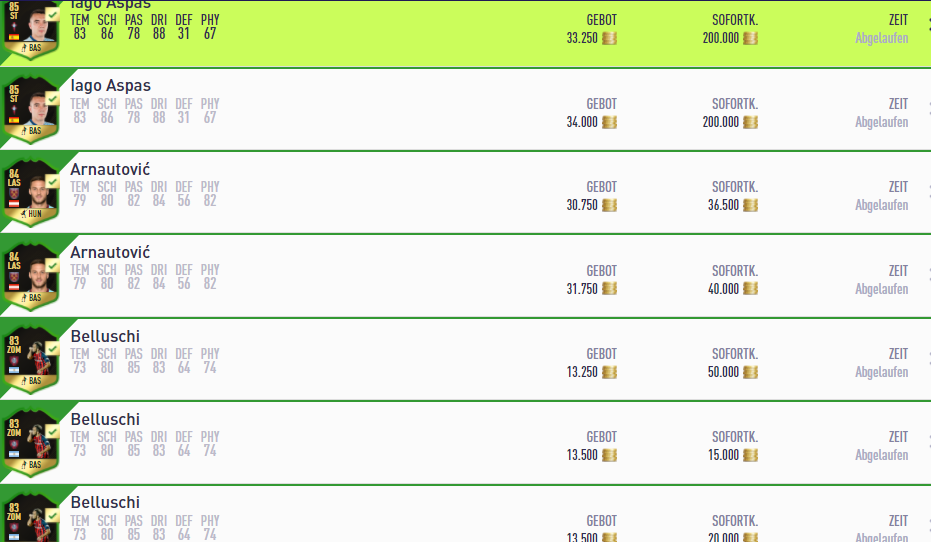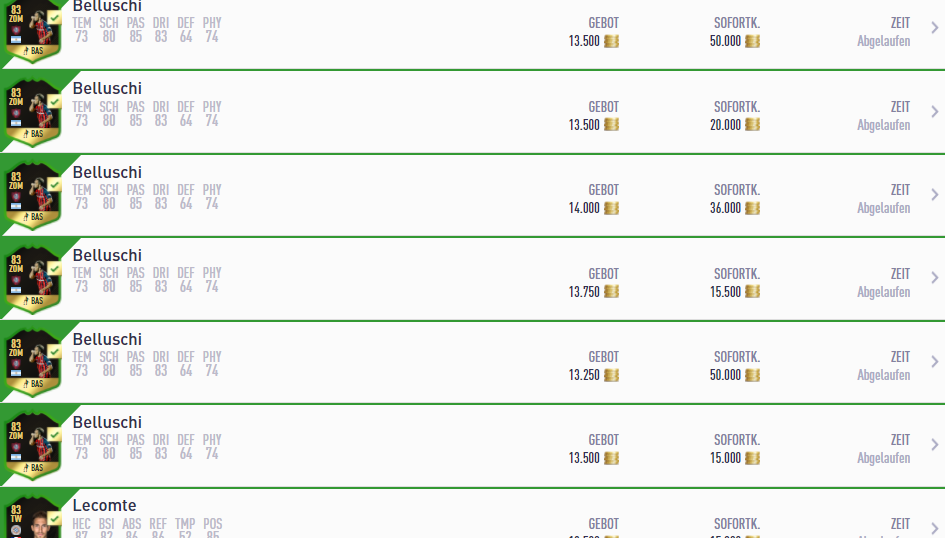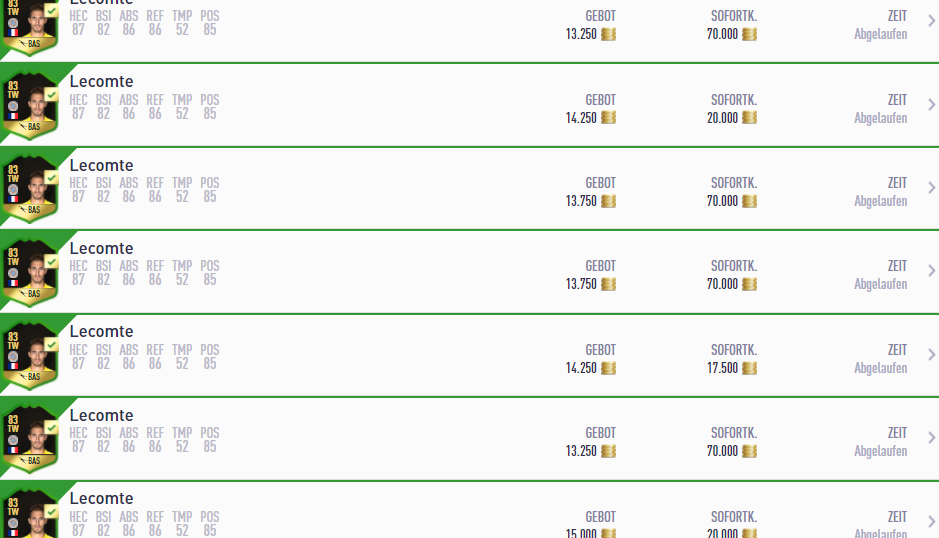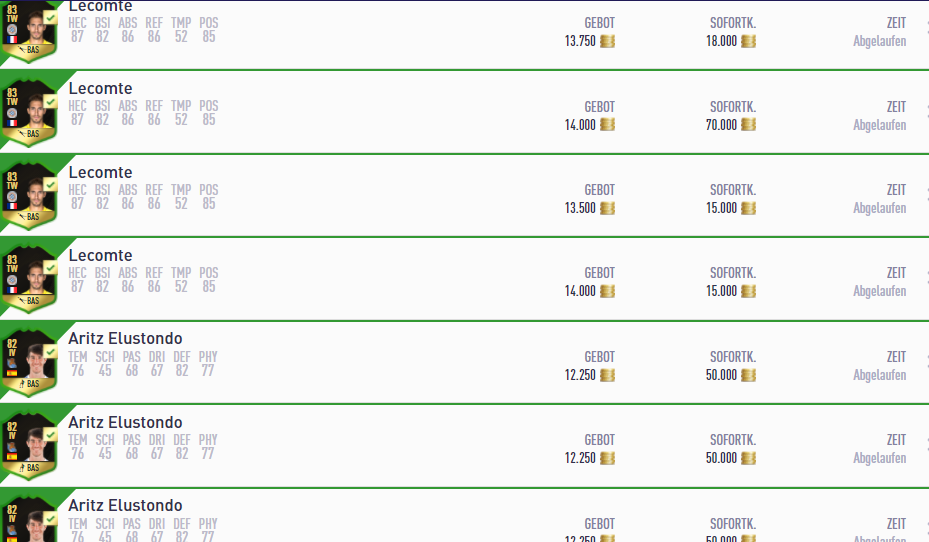 My club: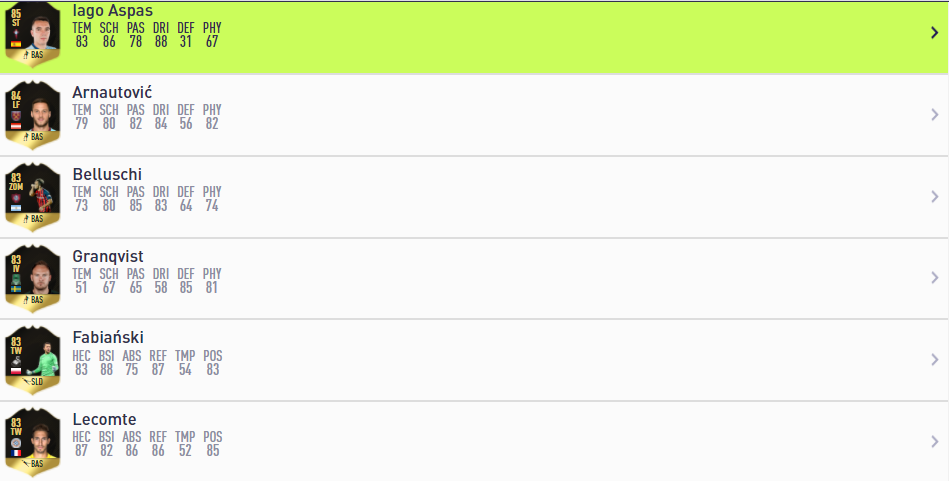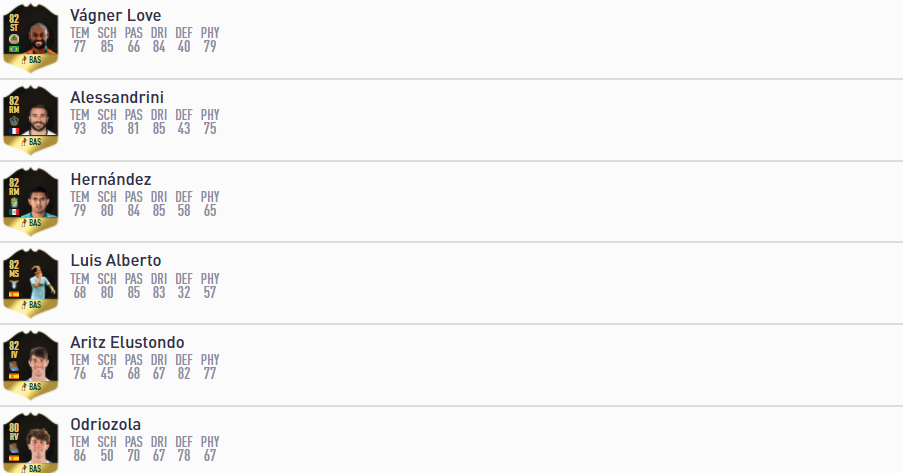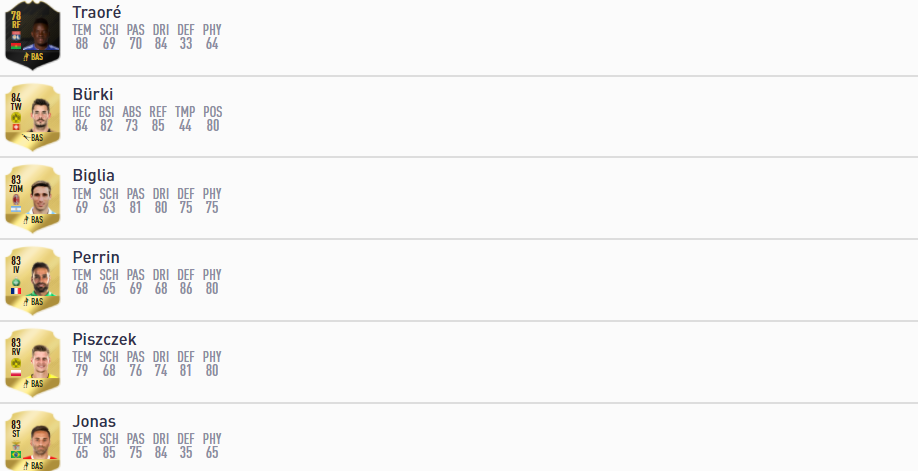 I have some more 83 + 82 rated player there
Variant I:
Tonight, a new SBC will be released, where there are tradeable* scream players as a reward and where scream players are required!
Market behavior: Expensive screamcards will fall, cheap Screamcards will rise.
I: Will invest in the more expensive Sreamcards, of course only if these have decreased noticeably. I think that there will be a new price rise at the weekend, as Screamspieler could be interesting for SBCs (3 position change SBC players) or could be used at Icon-SBCs.
*With an untradeable scream player as a reward, the whole does not behave so drastically, costly scream players will not break so much and I will invest less in these.
Variant II:
Tonight, a new SBC will be released, where there are tradable scream players as a reward and IFs are required!
Market Behavior: All Scream players fall, IFs rise.
I: Sell gradually, gradually, my IFs (by no means all at once) and only after a few hours. Not before, as the people will list all their IFs. For NIFs, of course, as far as they are required. From the profit I will then invest Thursday night in Screamspieler in the hope for the weekend event from variant I.
Variant III:
Tonight, only a small new Halloween SBC will appear (like e.g. the Werwolf SBC from the last days)
Market behavior: IFs and Scream players will remain relatively constant, a little fall.
I: Would take advantage of the situation and buy more IFs and invest in Thursday night in Screamspieler for the weekend.
Variant IV:
Nothing comes.
Market behavior: Just as variant III (perhaps still a small little stronger price drope)
Me: Just as in the case of variant III (investing more at a higher price drope)
Short interim question of #FutsbyArmy:
Do you think it's likely that the squared values ​​at the Icon SBCs will be counting on the weekend?
Answer: Yes, at the last year in the Weekend league the Scream pushs have led to a stronger team assessment (see below). So I am relatively safe, but of course, EA this year can also be specifically at the SBC.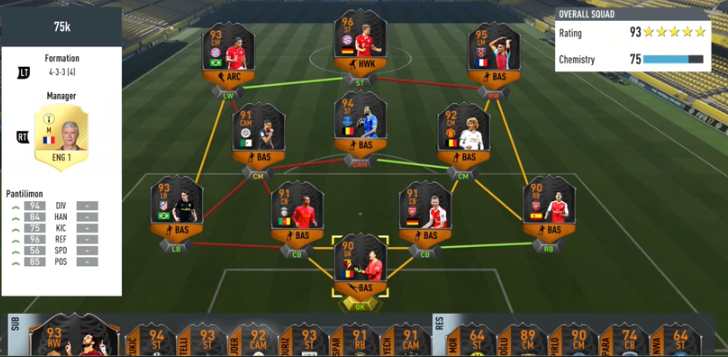 2.) Trading with Bronzepacks: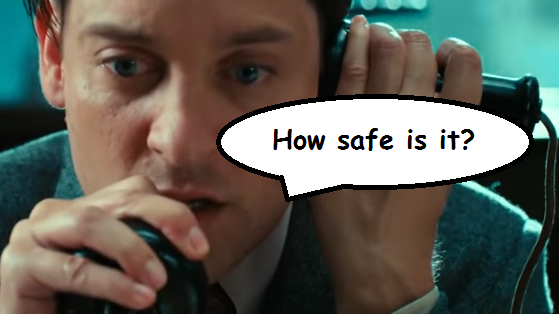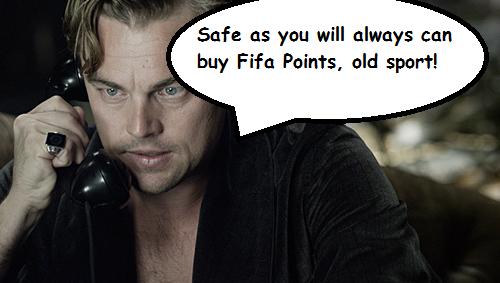 1st rule:
Buy only 400 packs!
2. Rule:
No players are pushed, but stored in the club! (And sold to the matching SBC, for example currently bronze players from Switzerland or Greece)
Duplicates are checked for price and offered at a direct purchase price of more than 250 coins at the cheapest direct purchase price.
for example: Value 300 Coins * -> Set for: 200/250
Value 700 Coins -> Set for: 500/550
Value 1500 Coins -> Revised for 1200/1300
Value 4500 Coins -> Revised for 4100/4200
* Cheapest other instant purchase price.
3. Rule:
Not every player is listed, only a value equal to 350 (unless it is a duplicate), otherwise he ends up in the club!
4. Rule:
Certain consumption objects are packed into the club, used themselves or offered to the next Weekend League, others are directly repelled!
The following are repealed:
Teamfitness, all player healing cards (except head healing), individual fit, rare training objects + Paceboost.
All other consumption objects are repelled!
I usually meet club objects and staff objects, unless I know that they are worth something or I want to use them myself.
5. Rule:
You need at least a slot of 5-10 slots on the transfer list.
6. Rule:
there is not a day on which you have not drawn at least one bronze pack!
7th rule:
You can not make a loss with 400er Bronzepacks if you follow this! But you make a profit of more than a million coins in the course of the year! In FUT 15, e.g. I make about 3kk.
One more tip:
Have heard before that after the next patch can not be used so many push cards, because the qualification month begins. That's why you sell your push cards as much as possible, at the latest to the next Weekend League, if that's true!
Cheers!
How to trade with OTWs?
In the following I would like to introduce you to my approach with OTWs and how to deal with them as profitably as possible.
1.) When should I buy them?
Buy your favorite OTWs at a time when many of them turn on the market. On a "happy hour", after a bad match, for which they will certainly not get an IF, if they have been injured for an uncertain time or if they are still in the packs or when SBCs appear during the week and so more packs are opened and OTWs are pulled.
Always look on the price, watch them and hit if the price has fallen, stabilizes again, after a bad match e.g.!
2.) How do I decide which OTW I get as an investment?
I pay attention to three things. Potential, risk, and hype.
The potential includes game frequency of the player, the price range, the FUT competition, the starting conditions, such as stats, league, club and position.
The risk includes the vulnerability to injury, the price difference between NIF and OTW version (or the value of the NIFS) of the respective player, the risk of a larger FUT event in the near future.
The hype can have positive as well as negative effects.
Before I buy an OTW I usually go through all the points and weigh risk and potential together. With the hype, I look at this rather to sell and buy with less hype.
5.) How do I keep up-to-date on the achievements of my OTW players?
For this I use the app "Sofascore". There you can put in your "favorite players".
The app will be instantly inform you about possible goals, templates, injuries, cards, and game notes
informed by push-news.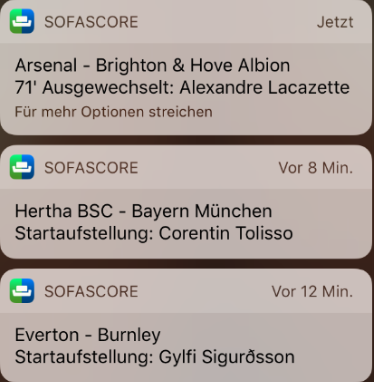 It is also important that you split your potential and risk with OTW players. I myself would not invest everything into a player, but rather as wide as possible. Is also best in connection with sell overpriced to lazy users.
New Trading tips by Futsby
Icons SBC's = Legends SBCs FUT 17 -> Invest now in these players!
Yesterday came the first icons - SBCs. I think that this happens weekly or in a different rhythm. It is certain that the next Icon SBC will come in few days and with very attractive icons maybe. I will therefore invest as follows.
For all:
Invest in cheap icons with high rating. For example: For R9 you will need 3-4 Icons and a specific rating!
For R9:
HR players from Real Madrid, PSV Eindhoven and AC Milan + Brazilian NIFs / IFs / OTWs ...
For Ronaldinho:
HR players from Barcelona, ​​AC Milan + Brazilian IFs / OTWs ...
For Pele:
HR players from the MLS + Brazilian IFs / OTWS ...
For Maradona
HR players from Boca Juniors, FC Barcelona, ​​SSC Naples + Argentinian IFs / OTWs ...
For Yashin
HR players from Dynamo Moscow, Russian League + Russian IFs ...
For Maldini
HR players from AC Milan, Italian League + Italian IFs ...
For Henry
HR players from Monaco, Arsenal, Barcelona, ​​New York Red Bulls + French IFS / OTWS ...
For Van Basten
HR players of Ajax Amsterdam, AC Milan + Dutch IFS ...
For Gullit
HR players from Rotterdam, AC Milan, FC Chelsea + Dutch IFs
For Matthew
HR players from Bor. Mönchengladbach, Bayern Munich, Inter Mailand + Deutsche IFs ...
For Zanetti
HR players from Inter Milan, Argentine, Italian League + Argentinian IFs ...
For Nesta
HR players from Lazio Rome, AC Milan, Italian league, from the MLS + Italian IFs ...
For Puyol
HR players from FC Barcelona, ​​Spanish League + Spanish IFs ...
For Bergkamp
HR players from Ajax Amsterdam, Arsenal, Dutch, English League + Dutch IFs ...
For flatter
HR players from Brondby, Manchester United, Manchester City, Sporting Lisbon + Danish IFs ...
For Shearer
HR players from Southampton, Blackburn Rovers, New Castle United, second + third English league + English IFs ...
For Desailly
HR players from Nantes, Olympic Marseille, AC Milan, FC Chelsea, + French IFs ...
For Pires
HR players from Metz, Arsenal + French IFs ...
For Owen
HR players from Liverpool FC, Manchester United, Real Madrid, Newcastle United + English IFs ...
For Shevchenko
HR players from Chelsea, AC Milan + Ukrainian IFS ...
For van der Sar
HR players from Ajax Amsterdam, FC Fulham, Manchester United + Dutch IFs ...
For Hagi
HR players of FC Barcelon, Real Madrid, Galatasaray Istanbul + Romanian IFs ...
For M. Laudrup
HR players from Brondby, Juventus, FC Barcelona, ​​Real Madrid, Ajax Amsterdam + Danish IFs ...
For Kluivert
HR players from Ajax Amsterdam, FC Barcelona, ​​Newcastle United, OSC Lille + Dutch IFS ...
For Vieira
HR players from FC Arsenal, Manchester City, AS Cannes, Inter Milan + French IFs ...
For Roberto Carlos
HR players from Inter Milan, Real Madrid, Fenerbahce Istanbul, Anki Makhachkala + Brazilian IFs ...
For Blanc
HR players from HSC Montpellier, AS Saint Etienne, FC Barcelona, ​​Marseille, Inter Milan, Manchester United, French League + French IFS ...
For Okocha
HR players from Frankfurt, Fenerbahce Istanbul, Paris, Bolton Wanderers, Hull City + nigerian IFs
For Inzaghi
HR players from Parma, Bergamo, Turin, AC Milan, Italian League + Italian IFs ...
For Petit
HR players from Monaco, Arsenal, Barcelona, ​​FC Chelsea + French IFs ...
For Litmanians
HR players from Ajax Amsterdam, Fc Barcelona, ​​Liverpool, Malmo, Hansa Rostock
For Ferdinand
HR players from West Ham, Leeds United, Manchester United, Queens Park Rangers, English League + English IFs ..
For Crespo
HR players from AC Parma, Lazio Rome, FC Chelsea, Ac Milan + Argentine IFs ...
For deco
HR players from Porto, FC Barcelona, ​​FC Chelsea, Portuguese League + Portuguese IFs ...
For Hernandez
HR players from the Mexican League + Mexican IFs
For Rijkaard
HR players of Ajax Amserdam, AC Milan, Dutch League + Dutch IFS ...
For Larsson
HR players from Rotterdam, Celtic Glasgow, FC Barcelona + Swedish IFS ...
SUMMARY - So what is the total investment?
HR NIFs / special cards of Barcelona, ​​Real Madrid, Ajax Amsterdam, Arsenal, FC Chelsea, Manchester United, AC Milan, QPR, Leeds United, Newcastle, West Ham, Parma, Naples, from Dutch, (2nd / 3rd) English, Italian, Turkish and Spanish league.
Selling overpriced - Your own style is important!
Every good forum trader knows it, everyone makes it. The good old "overpriced-selling". Not a Hokus Pokus, but simply the use of lazy players, who buy the first player,of a buggy transfer market display, which sometimes does not show all players, of sniping traders, who wants "to shoot" IFs especially cheap, but sometimes not with full concentration and so hiting the wrong version etc.!
But every user here has a very personal strategy and approach how he runs this trading method. I now want to briefly introduce my personal style:
Important:
- use all 100 transfer opportunities
- do not waste any unnecessary time -> buy player at the cheapest immediate price
- for IFs: have a look on 7 contracts, 99 fitness (unplayed players!) and popular chemistrystyles (Pace!)
"How do I get the perfect "Overpriced-Selling-TL" without Fifa Points?"
- complete all SBCs (wih the worst case with +/- 0) goes out and put the interesting
Gold-rare players (value over 3k) / IF players overpriced on the transfer market. (The non-rare players
keep in the club to sell at new SBCs and sell them at a good price increase or use them in your own SBCs) -> use
this methode for players from loyalty packs, starter packs, Squad battle and FUT Champions packs
- after winning more interesting gold-Rare players (value over 3k) by shopping put them on the TL,
to have 100 players as fast as possible
- then replace the players with special cards (first the cheap IFs and cheap OTWs, then
only more expensive copies, e.g. TOTYs, Icons or TOTS)
- In my opinion it is the end of every worthwhile IF -> SiF; SiF -> TIF; IF -> TIF card on my TL,
because I get the most profit with these players ...
Just have a look on my best sales from last year:
I
V

#1:
+680k (IF-->SIF)
#2:
+325k (IF-->SIF)
#3:
+240k (IF-->SIF)
How should i list my players?
- over the day, from getting up to sleeping, BUT ...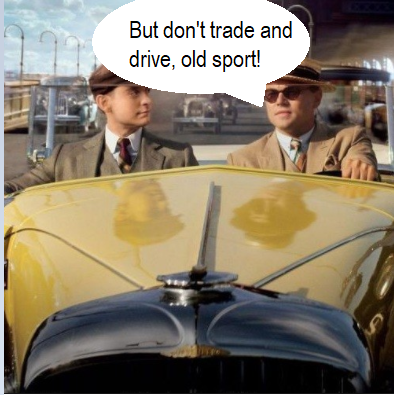 of each player have only one copy on the TL
- always offer for an hour
-> at the following prices:
- Players with 10k range: 7.7k / 7.9k or 8.7 / 8.9k
- Players with 30k range: 27.5k / 27.75k
- Players with 100k range: 97k / 97.5k ...
- IFs, which I offer for the SIF price: always about 5% cheaper than the
corresponding version
It is important that you find your own style that best suits you. Endurance, regular offerings and the utilization of the full transfer list are the general the OP-Trader should act, in order to get closer to the ultimate "Dreamteam". The sooner you start with ÜV, the better.