Last two years posts to show this method works:
https://fifaforums.easports.com/en/discussion/179572/trading-with-golds-non-pre-in-form-trading-low-coin-start/p1
https://fifaforums.easports.com/en/discussion/87656/trading-with-golds-non-pre-in-form-trading-low-coin-start/p1
This has probably been the most popular method for this past couple of years at the start of the game whilst everyone is low on coins, but works consistently throughout the year.
In the spoilers is the old tutorial, but the method has adapted since then. People have found success working with 1 of each card, consumable cards, high rated players, low rated players. Really have a read through what other people are doing, and try some suggestions yourself to see what cards sell well for you using the principles outlined below.
Please don't lazily walk in and ask people "what cards do I buy"!
Introduction!
This is a nice simple trading method which easily generates coins!

A couple of Fifa's back there used to be a thread called Paddy's pub. The idea of this thread was to buy lots of a card which you predicted to get an IF in the hope it would rise while out of packs (When a player has an in-form his gold card is no longer in packs for that week) and for the most parts it worked really well!

What I noticed though, is at the end of that week when the gold card came back into circulation, if I still had a few left over, they would still keep selling if I mass listed. Similar to the IF Trading guide; lazy people pay anything.

I then started buying popular gold cards and flipping them for a few k more each card. You probably make less coins per card on this than the IF Trading guide however you may sell more as they tend to be low value cards. Sometimes it can even work with discard price players but it all depends on the demand.
Much needed simple step-by-step guide with PICTURES!
This is for the original method. Many of you have experimented with slight variances of this, which is great, however for the purpose of the OP and educating newcomers please try this first.
Step 1: Look for a player that an average FUT player might want to use. This could be due to a stand out statistic or they're currently very popular in real life because of form or Youtube hype. I recommend using futbin search and targeting players that are no more than 5000 coins.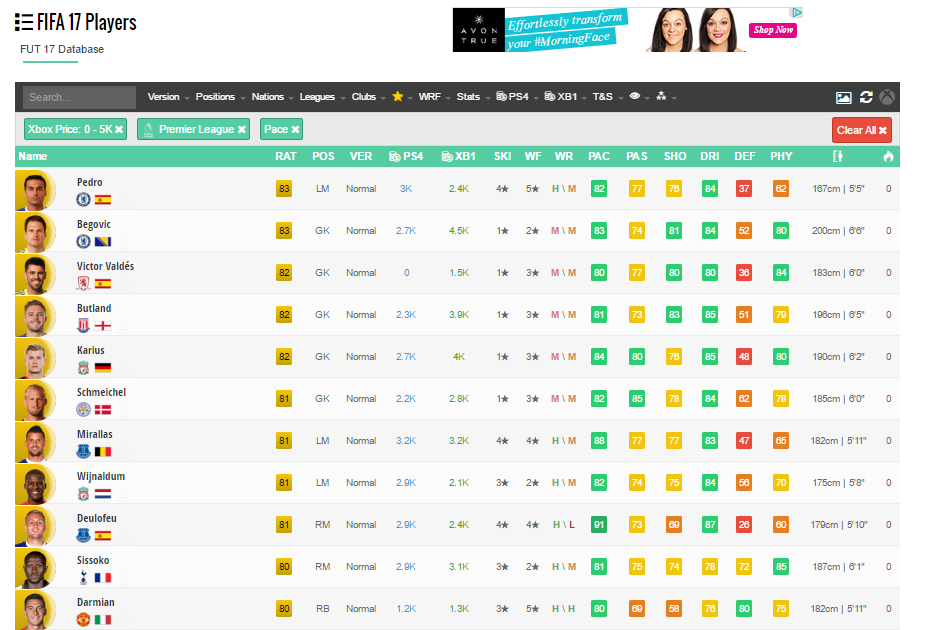 Step 2: On either the Webapp, companion app or console locate your target. I would always aim to buy for a few hundred coins less than current market rate.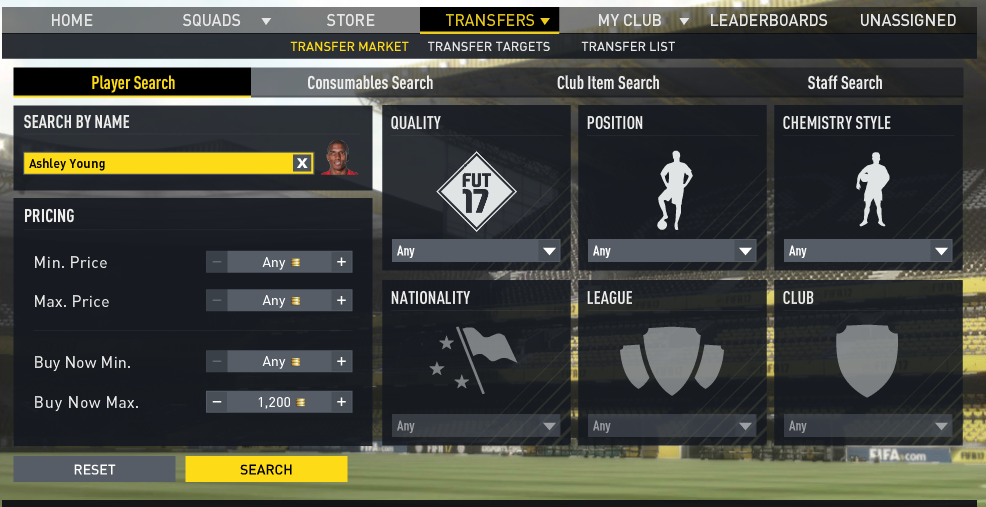 Step 3: Buy this card multiple times for as cheap as possible. I recommend having at least 12 of a card (1 web app search page) to increase the chance of lazy buyers picking your card, however this isn't always necessary .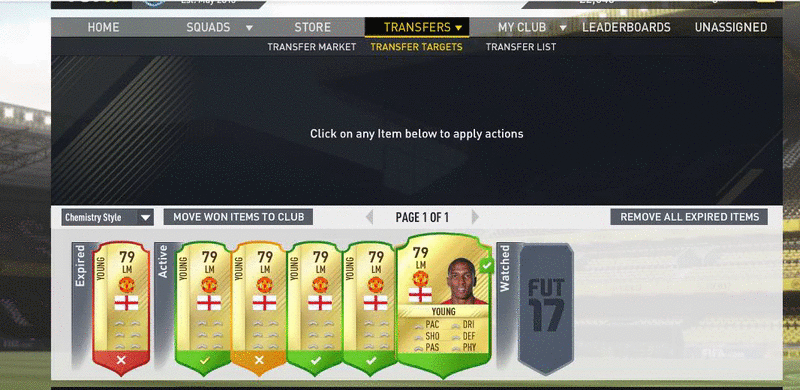 Step 4: List the cards you have just bought ALL AT THE SAME TIME. This will put your cards up for auction next to each other and will appear to the buyer as a normal price. Your price should be between 100-150% higher than what you've paid. You may either stagger the price (picture 1) or keep them all the same. Experiment and see what works for you.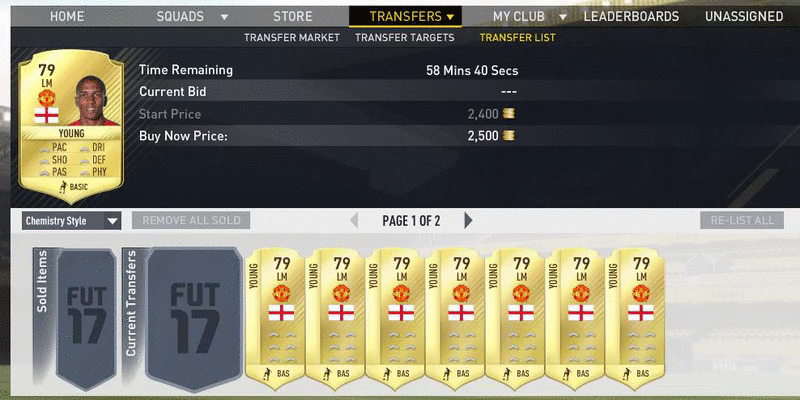 Step 5: After the cycle has ended, don't panic! You will NOT sell all your cards in one cycle. With a small trade pile I would expect 2-3 sales per cycle. If this hasn't worked after a few attempts pick a different player, try varying BINS etc.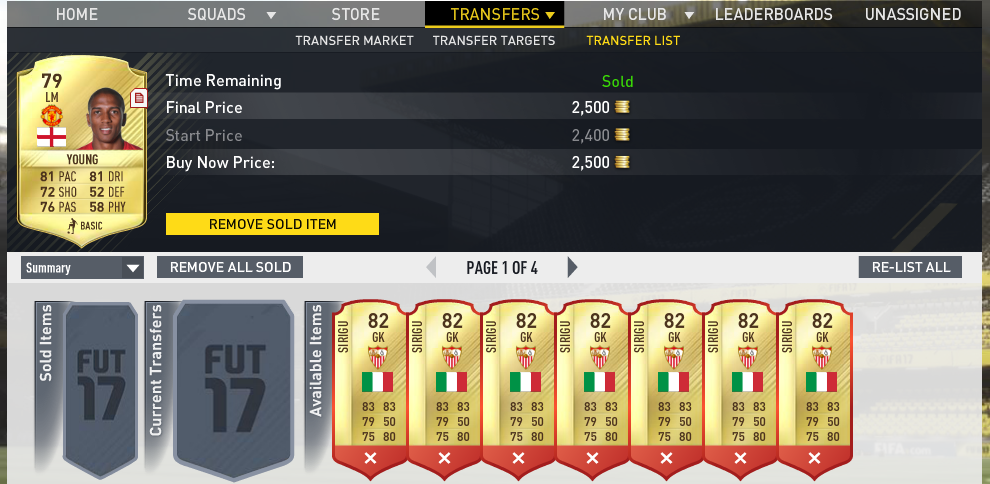 THE PLAYER SHOWN IN THIS TUTORIAL IS FOR DEMONSTRATION PURPOSES ONLY. PLEASE LOOK THROUGH THE THREAD OR SEARCH AS SUGGESTED FOR SUITABLE TARGETS!
Thanks to
@DaveSaves
we've got a profit tracker so you can keep track of the millions you make! If you're anything like me you're always
re-investing
splurging thousands on SBC's and it's hard to keep track of profit.
https://docs.google.com/spreadsheets/d/1OekjzuLQUxrF4qMJTASi8E0WtQaF3kfM-c8jXbavDsY
DO NOT WRITE IN THE ORANGE BOXES!
@SKhan31
@RBailss
@Uberman656
@dudders
@SadioMan
@PogueMahone
@DougInskip
@Ulook92
@TheMenezLover
@Torres4Lif3
@CervezaNL
Sorry anyone else I've missed!!