I'm not a good player. I know that. If I play 30 tournaments I might maybe make one or two finals, which I naturally expect to lose.
But today I was playing my butt off for three matches. Won the opener 2-1. Won the second match 2-1. In the semis I went down 2-0 in the first half and clawed back with three legit second half goals to win 3-2. Miraculously, for me, I'm in the finals.
Now I get matched up with an opponent who is better than me, no doubt. My opponent scores a nice goal indirectly off a free kick to legit go up 1-0. But, still, the ref finds a way to call fouls on me even though I'm not an aggressive defender and almost never slide. My opponent, though, who was playing much more aggressive defense was able to do anything the whole match and ended with 13 tackles and no fouls. In a final - no fu#king fouls on my opponent.
So, I'm down 1-0 but draw level on a nice Rossi goal into the top right corner. 1-1 at halftime.
Second half and the ref calls a ridiculous foul on me even though my player was first to the ball. My opponent sends in a cross that I clear right to his player who cuts into the box and scores to go up 2-1. Unlucky bounce and then bad defense on my part.
After the that rest of the match for me was hitting 2 posts, having Zouma stand in front of a partially open net and not shoot the ball, and then Ilicic, who I had brought on as a sub, make a horrible pass to Ronaldo on a 2-on-1 break.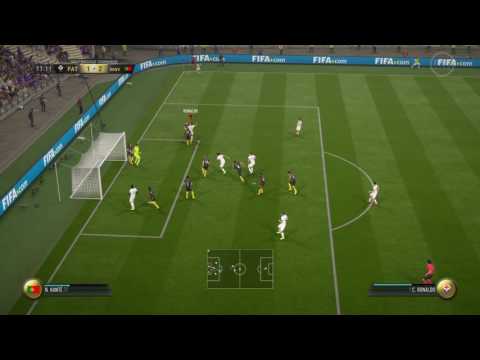 I know, it's my fault - especially that awful pass at the end of the clip. I'm not blaming the game or saying my opponent didn't deserve to win, or anything like that. I'm just in the dumps (relatively speaking...I know it's just a game) because the likelihood of my getting to another final is slim to none and I just really wanted to win one of these tourneys, and at least try playing a few weekend league matches.