https://fifaforums.easports.com/en/discussion/275885/1st-wl-experience-incoming-need-some-advice#latest
So after my last thread and all of the helpful advice i was given I wanted to share my thoughts and results: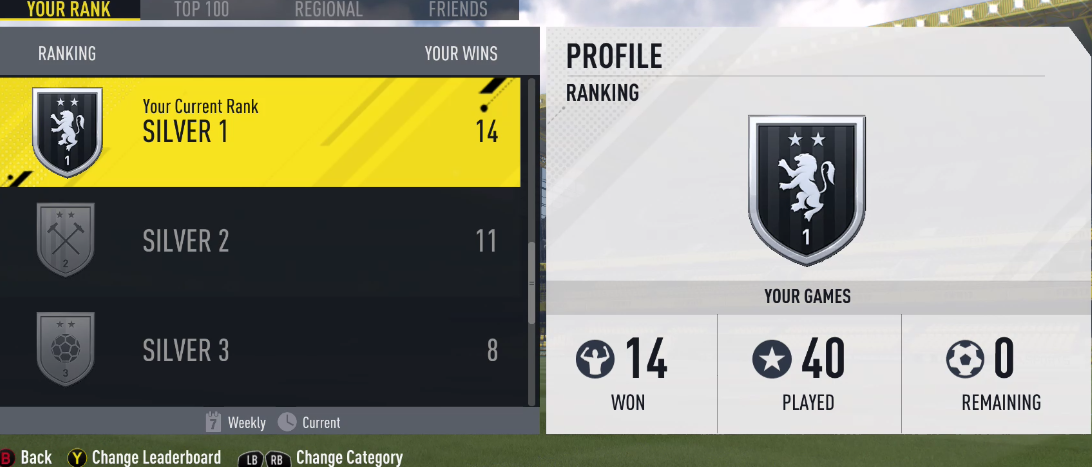 Taking on people's advice I did quit quite a few games early when going down 2/3 goals in the first 30 minutes, Switched out tolisso for gonalons in my first team to provide at least one solid anchor in midfield who could win more duels in the air and after a 1-9 ratio in my first 10 games, realising that playing with the second team in rotation for fitness just wasn't cutting it
In hindsight now i wish i took on the advice earlier as i had to fight my way into 14 wins on the last game, winning after ET on penalties
Overall though im happy with this being a good starting point definitely a great learning curve for next weekend assuming I can re-qualify
I don't really have many complaints with the gameply, learned that playing nights seems more competitve, mornings seemed easier, the standard of player really is a massive leap up from seasons. Great experience for me, as I'm not the best of players but enjoyed the pressure of dealing with aggressive/ counter players.
The style of play when infront of goal is alot more direct and really felt like i learned the importance of learning different styles of play; switching the play on pressure players created space and time to create better chances. Being the aggressor and keeping possession in their half forces mistakes and creates opportunities i wouldn't normally have, mixing up wing play so I'm not always cutting in and attempting a few more crosses (esp to Embolo... guys a force in the air.) seemed to make the times I would mcgeady and shoot in the box more effective.
While I can see the complaints people make about player abuse, i think it gives you an advantage and isn't really much different to divisions. These players aren't invincible, they have weaknesses you just need to try different things to find them. What I find funnier is people making early subs to bring on the musa/ vardy brigade and taking off expensive sbc's in their place.
There are some real class players out there too, with some incredible teams. I was genuinely shocked at the amount of variety and craft in people's teams. One game sticks out where I was torn apart by a silver Kagawa
The guy was by far the better player and i'm just glad it was an early enough game in the weekend for me to learn some valuable lessons.
If you made it this far and have enjoyed the read, get help
thanks again to all those that contributed to the first thread, here is one of my highlights of the weekend
https://i.gyazo.com/0981efc6c55e979c6a892efe77051006.mp4