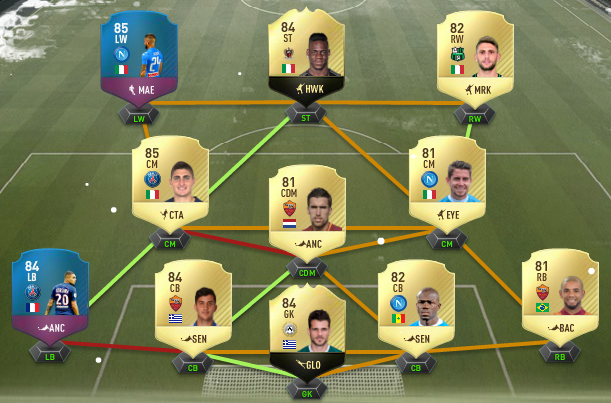 Have used this team for 14 games. Verrati has 2 goals and 3 assists, Jorginho has 1 goal and 11. I have no idea why, if this is something I do myself or what, but my right-sided players (wingers and midfielders, doesn't really apply to fullbacks) always seem to get more contributions regardless of performance.
Had another team in a 4321 with Martial-IF Gignac-Dembele, and Dembele was scoring easily the whole time just by popping up in and around the box in good positions, or the ball just falling to him. In this current team I've taken to switching wings in-game because the ball just always seems to find its way to whoever's listed on the right, regardless of where they actually are on the pitch, and I cannot fathom why.
Can't really imagine this is a common thing but maybe it is, I just don't understand why it is. I don't favour one side over the other for attacking, most of my play goes through the middle even, just always seems to fall to the players on the right.