To sign up, please leave your PSN name and your timezone. You will then be assigned an 2 iMOTMs and 2 summer transfers at random, of which you must use 1 of each on full chemistry.
The group stage will consist of 2 groups of 6 teams (playing each other twice) with the top 2 progressing. Please only enter if you are going to fulfil your games. For match results, please post at minimum the scorers
Please remember this is a friendly tournament, so please keep the idiocy down to a minimum (e.g. don't spam overpowered tactics/exploits)
RULES:
- No attribute items allowed
- No changing formations in match
- All substitutions must be like-for-like in chemistry (i.e. if it would not give full chem on the squad screen, do not make that sub!) However, designated players are EXCLUDED from this rule. They must not be substituted!
- Do not use park the bus
- Do not repeatedly spam pacey sprint dribbles
- Do not spam the corner exploits (e.g. playing for penalties from short corners or the edge of box long shot)
- No time wasting
- Be sporting at all times (Do NOT treat it like a divisions match. It's meant to be fun for both players!)
- In the event of a disconnection, the players will play the remaining minutes of the match (plus 3 minutes added time).
Player Pool: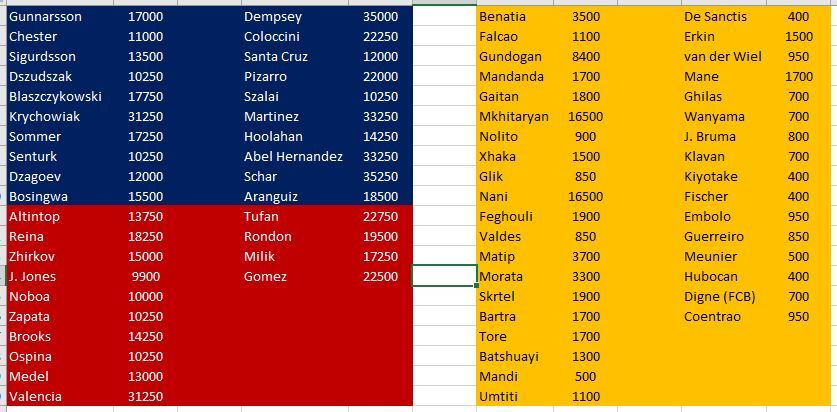 Player Draw:
Group A:
@robmays
- iMOTMs: Ospina / Santa Cruz | Transfers: Hubocan (Marseille) / Gundogan (Man City)
@Cd-rom
- iMOTMs: Sommer / Altintop | Transfers: Erkin (Inter) / Batshuayi (Chelsea)
@BlitzersNL
- iMOTMs: Dzsudszak / Zapata | Transfers: Kiyotake (Sevilla) / Mane (Liverpool)
@Rumplefish
- iMOTMs: Bosingwa / Milik | Transfers: Coentrao (Real Madrid) / Mkhitaryan (Man Utd)
@keema-v
- iMOTMs: Medel / Sigurdsson | Transfers: van der Wiel (Fenerbahce) / Umtiti (Barcelona)
@tomgreat1990
- iMOTMs: Gunnarsson / Krychowiak | Transfers: Klavan (Liverpool) / Digne (Barcelona)
Group B:
@TWS001
- iMOTMs: Hoolahan / A. Hernandez | Transfers: De Sanctis (Monaco) / Bartra (Dortmund)
@Tsunami85
- iMOTMs: Blaszczykowski / Martinez | Transfers: Bruma (Wolfsburg) / Fischer (Middlesbrough)
@Esaertz
- iMOTMs: Aranguiz / Gomez | Transfers: Glik (Monaco) / Nolito (Man City)
@RyanG14
- iMOTMs: Dempsey / Tufan | Transfers: Meunier (PSG) / Mandanda (C. Palace)
@CarpeDiem
- iMOTMs: Szalai / Noboa | Transfers: Skrtel (Fenerbahce) / Valdes (Middlesbrough)
@Danledge95
- iMOTMs: Chester / Pizarro | Transfers: Benatia (Juventus) / Guerreiro (Dortmund)
Remember to use at least one from each category. All players on full chem please.
Group Standings:
Knockout Stage:
Semi-Finals:
Tsunami85 bt keema-v via forfeit
BlitzersNL bt Esaertz via forfeit

FINAL
Tsunami85 bt BlitzersNL
Top Scorers:
Entrants
:
1 -
@tomgreat1990
- tomgreat1990 (BST)
2 -
@Tsunami85
- Eddie_Johnson7 (BST -8)
3 -
@RyanG14
- ryang4444 (BST)
4 -
@Esaertz
- Esaertz (BST +1)
5 -
@Rumplefish
- liron1984 (BST +3)
6 -
@BlitzersNL
- BlitzersNL (BST +1)
7 -
@Cd-rom
- tomtommufc (BST)
8 -
@TWS001
- TWS001 (BST)
9 -
@CarpeDiem
- CHAM-P-IONS_67 (BST)
10 -
@keema-v
- Keema-v (BST)
11 -
@Robmays
- ARSNL_ROB (BST)
12 -
@Danledge95
- Leggie-95 (BST)