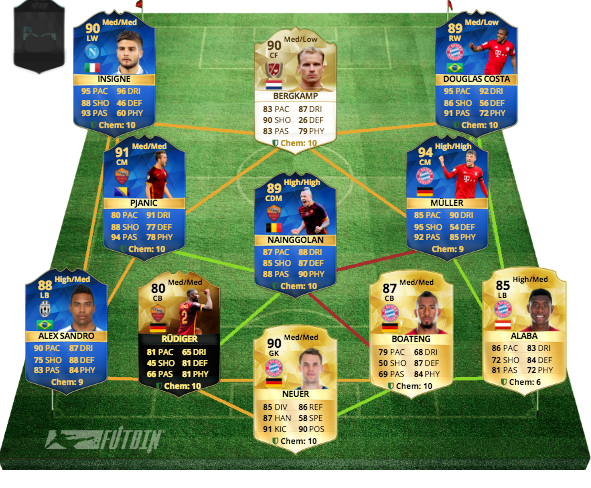 False 9 around the Bayern Boys has been my goal for one of my final teams for a while and after 21 games I'm quite content.
Stats:
Insigne: 10/2g/4a
Bergkamp: 21/28g/9a
Costa: 9/4g/1a
Pjanic: 10/2g/11a
Naingg: 21/0g/5a
Müller: 21/5g/4a
Insigne: Very fast, incredibly shifty and weak as can be. Missed some good chances but his passing is on point. Runs all game like a madman, usable on defense with his speed. Workrates haven't been an issue.
Costa: Had another TOTS that I sold before EA TOTS was released and he was great for me, this one is the same. The ball sticks to his feet, 5* skills and both feet are usable, his left one is a real rocket. One of my favourite cards, wish he had a bit better stamina though
Pjanic: Also my 2nd edition of this card. First one didn't have quite as good stats but he has been running the game for me ever since I bought him. Impeccable passing, great positioning and vision and a good shot.
Naingg: Unfortunately one of the more underwhelming cards. He get's plenty of opportunity to shoot but it always seems off. Positioning is okay but I feel like Vidal and TOTS Marchisio were better in this spot
Müller: Can't wait to pick up his TOTS card. Many people don't like him at CM but I feel like he's ideal for this position. Defensively he's okay and far from a liability, but going forward is obviously where he shines. If the game kept track of secondary assists he'd have a ton (pass to assist). In front of goal he's a killer and his TOTS should be a nice boost for pace and physicality.
Bergkamp: Well, his record already speaks volumes, but I'm very pleasantly surprised by how good this card is. He's not rapid fast or particularly strong, but he is a fantastic combination of both. He can win headers, dribble through the opposing difference or score from anywhere around the box.
His finesse shot is fantastic on both feet and he get's great power behind them, ball control is sublime, as is his touch on the ball.
After going through a bunch of other midrange players like Hagi, Rui Costa, Deco, 95 Ibra, 93 Lewa, NIF Messi/CR7/Suarez, TIF HBA and so on I'll probably stick it out with the non-flying Dutchman.
Sandro: The biggest letdown of this team, feels no different than his NIF. Good card but I'll be trying some other Serie A LBs.
Rudiger: Okay, wouldn't necessarily play him if not for chem reasons though
Boateng: One of my favourite NIF CBs
Alaba: Great LB and solid at RB. Not gonna fork out 300k+ for MotM Lahm and the alternatives are not particularly enticing
Had a few ragequites in there, all but 2 or 3 games were played in Div 2&1, the rest was in Hoban's league Div 2