Not really seen a lot of love for TOTS Icardi on the forums so far and this needs to change. Bought him yesterday for just over 100k and he's been the best striker I've used this year.
The stats: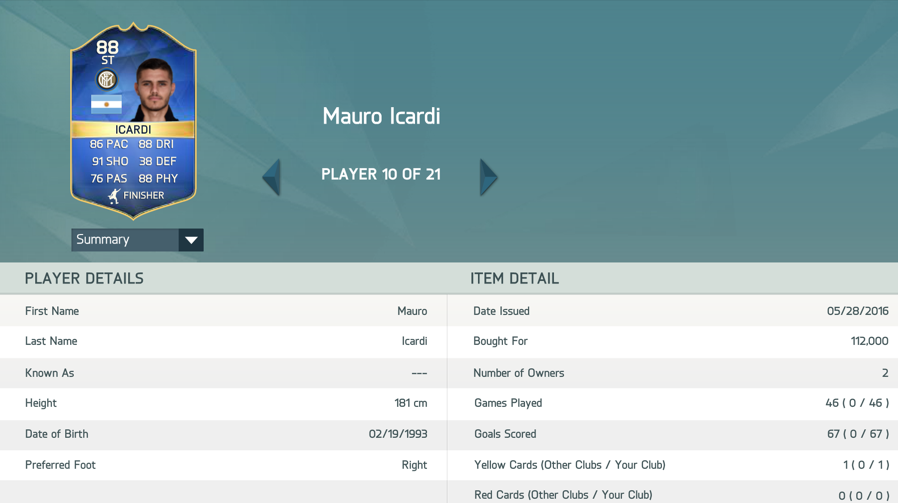 In-game stats:

In the stats that matter, he's the perfect striker. 99 finishing/positioning/heading/jumping are obviously the standout stats, but it's also worth noting his balance/agility/reactions/ball control/short passing too. Not only is he strong, but his balance makes him even more difficult to knock off the ball.
The only real downside is his 2* skills, but I've found this has made me focus more on making the right decisions on the ball. The temptation with strikers with 4/5* skills is to do pointless skills and then lose the ball, but this obviously isn't applicable to Icardi and I feel it's made me a better player as a result.
My team: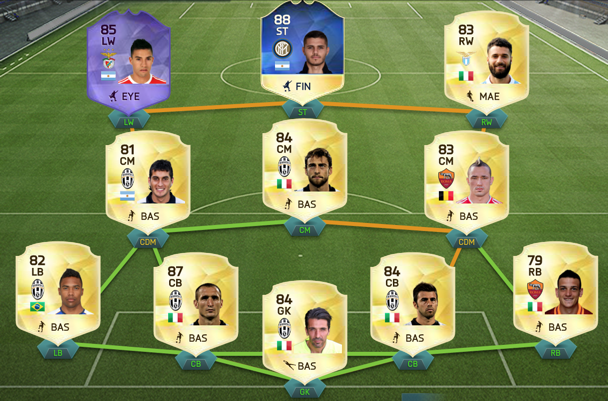 Standard Serie A team but with Gaitan on the left. Played around 200 games with Serie A teams this year and there's not a single LW option I've been able to consistently get results with, and it's nice having a purple card there.
Gaitan and Candreva are two of the best crossers I've used this year, and given Icardi's in game stats, it's a fairly obvious tactic to use. I've found that people generally don't make too much of an effort to block crosses this year, and when you've got players out wide like Candreva and Gaitan, this is something fairly easy to exploit.
Some clips:
This was against TOTS Miranda, just to highlight how strong he is. Lovely bit of dribbling just before the finish.
Again, dreadful defending, but this still highlights how quick he is and how good his dribbling can be.
The verdict:
The 2* skills is an obvious let down and will put people off, but stat-wise you couldn't ask for a better striker. Buy him.