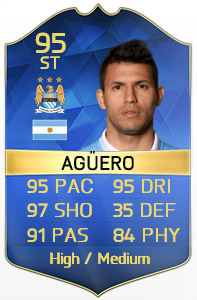 By
@Chubz
Not sure
. He is good but then I played him only so far in the tourney and it's a joke, misses easiest chances where non rare gold scores 6 goals on the other side. Some games I don't think he even managed to get one goal on target, either simple misses or the ball is stolen( or my teams falls over each other) and countered. Having said that he can still muster an incredible goal out of know where when all the odds are against him.
Stats wise he is great but unless I come up against a team with better players, the momentum will kill any chance for him to shine ( for example a 4 star team will pawn me but against a good tots team he gets an easy hat trick).
TOTS Aguero update
: Played the tourney this morning, online gameplay much smoother and almost no lag. 1st game he scored 5 goals, 2nd game 3 games, 3rd game 3 games, final 1 goal....and....I still lost the final 6-3 but at least TOTS Aguero delivered.
By
@Brazil4fun
7/10
: First i must say i prefer strikers like Ibra , i hate BPL teams and haven't used his NIF before.
Amazing runs , very pacey as expected , dribble almost like Messi (not as good) , but even with his incredible 87 strength , he feels weak for me , in game he is a ❤️❤️❤️❤️ and no way he feels 91 agility + 96 Balance.Shooting , mixed feelings , he can launch a rocket into the top corner or miss easy goals. Overall for the coins i prefer someone like 93 Lewa for 300k or 95 Ibra for around 550k.Best of all is that for his current price i can see very good prices on TOTS Ibra or Suarez.