First of all, I want to start by saying I'm not the best player around, and this guide isn't aimed at helping you master the formation. For a guide on using the formation effectively, I'd like to point out
the 433-2 guide by Remzy69
. It's mainly a tribute to Johan Cruijff and his vision of the game.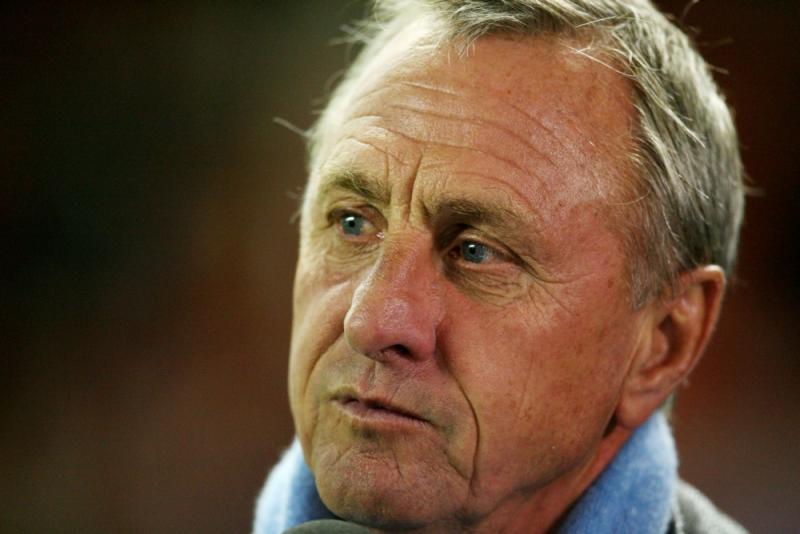 Background Information
As a Dutch football fan mostly interested in tactics, it's needless to say I adored Johan Cruijff. He single-handedly put our country on the map, and is the biggest reason The Netherlands had any success in the past 40 years. Now I'm only 20 years old, so I've never seen him coach, let alone play. However, even after his football career "stopped", he never really let it go. He was still very present in Dutch football, especially at Ajax. Next to that, he wrote a weekly column (about football mostly) for a newspaper. It was 2 weeks ago when my dad noticed that there was no column, and 3 days later his death was announced.
In this guide I will do my very best to explain Cruijff's idea of Total Football. This way of playing the game is still very present in teams such as Barcelona, Bayern Munich, the Dutch XI and most Eredivisie teams. Especially Guardiola has a very similar vision, having played under Cruijff. In The Netherlands most teams still play according to what we call "The Dutch School". It's basically the simplified version of Total Football, in my eyes, with defenders that are able to participate in the build-up, fullbacks that make forward runs and strikers that are able to be a playmaker when necessary.
Cruijff's famous formation was the 343 diamond, which used a lot of position changes to drive the opponent crazy. Back in the day, when life and football was simpler, defenders only marked 1 man. The fullbacks marked the wingers, the centrebacks marked the striker. When Johan made his fullbacks overlap his wingers, the opponent's fullbacks suddenly had to mark 2 players. He let the defenders choose. And when you let people choose, they make mistakes.
However, due to Ultimate Team not having the 343 diamond formation, and the adaptation of the world to Total Football over the past years/decades, the 433 formation is currently the most suited to his vision and this guide. In The Netherlands we either play 433(2) or 433(4), depending on the players available and the vision of the coach, obviously. We call them "with the point backwards" and "with the point forwards", according to the triangle shapes in the midfield. Cruijff supported playing with the point backwards, hence my choice for 433(2).
I will try to use some of Johan's silly sayings throughout the guide to try and make the bit of genius within them a bit more obvious. I'll try my best to translate them as accurately as possible.
Cruijff's Vision
"If you play for possession, you don't have to defend, because there's only one ball."
Possession is a big part of Johan's vision, perhaps the biggest part, as it is the reason why he wants defenders and even the goalkeeper to be able to pass the ball properly. Having defenders and a goalie with the ability to participate in the play gives many more options when in possession of the ball. He often played midfielders (such as Rijkaard) at the centreback positions to get more control over the game. Naturally, defenders are usually better at defending than midfielders, but the solution to this is that there's no need to defend when you have the ball, as his saying explains.
"If I start walking a little earlier, I seem quicker."
&
"There's only one moment to arrive on time. If you're not there, you're either too early or too late."
Two of my favorite quotes. Positioning is a key part in Johan's vision. Good positioning give the other players the possibility of finding a teammate, or exploiting the mistakes of the opposing team. In my eyes, positioning goes hand in hand with vision, if we'd look at FIFA stats. It both comes down to the ability to read the game and making your team play better.
"If you score one more goal than the opponent, you win."
Combining possession play and good positioning allows for the one thing Cruijff wanted to see the most: an attacking playstyle. Similar to the current Barcelona and Bayern Munich squads, he wanted his teams to be patient but mostly to put great amounts of pressure on the opponent's defense, keeping the game very wide and looking for space between the lines. When possession was lost, he required his team to defend aggressively to get the ball back as quickly as possible, simply to repeat the process.
Strengths and Weaknesses
To finally get to the part where I start talking about FIFA, I'll first have to warn you that this playstyle is very risky. When in possession of the ball, there are a lot of attacking options, and if you stay focused, there should always be a player of your team able to receive the ball. However, when you lose the ball, your centrebacks will have a lot of emptiness between them and the keeper. Next to that, your fullbacks are quite a bit forwards so they will need to make up a lot of meters. Both the attack and defense basically requires you to be focused 100% of the time if you want to succeed with this playstyle. I'd like to adress again how this guide is aimed at Cruijff's vision, not at the most effective way to use this formation. However, I do think it can be effective if you're a better player than me.
What Players To Use
First of all, the passing stat will be the main thing to look for playing this formation, but next to that dribbling is also really important. I will include the Dutch/Eredivisie player that is in my eyes the most suitable for the respective position, and some alternatives from other leagues.
The Goalkeepers
For the GK the kicking stat is essential, as you want him to be able to give a decent pass. Next to that, a good weak foot really helps in tight situations.
Zoet and Stekelenburg are the best Dutch keepers on the ball, Cillessen is a little behind but is a better keeper. Besides, Cillessen will probably get a TOTS. Some other options are Neuer, De Gea, Forster (5* weak foot), Leno, Sommer and Bravo
The Fullbacks
They need to have at least 80 pace, preferably 85+. They will have to make some huge sprints to outrun wingers, and the ability to outrun the opposing fullbacks is very useful aswell. Next to that, they need to be able to contribute to the attack. The passing and dribbling stat need to be decent, especially crossing and short passing. Finally, the defending stat is rather useful.
(SIF) Van der Wiel and (IF) Willems are pretty much perfect options for these spots. Furthermore I'd recommend Bellerin, Alaba, Dani Alves and Jordi Alba.
The Centrebacks
Next to the ability to pass it's also really important for them to have at least 60 pace. They will have a lot of space behind them and they need to be able stay between their goalkeeper and the opposing attackers. Dribbling is great if he has it but not a necessity. Lastly the obvious stats such as defending, strength, heading and height are essential.
IF Bruma and Van Dijk are my favorite options for these positions. I would however recommend having a left-footed player at LCB if you have the option.
Other good options are Thiago Silva, Boateng, Pique, Vertonghen, Rojo.
The Defensive Midfielder
The CDM is the link between the defense and the attack. They mostly need to have good passing and decent dribbling. Defending helps a lot too, as they might play as a third CB at some times. The other stats are a bonus, but they all help. This guy controls the flow of team, think of players like Busquets and Xabi Alonso.
Strootman and Blind are decent Dutch options, (IF) Guardado a very good Eredivisie one. Busquets, Xabi Alonso, Pirlo, Gerrard, Fabregas are some of the best for this role. I think you'd even get away with a player like Sneijder playing there, however having a bit of defensive capabilities and/or physique is pretty useful.
The Central/Attacking Midfielders
These players will be the real playmakers of the team. Their main purpose is assisting the attack, while also being able to score from time to time. Passing and Dribbling are essential, shooting preferred, the other stats are helpful but not necessary. I would choose at least 1 player similar to Iniesta, perhaps even 2.
Sneijder, (SIF) Ziyech, Iniesta, Modric, David Silva, Götze and Di Maria are great on these spots. If you want to have a bit more power then IF Klaassen, Pröpper, Pastore, De Bruyne, Fabregas or Rakitic would work aswell.
The Wingers
Different from traditional wingers, they need to be able to score goals next to assisting. Pretty much like most modern wingers, that is. It would be perfect if they could defend aswell, but their basic defending capabilities should be enough. It is preferred for them to have a bit of height and strength, as they will try to switch positions with the striker from time to time.
Robben, Depay, Promes, Sanchez, Ronaldo, Neymar, Arnautovic are perfect for this role.
The Striker
The difference with other playstyles is that the striker in this team isn't the only one responsible for goals, and also has other tasks. He needs to be able to assist the wingers and from time to time the attacking mids, and even change position with them. His main purpose is still his goal scoring, but he will need to have good passing and dribbling for his other roles in the team. A bit of pace might also be useful if he were to move to the wing, but as the purpose of this playstyle is to play really high on the pitch, the wingers wont be able to make many runs.
Van Persie is pretty much perfect on this position, as he can do everything. If you'd like a bit more pace, Castaignos should do the job. And ofcourse IF Robben is a good candidate.
Agüero, Rooney, Lewandowski, Suarez, Griezmann and probably Ibrahimovic would be really good alternatives.
Player Instructions
(Excuse my translations of the player instructions, they might be a bit off)
Starting with the defense, I wouldnt change too much there. If you feel like your fullbacks arent overlapping enough, or you feel like playing a little more risky, you could play them at Always Overlap. For the centrebacks, I personally always put one on Play As Striker as it makes him go forward if you're behind in the +/- 85th minute.
I put the CDM on Stay Back not just because they are sometimes bad attackers, but mostly because your CMs are better attackers. Besides, they stay behind to stop counter attacks.
The CMs are changed to Go Forward, Stay on the Edge of the Box, Aggressive Interceptions and Free Play. We want them to stay forwards and keep pressuring the opponents, but not go into the box as they are mostly small and weak players. Besides, we have a striker and 2 wingers capable of scoring goals in the box. We do however want them to defend aggressively to win the ball back as soon as possible. Finally, Free Play to give them the creative space to work their magic and to stay unpredictable.
The instructions that I give my wingers are the most influential to the playstyle in my opinion. They have two essential instructions. We want them to
stay on the wing
, and we want them to come
into the box
. This is because we want them to make space for the midfielders, and to enable them to make combinations with the fullbacks. Keeping the pitch wide, defenders will have to choose between marking the midfielder or the winger. Essentially, the formation turns into 2-5-3 or even 2-3-5 while attacking. After staying wide and thus making space, we want them to dive into the box, playing as a second striker.
Next to that, we want our wingers to make Aggressive Interceptions aswell, and the other two instructions are kind of player dependant. The amount of defending you want your players to do depends on their stamina and defending, and whether you want them to make runs or come towards the ball depends on their pace. I'd keep them both on balanced, to keep their playstyle a bit unpredictable.
At last, the striker. We want him to Go To The Wing when another player makes a run. This way, he'll make space for the wingers to change positions with him. We do want him to be a Target Man, as we play too far up the pitch for him to make runs, he need the ball on his feet. Again, Aggressive Interceptions and finally Put Pressure on the Back Line.
Player Workrates
With the amount of player instructions used for this playstyle, the workrates lose most of their influence. I'd recommend to choose high defensive workrates on the CBs and the CDM, to make sure they stay behind, although their instructions should already do this. All the other players' workrates can be influenced by their instructions. For example, if you have a right back with low attack workrates, and you feel like he doesn't make enough runs, change the instruction to Always Overlap.
The players fit for this formation should already have fitting workrates for the most part, as for example most attacking-minded fullbacks have an high attacking workrate. As stated above, the CB and the CDM are worth checking out, as a lot of good "builders" such as Pique or Thiago Silva have high attacking workrates. I'd mostly just suggest to try what works in combination with the rest of the team.
How to Play
First of all, I mostly play on Attacking. It makes players go forwards more and take a little more risk. I also feel like they defend a little more aggressive, which I like, and which suits the playstyle. I have to admit Im not very good with custom tactics, but I liked the way Counter played. It makes the defenders react to loss of possession a little quicker, but most of all your attack will become a little more direct. I felt with Possession or High Pressure that I'd start playing the ball around too much with too little runs by my players.
The key of the playstyle is to play the ball around with an idea behind it. Do not just look for players that are easy to reach, but look for the small spaces between the lines to open up their defense. The wingers staying wide should help a lot with finding space. Make sure to not stay on one side of the pitch. Move the ball around quickly to make sure the pitch stays wide and the space between the players big.
The picture above describes the playstyle. The fullbacks make runs forward. You can use them to make one-two's with your wingers to get an easy cross, or to make space to get into the box. Your CDM should stay behind to support the CBs when the fullbacks make their runs. The CMs are in between the striker and the wingers, functioning as essential links between the two sides of the field. You can use them to give keypasses between the lines towards the wingers running into the box, or to make space by making a triangle with either the other CM+the striker, the other CM+the CDM, the striker+the winger, or the winger+the fullback. The next picture shows the triangles that I'm talking about:
To finish it off, the next picture shows how the wingers staying wide can create a ton of space, and why you need a good passer to be able to use it. Ironically, it's not a winger in this picture, it's Lahm. However, similar situation should occur with the wingers using this playstyle:
The Team
I currently use an Eredivisie/Dutch mixed team for this playstyle. The defense lacks a bit of pace, but except for that it works really well. The defenders are really good in the build-up and Willems and Van der Wiel are amazing fullbacks. Guardado is amazing at the CDM spot controlling the game with great passes and dribbles but also great defending. Dont get thrown off by Klaassen's 78 passing, he has 87 short passing which makes him a great fit for a more powerful midfielder. As the defense is not the strongest around, I like the support he brings sometimes. Van Persie is terrific in his role, even on the wing he's pretty good, although he lacks some agility. Robben and Depay are amazing as wingers, and deadly finishers in the box, they just lack a bit of heading accuracy (and Depay height).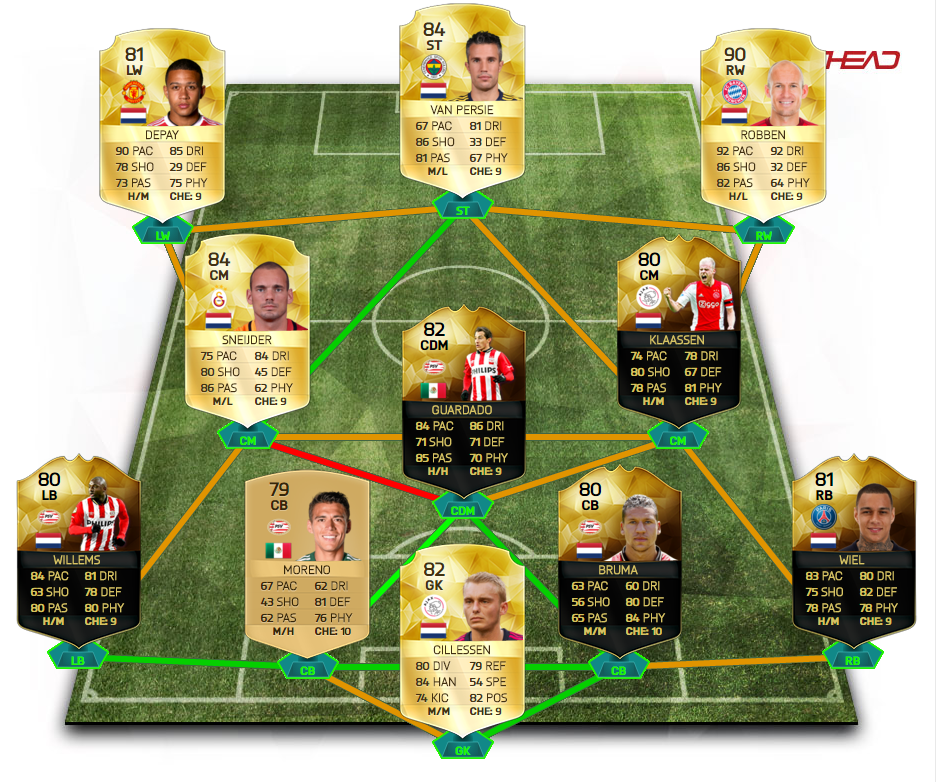 Thank You!
Finally we've come to the end of the guide that consists of so many more words than I had planned to. I really enjoyed making it though, and hope you guys don't feel like you have just wasted 10 minutes of your life when you're done reading this.
Jokes aside, I love the playstyle in both FIFA en real life, and I think it's a great way to change up your own a bit. FIFA 16 has been released almost 8 months ago and I guess most people could use something fresh. Besides, it's a fun way to honor the legend that Johan Cruijff was and still is for one last time.
Thanks everyone who made it to the end. If you have any suggestions on improving the guide, they are more than welcome. It's partially made by heart, so it won't be perfect.