The 4-3-3(5) formation is one of the best formations in FIFA Ultimate Team 16 to dominate possession and create chances. Although I used 4-2-3-1(1) from division 10 to division 1 Online Seasons, winning the title in each season. After reaching division 1, I was having great success with 4-2-3-1(1). However I didn't like the fact that I cannot use some of my favorite wingers in this formation. After exploring bunch of different formation, I found that 4-3-3(5) is the most effective for my style which is tiki taka. In this guide, I will explain how to set up the team and how to attack and defend in 4-3-3(5). Please note that everything written in this guide is based on my opinion and my style of play.
@Thatoe
contributed A LOT by letting me take some of his parts from his 4-1-4-1 guide from 15.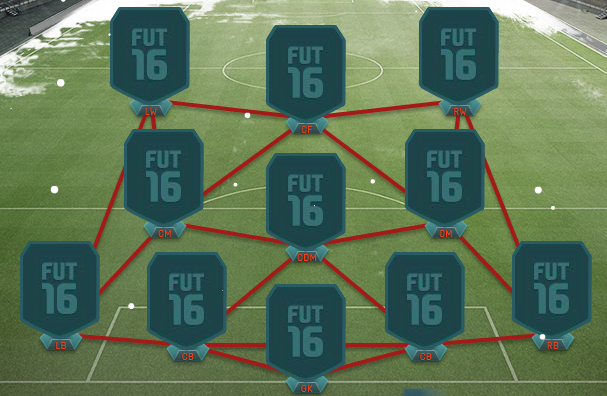 Introduction
Hello y'all this is Benz and I'd like to describe myself as a hardcore FIFA lover who spends most of my free times on this game. As a result, I became a quite competitive player with decent record. First FIFA that I started playing was FIFA 12 but I did not know about Ultimate Team until FIFA 14 but when I started playing Ultimate Team in 14, I got heavily addicted to it and FIFA became one of the main activities that I spend most time on. I always liked the way Barcelona plays as known as "Tiki-Taka" so I always tried to play short passing/possession football game ever since FIFA 12. I honestly think all the effort that I put in to play "Tiki-taka" made me who I am and I am happy that I have this opportunity to make my very first guide. Please bare with my writing as I am not the best writer in the world. Also, I will keep things very simple but will add example clips to show how to utilize this formation effectively.
Pros of 433-5
-Easy to hold possession
-Easy to hybrid
-You can use different approaches with different set ups(meaning different style of play other than possession can be effective)
-You can use some of your favorite wingers at CF
-Solid defensively
Cons of 433-5
-Can be frustrating time to time because of lack of actual striker
-If you like targetman, I believe this formation is useless.
Choosing Players
In this section, I will explain the role of each position in the 4-3-3(5) formation and which players suit the best for those particular roles. Note that I only recommended the players that I have tried myself.
Goalkeeper
First off, choosing your goalkeeper obviously doesn't depend on the formation. You can just pick your favorite goalkeeper that you've tried and tested. I prefer my goalkeepers to have GK Long Thrower trait and I prefer Gks that are talle than 6'4 (There are few exceptions).
The Best GK
: Thibaut Courtois, De Gea & Neuer
Recommended GKs
: Diego Lopez, Begovic, Alves, Buffon & Handanovic

Central Defenders
Again, your choice of central defenders isn't different from other 4atb formations. I prefer CBs with 70+ pace, reasonably tall (6'1+) and 80+ strength. I couldn't care less about work rate as they all seem to be somewhat similar to me. However, if I can choose, I will use M/H.
The Best CBs
: Jerome Boateng and Girgio Chiellini
Recommended CBs
: Otamendi, Thiago Silva, Bonucci, Sergio Ramos, Koscienly, Cahill, Naldo, Sokratis and Hummles.
Fullbacks
I prefer attacking fullbacks on both sides because they provide width in attack while the wingers cut inside. Fullbacks usually kick start my build up therefore I prefer fullbacks who are somewhat great on the ball with decent passing ability. I prefer 80+ pace. If you ever want to use defensive fullbacks such as Azpi makesure you use Attacking one on the other side.
The Best LB
: David Alaba
Recommended LBs
: Holebas, Marcelo, Jordi Alba, Sandro and Azpi
The Best RB
: Dani Alves
Recommended RBs
: Danilo, Clyne, Abate, De Marcos, Aurier and Stephan Lichtsteiner
Defensive Midfielders
I preferred having pure CDM or Deep Lying Maker CDM in FIFA 15. However, with the CT that I use my CDMs push forward even when I instruct them to stay back so I suggest y'all to use Box to box type of CDM. After exprimenting Deep lying CDMs such as Busquets, Alonso and etc, I realized that they are effective in game as long as you keep things simple with them.
The Best Box to Box CDM
: Vidal
Recommended CDMs
: Ramires, Marchisio, Fernandinho, Naingollan
The Best Deep Lying CDM
: SIF Bruno.
Recommend Deep Lying CDM
: Busquets, Alonso and Gerrard.

Central Midfielder
I prefer to have one creative CM + one box to box CM.
The Best Box-to-Box CM
: Pereyra
Recommended Box-to-Box CMs
: Angel Di Maria, Marchisio, Vidal, Dembele
The Best Creative CM
: Andrés Iniesta
Recommended Creative CMs
: David Silva, Mario Götze, James Rodríguez, Wesley Sneijder, Santi Cazorla
Wingers
Wingers are one of the most important players in this formation. They drag defenders out wide and create so many scoring chances. I prefer 85+ pace, 75+ finishing, 75+ positioning. great dribbling stats and decent passing stats. Try to avoid M/M though.
The Best LW
: Cristiano Ronaldo
Recommended LWs
: Neymar, Eden Hazard, Franck Ribéry, Alexis Sánchez, Marco Reus
The Best RW
: Messi
Recommended RWs
: Gareth Bale, SIF Shaqiri, Juan Cuadrado, Robben
Center Forward (The False NIne)
This is the most important player of this formation. For other positions, picking players is a little bit flexible, but for the center forward, it must be a very well-rounded Center Forward: someone who can score and create chances for other players. Especially if the center forward is not a good passer of the ball, the formation will not work. I have personal experience with this. Work rates don't matter as much as in game stats for the striker.
The Best CF
: Messi & MOTM Ibra
Recommended CFs
: Hazard, Neymar, Aguero, Suarez
Custom Tactics
Custom tactics are very important to customize a formation to function exactly how you want it to. Setting slow and safe values for Passing and Speed ensures that there is always a player available for a simple pass. Normally, I'd use a higher Passing value in chance creation so that the players would make more runs, but since instructions are introduced in FIFA 15, I can choose which players I want to make runs. This also makes the CDM stay back in position instead of bombing forward most of the time, which is one of the biggest issues in FIFA 15.
To set up custom tactics, you can either challenge the TOTW or play a friend's squad. Before starting the game, go into Team Management and in the Tactics tab, select Custom Tactics. After setting it up, back out of the game and it will be your default tactic until you quit Ultimate Team mode.
Values are
70/30/Free Form
60/30/45 Free Form
70/65/50 Cover
Instructions
CF: Default
LW: Cut Inside
RW: Cut Inside
CDM: Stay back While Attacking
Attacking Fullback: Always Overlaps
Defensive Fullback: Stay Back
As mentioned before, Instructions are very important to get the best out of the formation. The striker is instucted to stay central and to play as a target man so that he stays in central area and links up with everyone. The wingers will then cut inside and get in behind the space created by the Center Forward. The CDM is instructed to stay back because, as explained in the previous sections, he needs to position himself behind the attacking players and make himself available to recycle possession.
I've tried almost every instructions for all the positions, but these bring the best out of 4-3-3-(5) for me. Give it a try and let me know how it works for you.
Sample Teams
Under 100k (PS4) Teams :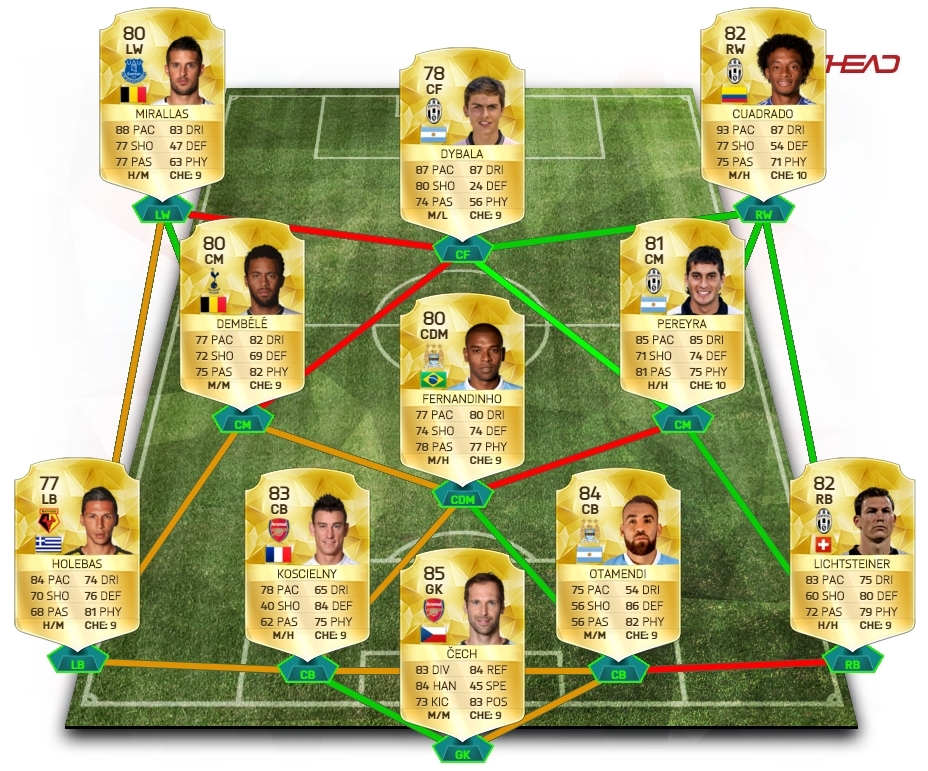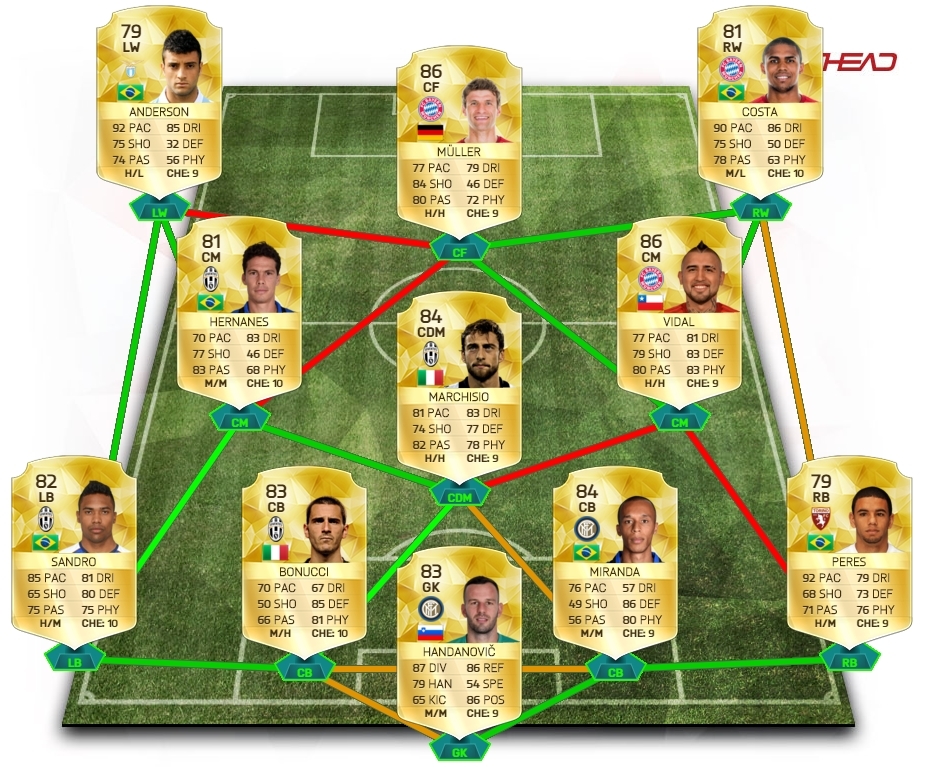 Current Teams
Community TeamsGameplay VideosMy Record in Division :
I will add a lot more short clips soon.
Special thanks to
@Thatoe
for letting me use his guide to write it over.