I would like to thank Dallasfan551 for making this banner!
It all began at the start of 2015 when I made a thread on the original forums asking if people would be interested in such a guide. Three months and 6000 words later, it's finally here! I know a lot of people have been waiting patiently for this - I hope you understand that I wanted to wait for the new forums to arrive. Be warned, this is a very theoretical and text heavy guide, so I don't expect anyone to read through it all in one sitting. You will find the following sections in this guide:
-
INTRODUCTION
: ABOUT MYSELF, WHY USE A POSSESSION STYLE?
-
PLAYING POSSESSION WITH SUCCESS
: THE 3 P'S.
-
TYPES OF PASS AND WHEN TO USE THEM
: REGULAR SHORT PASS, REGULAR AERIAL PASS, GROUND THROUGH BALL, AERIAL THROUGH BALL.
-
DEALING WITH VARIOUS TACTICS
: PARK THE BUS, HIGH PRESSURE.
-
A FINAL WORD
Thank you to EA SPORTS FIFA and Rob for sharing the guide!
INTRODUCTION
ABOUT MYSELF
As a student at Swansea University with 12 contact hours a week, I probably have a lot more free time than many of you reading this...and while I try not to spend all of that time on FIFA, I have played a fair few matches this year. That said, being a student means I don't have the money for packs, even if I don't drink (
much
), and since I only trade here and there, I haven't had the chance to use many of the
elite players
. In summary, lots of playing time with
good
but
not the very best
players has put me in a position where I feel comfortable I can give people advice on how to improve at the game.
So why are these things even relevant? Quite simply, it is to address the people who will be asking,
"Why should I listen to you and this guide? What experience do you have?"
...and to those people I say this: trust me, I'm the Doctor.
ChowFIFA's Overall:
Nexus:
FUTScope:
With regards to FIFA, I've had every copy since 2004, however my desire to play possession football was inspired by the domination of Barcelona in 2011 - of course, this coincided with the release of FIFA 11 on PS3. A few years on, I still pride myself on playing this way no matter who I use, or who I come up against.
WHY USE A POSSESSION STYLE?
I'm sure a lot of you would like to
feel
more in control of proceedings on the pitch, especially in a game with so many variables, and possession football offers this.
Having the ability to dictate the tempo of the match is a very powerful tool - it allows you to nullify your opponent's playstyle whilst forcing your opponent to adapt to having less time on the ball. For example, if your opponent is pressing high up the pitch, you can keep the ball until a gap opens up between their midfield and defence. Once it does, exploit it with a driving run or a few sharp passes, and I guarantee you will create a chance. Put simply, having more control of the match leads to higher chance creation - assuming you have the ability to finish, more chances equates to more goals, and thus, more wins.
In addition, I truly believe that
anyone
can become an effective possession player, no matter what your skill level is. While it does require practice to become efficient in possession, the real test is having the right mentality - the mindset that you
won't try to force a pass if it isn't on
,
you are willing to recycle possession through the defence when necessary
, and most importantly,
you won't change your style if you go behind
. If you can embrace this philosophy, then you go a long way to becoming a successful possession player.
And lastly, it's not just about improving your record; the way in which you win is just as significant. For me, the satisfaction from winning via possession football is matched by no other style on FIFA, and I hope many of you will also come to appreciate this as you read this guide.
PLAYING POSSESSION WITH SUCCESS
THE 3 P'S
① Players:
As with every playstyle, using suitable players in each position is a key component in the success of passing football.
At this point, it is worth mentioning that I won't be discussing which formation is the best for possession football, because in my opinion, there is no single "best" formation. Obviously I believe some are more effective than others, but at the end of the day it comes down to personal preference (for me, it's the 4-2-3-1 and 4-1-4-1). In fact, with practice and the right mindset, I feel you can employ possession football with any formation and still win consistently.
In order to determine which players are appropriate for each position, I will outline the key stats you should prioritise and recommend chemistry styles.
Note: Choosing the right chemistry style is player dependent, though you should focus on improving a players' strengths and/or the key stats for that position.
GoalkeepersKey Stats:
Weak Foot, Height, Long Throw Trait.
The goalkeeper is an exception to this part of the guide, in that having high stats in all of the goalkeeping attributes is clearly important. That said, I feel having a high weak foot is a nice bonus ...at times you will have to use your goalkeeper when recycling possession, thus having the confidence to go either way will aid you in this task.
In addition, taller keepers have had a history of performing well in previous FIFA's, and it's the same this year (I'd consider anyone 6'1'' and below too short, although there may be exceptions).
Finally, having the ability to dependably find you own player via a long throw (rather than having to fight for the ball from a drop kick) is a useful option to have. Consider this:
when you lose a header off a goal kick, how many times do you find yourself immediately under pressure again as the ball drops perfectly to the opposition striker, who can then run at your defence?
A reliable long throw out wide can eliminate this risk.
Chemistry Styles:
Glove, Basic.
Players:
Hugo Lloris, Manuel Neuer Iker Casillas*, Diego López, Salvatore Sirigu, Helton.*Casillas is an exception to the height rule from my experience, which goes to show how subjective the position is.
FullbacksKey Stats:
Sliding/Standing Tackle, Marking, Jumping, Acceleration, Stamina, Short Passing.
Many people see the fullback position as an afterthought when it comes to squad composition, but it's still important to select a fullback who can compete both offensively and defensively. It goes without saying that your fullback's primary role is to help mitigate the threat of opposing attackers - as a result, having high tackling stats are a given, but
marking
and
jumping
are also key in being able to reliably track runners, as well as win the aerial battle from OTT through balls and crosses to the back post.
Once you're in control of the ball, your fullback is a fundamental component in chance creation. Remember, possession play requires a slow and methodical build up, thus fullbacks are necessary in order to unlock an opposition defence by providing both width and a runner in behind - this is why I have included
short passing
as a stat you should prioritise. As for
acceleration
, having the ability to beat a man one on one is a useful tool in your arsenal, and
stamina
is self-explanatory.
Chemistry Styles:
Basic, Sentinel, Backbone.
Players:
César Azpilicueta, Aleksandar Kolarov, Pablo Zabaleta, Nathaniel Clyne, Fábio Coentrão, Andoni Iraola, In Form Stephan Lichsteiner.
Centre-backsKey Stats:
Strength, Sliding/Standing Tackle, Marking, Interceptions, Jumping, Height.
Similar to the goalkeeper, your choice of centre-back is mostly based on personal preference. In my experience I've had success with a stronger, slower centre-half paired with a faster, sweeper-style defender, but ultimately you should choose a combination you are most comfortable with.
Again, defensive stats should be the focal point of your decision, however,
strength
should also be taken into account. After using a range of central defenders this year, I've come to find any player under 80 strength will be bullied by stronger strikers (ie. Ibrahimovic). High
short passing
can aid you in playing it out from the back, but it's not a necessity since you shouldn't be taking risky passes with your CB's anyway.
Chemistry Styles:
Sentinel, Anchor.
Players:
Vincent Kompany, Jan Vertonghen, In Form Kolo Touré, In Form Ryan Shawcross, Mats Hummels, In Form Håvard Nordtveit, Raphaël Varane, Andrea Barzagli, Ezequiel Garay, Luisão.
Central midfielders
The ball winner...*
Key Stats:
Interceptions, Marking, Standing Tackle, Stamina, Height, Strength, Short Passing, Aggression.
The CDM, in my opinion, is the single most important position on FIFA. With counter attacking so prevalent on Ultimate Team, it's imperative you have a ball winner in midfield who can break up the play and protect your defence. At the start of this section, I said:
'with practice and the right mindset, I feel you can employ possession football with any formation'
...I stand by this statement, but it's clear to me that using a formation with a CDM (or two) brings a balance that a formation without a CDM cannot offer.
Remember, possession football is not just about keeping the ball for long spells - it's also about winning the ball back as soon as you lose it. The faster you regain possession, the more you restrict your opponent's options; as bad as it sounds, frustrating your opponent in this manner is part of the game plan - ie. a frustrated player is more likely to make poor decisions, make mistakes, and ultimately play worse.
Many of the key stats listed accord with those for centre backs and full backs, and this is no coincidence - an effective ball winner should have the defensive skillset of a '3rd centre back' whilst also having the physical capacity that fullbacks possess. Of course, a lot of these stats are self-explanatory, but I will explain my reasoning behind including
height
. Having a tall presence in the centre of your team allows you to wrestle control of the middle third by a) winning headers off opposition goal kicks, which in turn pins your opponent in their own half...and b) being able to tidy up the second ball off defensive headers from your backline.
To quote Sokker14 from his and Liam's
FUT14 4-2-3-1 (2) Guide: 'you win the game if you win the midfield battle'
. Certainly, having a dependable defensive midfielder will swing the battle in your favour.
Chemistry Styles:
Basic, Sentinel, Powerhouse, Architect.
Players:
Nemanja Matić, James McCarthy, Morgan Schneiderlin, In Form Victor Wanyama, Mile Jedinak, Valon Behrami, In Form Sergio Busquets, Sami Khedira, Daniele De Rossi, Igor Denisov.*My 'Defensive Midfielder' Appreciation Thread: http://forum.ea.com/uk/posts/list/3035037.pageThe deep lying playmaker...
Key Stats:
Vision, Short/Long Passing, Ball Control, Balance.
It sounds odd, but in a single CDM formation, I recommend you use a ball winner over a deep lying playmaker, even when your playstyle revolves around passing. That said, having a player that can spray the ball around is a nice addition to have in a dual CDM formation, or as a CM.
Their role is to start attacks by picking out a free man in the opposition half, or exploiting the space left in front/behind the defensive line (via a through ball). Think of this player as the 'pivot' of your offence - not only do they receive the ball from deep and move it up the pitch, but they should continue to receive the ball off more advanced players in order to recycle possession (or in other words, to attack from a new angle). Sergio Busquets' role in the Barca team is a prime example of this in real life:
Often an overlooked stat,
vision
is what separates a good playmaker, from an elite playmaker. A higher vision stat equates to a higher 'effective range' of passing options, thus increases the probability of you successfully making a difficult pass. Moreover, high
balance
and
ball control
will allow you to receive and retain possession in tight areas (ie. in the opposition's final third).
Chemistry Styles:
Artist, Architect.
Players:
Mikel Arteta, Michael Carrick, Phillipp Lahm*, Xabi Alonso, Nuri Şahin, Xavi Hernández, Éver Banega, In Form Andrea Pirlo, In Form David Pizarro, Marco Verratti, Ramus Elm.*Lahm is an example of a player that can play many roles in midfield and still be effective. For the purpose of this guide, I have listed him as a deep lying midfielder as that is where I've used him this year.The box to box midfielder...
Key Stats:
Stamina. A well-rounded set of attributes.
As the name suggests, an ideal box to box midfielder provides reassurance defensively as well as poses an additional attacking threat. In terms of possession football, having a 'jack of all trades' will give you the freedom to make runs with your attacking players, knowing you have a player who can fill in the gaps left in behind.
A good example of this in real life is James Milner's role in Manchester City's current set up. His versatility sees him start almost every game, which gives the likes of Nasri and Silva the license to sit higher up the pitch.
Chemistry Styles:
Basic.
Players:
Yaya Touré, In Form Jack Wilshere, Moussa Dembélé, Marouane Fellaini, James Milner*, Bastian Schweinsteiger, Lars Bender, Kevin-Prince Boateng, Luka Modrić, Gabi, Enzo Pérez, Arturo Vidal, Paul Pogba, In Form Nainggolan, João Moutinho, Jermaine Jones.*Milner is a RM in game, however, I've used him as a LCM in a 4-1-4-1 and he plays just fine. His stats suit a central role rather than a winger.The advanced playmaker...
Key Stats:
Short/Long Passing, Attacking Positioning, Dribbling, Ball Control, Agility, Balance, Vision, Weak Foot.
So far I've discussed the roles of the supporting cast (for lack of a better word). But with all that possession, you have to create chances to win games, and that's where your advanced playmaker comes in. This should be the man you play through in the final third, since he will likely be the best dribbler and passer on your team. Now that's not to say you should force it to your advanced playmaker...attacking from different angles and remaining unpredictable is a big part of breaking down a defence. Nonetheless, your attacking midfielder will take up positions great positions in between the opposition midfield and defence (this is where having a high
attacking positioning
stat is advised, ie. so your CAM makes smart runs into space). It is in these parts of the pitch where your advanced playmaker will become the focal point.
Continuing with the mantra of being 'unpredictable', having at least a 4* weak foot on your attacking players gives you the option to go inside or outside and still be threat. The other key technical stats are listed for similar reasons to that of the deep lying playmaker, ie. being able to manoeuvre in tight areas.
I will discuss the areas your players should get into later in the guide.
Chemistry Styles:
Maestro, Sniper, Deadeye.
Players:
Third In Form David Silva, Cesc Fàbregas*, Christian Eriksen, In Form Adam Lallana, Mario Götze, Second In Form Kevin De Bruyne, Shinji Kagawa, Lewis Holtby, Andrés Iniesta, Second In Form Isco, Toni Kroos, Ivan Rakitić, In Form Daniel Parejo, In Form Beñat Etxebarria, In Form Miralem Pjanić, Hernanes, In Form Yoann Gourcuff, Javier Pastore, In Form Yacine Brahimi.*Fabregas has the stats to play any central midfield role. For the purpose of this guide, I have listed him as an advanced playmaker as that is where I've used him this year.
Wide midfieldersKey Stats:
Short Passing, Dribbling, Ball Control, Acceleration, Weak Foot.
In all honesty, I see the wide midfielder as an advanced playmaker on the wing, only with defensive duties...now this isn't the case for all playstyles, but for possession football, it is. But why haven't I listed
sprint speed
as a key stat? Personally, I've found success using wide midfielders who aren't blessed with pace but have great technical stats, ie. David Silva, In Form Joaquín, to name a couple - you shouldn't need to have superior pace to get in behind, rather, you should look to manoeuvre your opponent out of position, and then exploit these gaps with intelligent passes/runs.
Now that's not to say pace out wide isn't important, in fact, just having the threat of pace can lead to your opponent pulling players out of position to compensate for the potential through ball. Besides, I like my wide men to have the ability to create something on their own as they can often become isolated at times during a game, and thus having some pace can be useful.
Chemistry Styles:
Maestro, Sniper, Deadeye.
Players:
Eden Hazard, David Silva, UP Dušan Tadić, In Form Rémy Cabella, Marko Arnautović, Marco Reus, In Form Ivan Perišić, Julian Draxler, Valentin Stocker, MOTM Heung Min Son, In Form Isco, In Form Sofiane Feghouli, In Form Joaquín, Second In Form André Ayew, MOTM Yacine Brahimi, In Form Balázs Dzsudzsák.
Strikers
Part of the reason I love possession football is because it allows me to use a variety of players with different skillsets, and still be competitive, because you will always be dictating the pace and style of the match. And so, I will outline two types of striker.
The target man...
Key Stats:
Strength, Height, Jumping, Ball Control, Short Passing, Finishing.
Having a tall man up front to link the play is a more than viable tactic. A current example of its success in real life is with the Southampton team and Graziano Pellè (it's the hair) - destroyers like Yaya and Pogba are popular choices in the midfield, thus having a more direct option to bypass physically stronger players will allow you to not only remain unpredictable, but also deal with opponents who press higher up the pitch (more to come later in the guide about high pressure).
That said, a tall striker does not automatically equate to an effective target man. Yes,
height
and
strength
are important in helping you to hold off defenders with your back to goal, however, having high
ball control
and
short passing
are necessary in order for your target man to link up the play efficiently. A prime example of a player who did not fulfil the target man role for me this year, was IF Bas Dost. While he has the height, strength and finishing, his distinct lack of any technical ability made it near impossible to link up the play with him - and trust me, I've had success with a lot of "big men" this year.
Chemistry Styles:
Finisher, Marksman, Deadeye.
Players:
MOTM Wilfried Bony, MOTM Olivier Giroud, In Form Steven Fletcher, Graziano Pellè, Mario Mandžukić, Gonzalo Higuaín, Edison Cavani, Dimitar Berbatov.On the shoulder...
Key Stats:
Attacking Positioning, Acceleration, Agility, Reactions, Finishing.
Unlike the target man, smaller strikers that play on the shoulder of the last defender require a different skillset. Their success will largely be dictated by the quality of the runs they make in order to find space and get off a shot, thus
attacking positioning
is vital - making intelligent runs will also open up space for other attackers on the pitch. The physical attributes,
acceleration
,
agility
and
reactions
will all help you to maintain your effectiveness in limited space (as well as exploit the often inferior physical attributes of a CB) - after all, this type of striker will spend most of their time in the final third of the pitch.
Finishing
is self explanatory...
Chemistry Styles:
Finisher, Sniper, Hawk.
Players:
Robin Van Persie, UP Sergio Agüero, In Form Josip Drmić, Luis Suárez, Second In Form Antoine Griezmann, Javier Hernández, Kevin Gamiero, Fernando Torres, In Form Divok Origi, In Form Lima.
② Patience:
I've mentioned it a few times in this guide already, but biding your time and waiting for the right moment to strike will set you on a path to success through possession football.
But when is
the right time to strike?
Or an even better question,
what does keeping the ball actually achieve?
When you retain possession for long spells, you're actually trying to manoeuvre the opposing team's shape in such a way that they leave gaps for you to exploit. Often players will start diving in (or pressure the ball individually, rather than as a team) in order to try to get a foot on the ball, and this is where you should look to pick people off.
Here's a typical situation where you have possession inside your own half. For the purpose of this guide, Team A (you, the user) will be using a 4-2-3-1, and Team B (the opponent) will be using a 4-1-2-1-2 (since I've found that to be the most common formation I play against):
Notice how the shape of both teams gravitate towards the side that the ball is on, which leaves large gaps on Team A's left side...this is where passing the ball from side to side comes to fruition - you are trying to create space in the middle and final third of the pitch.
Moving the play on...
At this point, it is natural for the opponent to try to close down the ball, as well as squeeze you into that corner of the pitch. Since you can only control two players at a time while defending (if you include second man press), multiple passing lanes should open up as Team B's players vacate their shape. This should also create more space for you to use (as highlighted by the yellow areas) later in the attack. Finally, I've included the ideal run that your CAM should make into the pocket of space between the defence and midfield (again, this is why attacking positioning is an important stat).
A switch of play to the other side is also an option as Team B's RM and RB have come inside to close the gaps left by everyone shifting across.
Let's look at an example where I may opt to recycle possession and try a different angle...
In this situation, Team B is controlling the LM to cut off the passing lane to Team A's RM. Team B is also using second man press to close down the ball carrier with the striker, as well as potentially cut off the passing lane into Team A's RDM. Thus, to minimise the risk of an interception, the safest option is to go back to the RCB, or switch the play to the LB...remember, don't force the pass if it's not on.
Tip:
When you're in possession of the ball and looking for a pass, keep your eyes on which player your opponent is controlling, and which passing lanes are likely to be cut off. Even in the final third when you have less time, I tend to look at where I'm passing, rather than who I'm passing with. You should rarely be sprinting with your ball carrier, so don't worry about losing possession while you're looking for a pass - that said, if you are closed down, simply holding L2/LT (by default) will protect the ball, allowing you to turn out into space. Looking at where you're passing will become more important when I discuss through balls later in the guide.
Now that we've looked at initiating the attack, let's move onto the final third. From what I've read on the forums, this seems to be the area that people struggle with the most - ie. people are unable to consistently create chances while maintaining passing football.
And yet, the principle is still the same: keep moving the ball in order to create space. The main difference in the final third is that there will be a lot more players in central areas...this is why it's imperative your wide men (both wingers and fullbacks) stay disciplined on the touchline. Eventually, providing width on both sides will stretch the defensive line and thus, allow you to run beyond the defensive line:
As you can see, the easiest way to get in behind is through the wings, since that is where the most space lies. Be aware that people are willing to pull their fullbacks inside to close down any threat in central areas at the expense of leaving wide areas open, so take advantage of this, particularly when there's a two on one situation (as shown on the left side of Team A).
Use L1 (to trigger runs off the ball) sparingly. You're not going to be able to play the killer pass every time, hence you should hold your shape and wait until you know there's a good chance you'll get on the end of a through ball.
In addition, I recommend that you refrain from spamming L1 when controlling your defensive midfielder - losing possession with your DM high up the pitch leaves you vulnerable to the counter attack; with the pace of gameplay on Ultimate Team, this can quite easily lead to a goal conceded. An example of this is shown in the graphic below - a competent player can easily intercept the predictable pass into Team A's CAM...if Team A's defensive mid has run on, space is left in behind (highlighted).
Tip:
Often you'll find yourself needing to dribble rather than pass in order to retain possession. A simple but effective move I like to use is fake shot stop followed by cutting diagonally backwards.
In summary, keep calm and take your time. There's no need to create an opportunity every minute of the game, after all, 3 good opportunities that result in 3 goals is better than 20 half chances that result in 0 goals. Be efficient,
patience is a virtue.
③ Purpose:
Now that I've given you the theory, you need to put that plan into action. Always play with a
purpose
...it should be clear in your mind what you are trying to achieve by doing certain things, and what the potential risks/consequences of these actions are. If you are slowing the tempo of the game by holding possession in the middle third, is it because you want to stifle/frustrate the opposition in order to draw them out? Maybe you just need time to gather yourself for another attack?
Perhaps you're in the lead and you're debating switching your mentality to
defensive
to make sure you don't over commit? A sensible move on paper, however, this could backfire if you invite too much pressure by dropping deep. I for one never use
ultra defensive
or
park the bus
since both leave a massive gap between your defence and midfield.
'To every action there is always opposed an equal reaction' ~ Isaac Newton.
Tip:
I'm not going to go in depth into the weight of passing, but I will discuss it briefly here. Don't be afraid to put full power on your passes (if you have time) - you want your interplay to be controlled, but also crisp. This is especially true when spraying passes out wide with your CB's, CDM or even CAM. It's better to lose the ball out of play by over hitting a pass than having the pass intercepted because it's under hit.
You can also hold L2 when receiving a pass which will help in stopping the ball dead, as well as allow you to shield the ball from on coming defenders. This is especially useful when bringing down an aerial pass.
Obviously you won't always have the luxury of time to play a high powered pass, so judge each pass on its own merit. Passing in the same direction the ball came from is often the safest option when there's a defender tight to the receiver. In much the same way, passing the ball in the opposite direction you are facing is not advised, since the pass will lack pace. In fact, holding L2 and passing in the opposite direction will perform a back heel, which is more effective than a 180° pass.
TYPES OF PASS AND WHEN TO USE THEM
REGULAR SHORT PASS (X or A)
This is the pass you should be using 80% of the time. Playing to feet is the safest option, and will force your opponent to close you down (rather than mark the space in anticipation of a through ball). If there's any doubt in your mind as to whether a through ball is on, use a regular pass. When both the attacker and defender are running in the same direction, the attacker should get to a regular pass first as the defender will be goal side in most cases (or in other words, further away from where the ball is played):
In this situation, the defender is waiting for the through ball to be played and thus has a head start. Their momentum takes both players away from the pass, but assuming both players take the same amount of time to change direction, the attacker will get to the pass first.
At the end of the day, you have more control over a regular short pass than any other type of pass.
REGULAR AERIAL PASS (Square or X)
Everyone is aware of the potency of aerial through balls, but a regular lobbed pass can be a useful tool in your skillset. Judging the weight as well as directing this pass can be tricky, so I'd recommend using the
practice arena
or
skill games
until you become comfortable using a lobbed pass.
I mostly use this pass to switch the play from fullback to fullback/winger - the travel time of the pass is high, increasing the risk of an interception, thus it's safer to play to feet rather than in front of the receiver.
That's not to say you can't use a lobbed pass in other areas...if your passing lane is cut off by a defender, but they are caught in between, a simple two bar power lobbed pass can take the defender out of the game. Again, I recommend you practice this offline to avoid hitting the pass too flat (which would lead to an interception).
Tip:
It's important that you are not sprinting when you perform a lobbed pass due to its increased difficulty. Ideally, you will also be facing the direction you want to pass too.
GROUND THROUGH BALL (Triangle or Y)
As mentioned earlier, you shouldn't force passes by overusing through balls. Nonetheless, there are times where there is simply too much space in behind to pass up (
pardon the pun
) the opportunity of a through ball. The key to playing a successful through ball is timing -
DO NOT
rush the pass.
Let's discuss the most common situation you will find yourself using a through ball - playing it in behind the opposition defence. Fixate your eyes on the man you want to receive the ball as well as the defensive line (not the player making the pass). While the defenders will back track into the space, there will come a point where they step up in order to challenge the ball carrier, as well as catch the receiver offside. Your job is to recognise this moment of hesitation, and play the through ball when your receiver is level with the defensive line - your forward motion will allow you to run onto the through ball, leaving the defensive line no time to recover as they have no momentum towards their own goal (when they step up).
This is shown in the graphics below:
As the pass is played...
Of course, many players will switch to their defender and run back into the space to cover the through ball. If this is the case, you can still use them same principle of waiting for that moment of human hesitation - ie. where the defender is caught in two minds between going to the ball, or staying put. Or, you can opt to play a regular pass.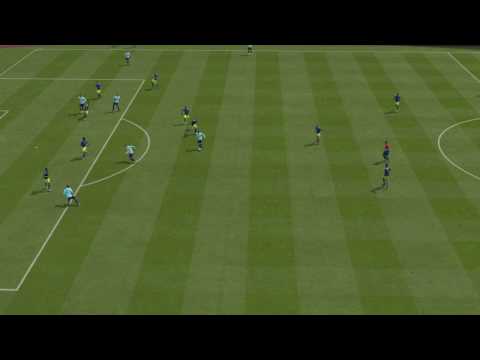 AERIAL THROUGH BALL (L1 + Triangle or LB + Y)
The timing of aerial through balls is similar to that of ground through balls; of course, you will use an aerial through ball when a ground passing lane is cut off. Not that you may have to hit lobbed through balls slightly harder due to defenders being able to head any flat balls away.
In terms of breaking down the defence, here is an example of a situation where I have found success using a dinked through ball:
As you can see, we feed the ball into the RM via the RB. Make sure you hit L1 as you play the pass with your RB (this causes the RB to make an overlapping run on the outside).
The overlapping run from Team A's RB pulls Team B's LB out wide, creating more space in central areas. As you receive the ball with the RM, cut inside and hit L1 again - this tells the CAM or
advanced playmaker
to make a run in behind Team B's CB's. By cutting inside, you force your opponents CDM to close down the ball carrier (Team A's RM), which frees the CAM.
Once Team A's CAM is level with Team B's defensive line, play a dinked reverse through ball into the space (the power will depend on the weak foot of the ball carrier as well as the distance of the pass). The momentum of the run the CAM makes compared to the stagnant defensive line of the CB's will allow you to receive the ball in behind, and then play a low cross to any late runners.
DEALING WITH VARIOUS TACTICS
PARK THE BUS
While some of you may
sigh
the moment you realise your opponent has switched to
park the bus
, I prefer to say
thank you for handing me the initiative
. One of the key components of possession play is winning the midfield battle; if your opponent concedes space in the middle third by dropping his/her defence back, you have won this battle, and are well on the way to winning the war.
So how do you defeat a parked bus? Contrary to my advice earlier, you will have to use L1 more frequently to trigger runs from midfield in order to create chances, at least in this case. That's not to say you have to play a through ball for every run that you make...instead, the objective is to pull defenders out of position by forcing them to cover the potential through ball (similar to the fullback's role in the tactic under the
aerial through ball
section).
Continued pressure from moving the ball inside the final third will eventually lead to chances in two ways:
a) In an effort to stop the ball being played in behind, your opponent's defensive line will drop deeper and deeper until they are yards from their own goal. This will leave space on the edge of the box/just outside the box for a pullback (cross) from wide areas:
Team A's RDM makes a run from deep, forcing a couple of Team B's defenders to move back into the space (to cut off the potential lobbed through ball).
To hold the team structure, Team B's defensive line has to move back as a group, allowing Team A's CAM to come short for the pass. It is natural for the defence to narrow as they look to cut off any passing lanes in central areas, which will hopefully lead to a 2 on 1 situation on either wing.
At this point, Team A's CAM should have the room to play a through ball in behind Team B's fullback/winger. Get to the by-line with the receiver, and pull the ball back into the space for the CAM to take a shot/play a pass.
b) Your opponent doesn't hold their shape across the pitch, instead pulling players across depending on the side the ball is on. After working it from side to side, space will open up on one wing - play it into this space and attack the goal with your wide man.
If you notice your opponent leaving one side of the pitch open, don't be afraid to play in into the space for your fullback/winger to run onto. Note that the more acute the pass, the higher the margin of error.
HIGH PRESSURE
This is probably the most subjective part of the guide, and in all honesty, it was also the hardest part to write up.
Pressing as a team against a possession-based playstyle is a viable tactic in real life, and it's the same in FIFA. That said, while many players attempt to implement a high press into their defensive routine, not many know how to use it properly - or in other words, a lot of players only pressure the ball carrier instead of focusing on cutting off passing lanes as a team.
And that's why holding your shape on offence as well as defence is important; creating triangles across the pitch always leaves you with a free pass against single coverage. There will be times, however, where your opponent knows how to successfully press as a team..
.and this is where I need people to understand that you will lose games. Nothing it full proof on FIFA, sometimes your opponent will quite simply be better than you, and you have to accept that you will lose games.
That said, there are things you can do to increase the probability of you winning against
high pressure
. One of the most important things to remember is to maintain control in your passing - yes, you may have to pass faster than normal since you will have less time on the ball (especially in the middle and final third of the pitch), but that doesn't mean you should be reckless in your decision making. Try to visualise 2 or 3 passes in advance, even if it means going backwards before going forwards...sometimes you will have to draw your opponent out of position to find space in more advanced areas.
Keep in mind that we still don't want to force passes - that is what
high pressure
is trying to achieve: force us into mistakes. If the pass is not there, then don't play it. Holding L2 is your friend in these situations, since your player will shield the ball from on rushing defenders, making it easier to turn out with the ball. Practising a few simple skill moves such as the
ball roll
,
body feint
,
fake shot stop
,
scoop turn
or
roulette
can significantly improve your ability to get past an on rushing defender, since the momentum of the defender will often stop them from tackling you during a skill animation.
Going back to a point I mentioned earlier in the
target man
section, using a more direct pass to bypass the midfield can be a great way to avoid a physical mismatch, as well as get your opponent running back towards his own goal. Use this tactic sparingly, though...unpredictability is key and we are still trying to play a possession game. However, you should always have more strings to your bow, or in other words, a plan B which you can turn to (whether it be a different type of player off the bench, etc...).
Tip
: The push and pull mechanic is stronger than ever, thus sprinting with the ball when there is no space is not advised, and from the other perspective, don't be afraid to use the feature when trying to win possession back, though you should be careful when using it in and around the box.
This section is briefer than I would like it to be, but I'm debating making a separate thread where I go more in depth on countering
high pressure
. It's certainly a tactic that is becoming more prevalent in the higher divisions, and so being able to deal with it is key to your success on Ultimate Team.
A FINAL NOTE
If you've made it this far, I'd just like to say a massive thank you for taking the time to read this guide. I've lurked on the EA forums since FUT11 until this year, in the hope that I can consistently post content that genuinely helps the community, and hopefully this write up meets that goal.
If you have any feedback (positive or negative), debate, questions or possession teams, by all means post below!
I will do my best to answer any questions, and I'll also take my favourite possession teams and add them to the 'community' section. More video examples will be added at a later date (also feel free to post your passing moves), and I will probably start streaming Division 1 gameplay in the future.
Until next time...
Sources and other useful links:
Liam9lfc's 4-2-3-1 formation guide ft. Sokker14:
http://forum.ea.com/uk/posts/list/2974164.page
YK's 4-1-4-1 Guide:
http://fifaforums.easports.com/en/discussion/546/thatoes-4-1-4-1-formation-guide#latest
Xciljw's Guide To A Succesful Possession and Passing Game: 4-3-3 (5):
http://fifaforums.easports.com/en/discussion/498/xciljws-guide-to-a-succesful-possession-and-passing-game-4-3-3-5#latest
Soetie's YouTube
Vision Stat: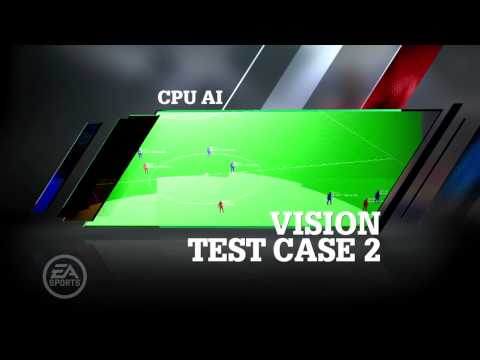 How to break through a parked bus: