Getting close.
So what's so special about Messi?
Well if you ask the educated fan, he's the best player in the world. Girly men and children may prefer Ronaldo but Messi is the consensus best with stats and trophies to prove it.
And I'm happy to report he replicates this excellence in game. His dribbling as in previous years is sublime, best in the game, along with his agility and pace which allow him to get past any player and tight spots. In fact sometimes he does automatic animations when near players to allow you to beat them. His passing is the best for a forward and he will score you long shots again and again (TBH every player will, if you know how to) And he finishes. And finishes and finishes and finishes and finishes. Best finisher in the game, even compared to CR who I admit does beat Messi's strength and heading. Speaking of Ronaldo, where Messi beats him soundly is his freekicks. Messi's FK are insane!.
The best FK in the game!
Better than IF Caheneiglu (not even his mother can spell that name).
So what about the position change?
At first I was worried this would make him less effective. He would go lost, not participate as much in attack, etc. And at first playing him in draft mode and loaned at the start, this was the case. It was only after learning the subtleties of FUT after a couple months did I come back to Messi and realise he is actually better as a winger! He cuts in better than Robben, Hazard, Neymar or Ronaldo and his finishing product is also better. And why is this? It's because of the one thing EA has changed in Messi that makes him better than any previous version.
He has 4 STAR WEEK FOOT!
Now whether this is deserved or not is up to debate but 4 star WF has made Messi unplayable! You no longer have to shoot with the left. You can hit them from anywhere with completely unpredictability and precision. It feels like a cheat code. Messi's right foot takes a better shot than 99.9% of the high rated players in the game!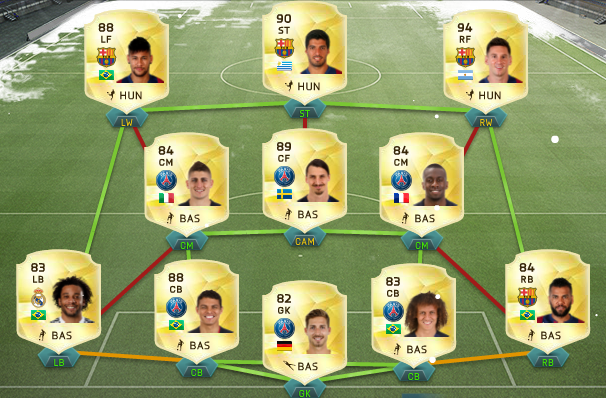 I play him in this team but I can't see a situation where he would ever be wasted in any team except being an RM. You want this man up front and he can play striker too, just put Hunter on him so he gets the chem boost on pace and shooting.
Without a doubt as far as NIF's go, he's the best player in the game.
5/5
Post edited by hospital dogs on