4-2-3-1 (1 - Narrow) Guide
Introduction:
My expertise with the formation is a outcome of over a decade of playing the sports itself, and football games (first one being This Is Football 03), and thousands upon thousands of hours playing the game. Almost exclusively 4231.
I am a competitive player, who relies on possession. 4-2-3-1 is arguably the best formation for possession style of play.
My stats from last year (in FUT divisions) 95% of the games were played with this exact formation
Introduction to the formation:
How does it differ from 4231 (2) with the wide midfielders?
The wide CAM's are instructed to stay further up the pitch, and to take part directly in the scoring-phase. Unlike wingers, these wide attacking midfielders wont drop so deep, and offer you controlled quick attacks with 4 players, or allows you to attack with the whole team, by being able to control the game in the oppositions final third.
4-2-3-1, one of the most common formations in the modern football.
It's versatile, it's balanced. It doesn't have weaknesses, and there is no obvious counter against it.
4-2-3-1 Excels in possession play, but can be used for counter-attacking purposes aswell.
Balanced, how?
4-2-3-1 (1) has a solid defense. The 4 defenders, Left back, CB pairing and right back respectively, are being covered by two CDM's. The depth of the defense make it in many ways, even better to defend with than 5 at the back formations.
The Midfielder is the strongest point of the formation. Two CDM's and the 3 CAM's give you the ability to control the midfield, which is most often the key to victory. Free space and passing options are second to none.
The lone attacker becomes one with the midfield, and is most often part of the build-up play.
The three CAM's make sure that the striker isn't isolated, and allows you to attack with force.
Pros and cons of this years installment (FIFA 16)
In general: This year the gameplay took a massive step forward. The core of the game, might just be the best FIFA we've seen to this date. Every year there are flaws, but they will be fixed/are being fixed as we speak. Sometimes as soon as possible, sometimes within a longer time frame. Sometimes the things that we recognize as problems, are not. Atleast for the developers of the game. Time will tell if the high pressure and interceptions will be toned down. This isn't the time and the place to discuss about that matter though.
Head to head: Generally, almost every FIFA the H2H is better gameplay-wise than Ultimate team.
FIFA 16 Is by far, the best and the most balanced H2H we've seen. The gameplay is outstanding. Passing is, as it should be, the most important factor. Controlling the tempo of the game opens new dimensions, which wasn't the case for the longest time. If someone hasn't tried the Head to head this year, i strongly suggest you to do so.
Ultimate team: UT this year is dictated by pace, as so many years before. Not as badly as couple of the previous years, but it's still one of the biggest, if not the biggest, factor. Other, clearly "overpowered" factors are, as stated before, ultra high-pressure and interceptions.
4-1-2-1-2 (2) formation is appearing to be very dominant because of these factors. It gives you the possibility to get the best out of those flaws. Which is the biggest reason of it becoming widely the most common formation.
4-2-3-1 is (in my own opinion and experience so far) the only formation that can combat and counter the 41212 (2). So, for the ones struggling against this particular formation, i recommend to give 4-2-3-1 a shot.
The player choices:
GK (Goalkeeper)
Goalkeepers have a huge part at the outcome of the game. They either save you, or doom you.
This is the very reason you should always get quality between the posts. Having Neuer in goal can win you 10 more matches in 100 games, than using Starke.
Height of the goalkeeper is oh so important. 6'6 keeper covers more of the goal in 1v1 than 5'11 tall keeper.
The speed of the goalkeeper is very, and truly, very important this year. The faster your goalkeeper is, the faster he comes out in 1v1, and clears the crosses/corners with better percentage.
"better" options - Buffon, Begovic, Handanovic, Bravo and Keylor Navas (mainly because of his speed)
Best options - Neuer, DDG, VDS, Lehmann, Cech and Courtois
CB's (Centre-backs)
CB pairing is the core of the defense. Ideal situation is, if they can defend, and open the play at the same time. Pace isn't requirement, but it is always an asset. +65 pace and you should be golden. You should try to pick your CB pair so, that they compliment each other. One that sits deeper, and one that pushes a bit forward. You want your CB's to be comfortable with the ball, be good at defending aswell as in the air, and to have atleast one CB with higher defensive contribution than attacking, so they both wont start wandering up the field. (as in Low/high workrates for example)
Ideal workrate pairings (L=Low, M=Medium, H=High):
The best one L/H + M/M
Good ones:L/H + L/H - L/H + H/M - M/H + M/H - L/H + M/H
Ones to avoid: M/M + M/M - M/M + H/M - H/M + H/M
"better" CB's: Hummels, Bonucci, Naldo, Pique, Otamendi, Miranda, David Luiz, Benatia
Best CB's: Koscielny, Cahill, Thiago Silva, Varane, Chiellini, Barzagli, Kompany, Boateng, Godin, Lalas, Nesta, Blanc, Maldini
Full-backs: (LB + RB)

There are two ways you can play 4231 with your fullbacks. Either they overlap and contribute to attacks, or they stay at the back preventing opponent from counter attacking.
Overlapping fullbacks: Mobile defenders, with high stamina and pace (+80 if possible) alongside good dribbling and passing. Especially crossing. Shooting doesn't matter, as these players mainly provide.
Overlapping and contributing defenders you can set either to always overlap or leave it as default. Their workrates will cause them to get up the pitch.
"better" options for LB: Alberto Moreno, Gaya, Kurzawa, Filipe Luis, Jefferson
Best options for LB: Baines, Alba, Alaba, Marcelo, Alex sandro, Tremoulinas, Carlos
"better" options for RB: Carvajal, Coleman, Aurier, Peres
Best options for RB: Danilo, Dani Alves, Lichsteiner, Clyne, Walker, Piszczeck, Zanetti
Stay-at-the-back fullbacks, AKA "CB regens": Tall, strong defenders who can and will contribute for the defense. You set these players to stay back while attacking.
"better" options for LB: Kolarov, Jose Enrique, Evra, Radu, Ghoulam
Best options for LB: Rodriquez, Enrique, Azpiliqueta (because of his immense 84 defending)
"better" options for RB: Sagna, Maicon
Best options for RB: Zabaleta, Ivanovic, Darmian, Neville
CDM's:
Having two of them is an asset, but getting the most out of them is up to you.
There are three main roles for DM's, they are: Creative DM, Stopper DM, or workhorse.
You need to find the duo that fits you, and the ones in that duo should have different roles.
Creative DM's are the ones that are the catalyst between defense and attack. They are the ones with high passing and okay(ish) dribbling, and most often, have the most passes in your team. They do contribute to defense aswell, but are more comfortable with ball.
"Better" options: Xabi Alonso, Guarin (can fill two roles), Parolo, Oscar, Rooney, Di Maria
Best options: Kroos, Yaya Toure (even with those horrendous M/L workrates), Modric, Lahm, Fabregas, Gundogan, Pjanic, Busquets (can fill two roles)
Creative DM's instructions you can leave as default
Stopper DM's are the ones that break up opponents play, by tackling, intercepting and winning duels in air.
"better" options: Kondogbia, Kouyate, Emre Can, William Carvalho
Best options: Khedira, Matic, Luiz Gustavo, Vieira, Effenberg, Pogba (even with H/M workates), Busquets (can fill two roles)
Stopper DM should be instructed to stay back, and to cut passing lanes, as he most often doesn't have the mobility to mark players
Workhorses are the players that cover the most ground on the pitch, and have became really regular trough the last few UT's. They have high pace, high stamina, H/H workrates and are just everywhere. Tackling, linking up the play and harassing the opponents attacking players.
"better" options: Lulic, Guardado, Guarin (can fill two roles)
Best options: Ramires, Vidal, Pereyra, Nainggolan, Marchisio
Workhorse should be instructed to stay back, and to mark players. The mobility of these workhorses can make it really hard to find space for the opponent, as they close forwards down effectively.
CAM's:
(Attacking midfielders) Are the ones that make this formation tick. Ideally they can pass and dribble, and finish to an extent. Nothing else is a necessity, but an asset. Such things as height, pace and shooting. You Generally want the faster, skillful (4*/5* skills), and more capable of running for the whole match up and down duo of these three as the wide attacking midfielders. The central attacking midfielder should be the one with a bit more height, strength, shooting and passing ability.
Wide attacking midfielder (ideal) necessities:
+ 70 pace
+ 75 passing
+ 80 dribbing
+ 75 stamina
+ 4 star skills or higher
+ Higher attacking contribution than defensive (M/M being the exception, works fine)
"better" options for wide AM's: Teixeira, Insigne, Kagawa, Mertens, Isco, Kovacic, Dybala, Cabella
Best options for wide AM's: Di Maria, Coutinho, James, Santi, B & M Laudup, Zola, Litmanen, Griezmann
These Wide AM's should be instructed to stay forward.
Central attacking midfielder (ideal) necessities:
+80 passing
+80 dribbling
+75 finishing
+High shooting (longshots, shotpower, curve, volleys)
+ Higher attacking contribution than defensive
"better" options for Central AM: Thiago, Götze, Pastore, Bojan, Hernanes, Firmino, Lallana, Payet
Best options for central AM: Özil, Suarez, Silva, KDB, Eriksen, Jovetic, Iniesta, Suker, Bergkamp, Ibrahimovic, Pogba, IF Ben Arfa
Central AM can be instructed to stay forward, but it isn't necessary.
ST:
(striker) There are two ways to use your striker in this formation. Either Target man or mobile dribbler. You use him to hold the ball, and so to make space for other players. In ideal situation you find your striker at the halfway line with a ground pass/in air, and you manage to pass it to a wide AM or back to CDM, making it possible for your team to start pushing up the pitch, and creating space for other players in the same time. Target man can be used as a pin up the pitch, whose head you can find with either by crossing it to the box for a finish, or just by lobbing it from a CB/LB for a headed pass to get past the closed midfield. This works wonders against high-pressure players.
Necessary attributes for a ST:
Target man:
Tall (+ 6'1)
Strong (+75)
Okay passing, at least +65 (passing is something your striker needs to do a lot, but high stat wont be that necessary. The passes Striker will generally make, are short ground passes)
Good finisher (+80) both in air and with foot
High attacking workrate to ensure he will find his way into the box
"better" targetmen ST's: Benteke, Lukaku, Aduriz, Huntelaar
Best targetmen ST's: Lewandowski, Mandzukic, Vieri, Suker, Ibra, Cavani, Martinez, Diego Costa, Benzema, CR7, Weah
You should instruct your targetman to stay central and play as a targetman.
If you decide to play counterattacking wise, or just don't like big targetmen in general, you need to use a mobile striker. Much like the CAM's, this player will be used to pass or dribble. Lacking the physical side, you need to know how to dribble between opponents defense and midfield.
Necessary attributes for a ST:
Mobile striker:
Good dribbling (+80)
Good passing (+75)
High agility and balance
Good shooting (+75)
preferably 4 or 5* skills
Higher attacking contribution than defensive
You should instruct your mobile striker to stay central and get in behind.
"better" options for mobile ST: Dybala, Menez, Amrabat, Palacio, Griezmann, Ben Yedder, Lacazette
Best options for mobile ST's: Aguero, Suarez, Crespo, Weah, Pele, CR7, Morata
Round up of the instructions:
CB: Leave as default
LB/RB:
Mobile fullbacks to always overlap/leave as default
Defensive fullbacks to stay back while attacking
CDM's:
Creative ones to leave as default
Stoppers to stay back while attacking and to cut passing lanes
workhorses to stay back and mark opposition
CAM's:
Wide attacking midfielders: Stay Forward
Central attacking midfielder to stay forward or leave as default
ST:
Targetman to stay central and play as targetman
Mobile striker to stay central and get in behind
Custom tactics:
Build up
Speed: 45
Passing:35
Organized
Chance creation
Passing: 50
Crossing: 30
Shooting: 35
Organized
Defense
Pressure: 30
Aggression: 30
Team width: 50
Cover
My custom tactics are really radically aimed for a possession style of play, and for short passing.
I've set my team width to 50 as i swap sides with lobbed balls quite often, to counter high pressure, create space and to drag oppositions players out of position.
Formation can be played too with free form - attacking, but i like my players to stick to their position.
Formation can be played with higher pressure and aggression, but you will become even more vulnerable to counters.
My Current team:
I start the game with a false 9 (433 (5)) to get everyone on full chem, and then i change the squad to 4231 in-game.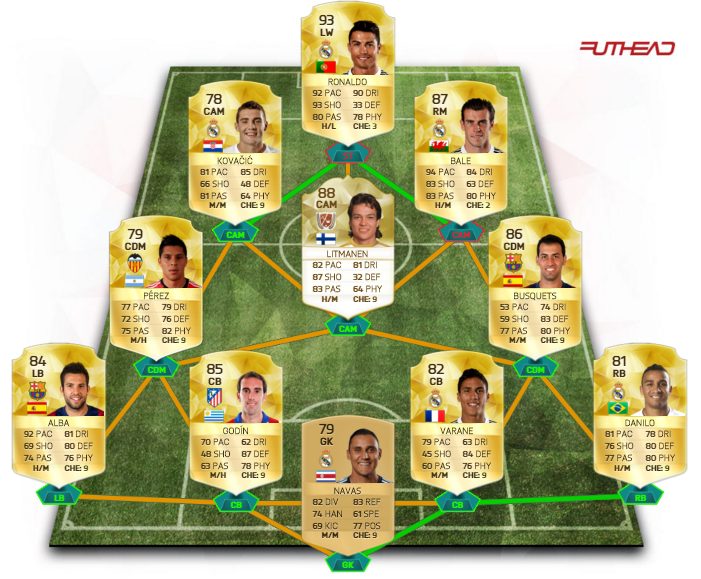 Example teams:
Budget sides: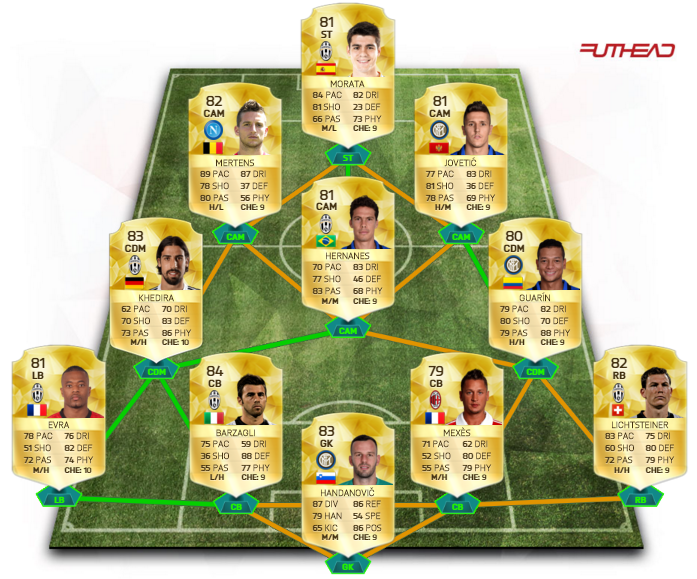 Ideal sides: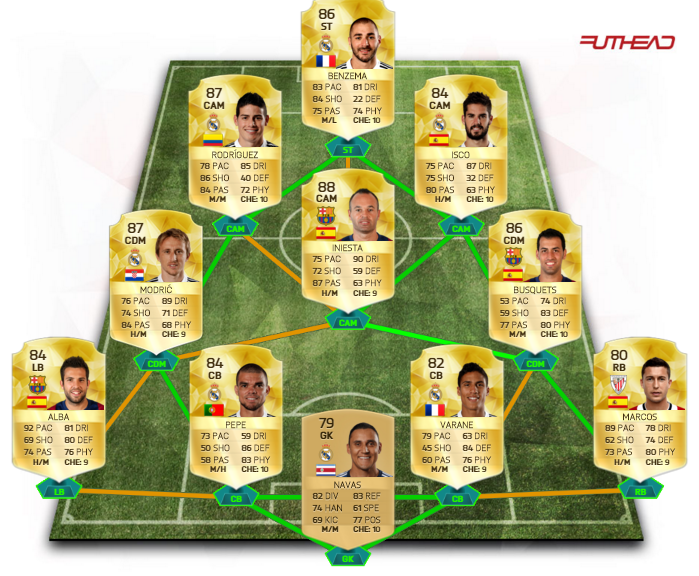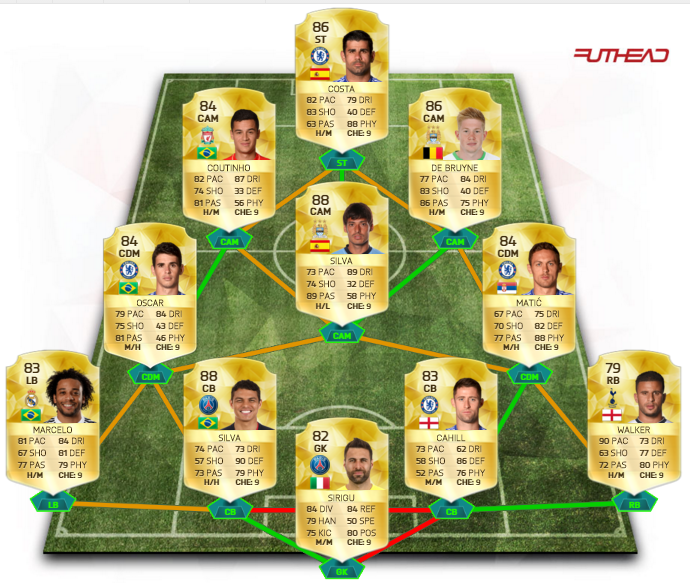 Thank you for reading! This is my first formation guide, so please, let me know if you think something could be improved
Thinking of doing 4141 guide in the near future!
If something was left unclear, or you have questions in general, i am more than willing to answer them.