Welcome! I am Scotticus (FCBScott from ye olde days of the Fifa 14 forums) Manager of Dinamo Munchen and today I want to shed some light on the 4-5-1 system for those looking for something different to change their fortunes or just looking for some variety.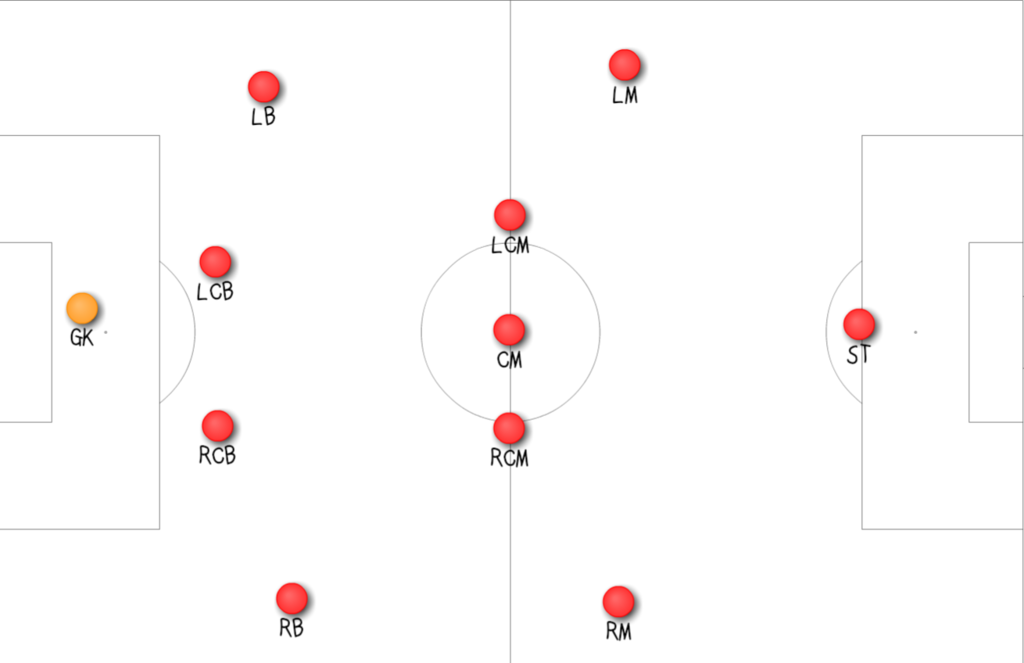 Intro
The beauty of this system lies in the midfield and potential to both stifle and make life very hard for your opponent and also be the catalyst in providing offensive momentum. Establishing control is never a easy process but against better players learning to be confident and calm off the ball as well as on the ball will pay dividends with this system and any other system you eventually move on to.
The bulk of this system will be focused on the midfield and the formulas and strategies that tie in, pictures will be included to give you a visual aide to understand the points I'm trying to get across. The backline and the lone striker will tie in but will not be elaborated on that much but at the end I will include what skill sets you should be looking for.
As always any questions feel free to ask and I will try to help as much as possible.
On with the show!
The Power of Five
Pressuring and Ballwinning
So we come to our first segment and this about winning the ball and utilizing pressure but not in the way of using team-mate contain and high pressure tactics, instead we are going to take the options away and force our opponent into uncomfortable decisions and force into dribbling or making 50/50 passes.
The primary skill you should learn is knowing how to use right stick switching which is the fast and accurate way of switching between players and this is the main technique to help you in clogging up space and should miss the interception you will at least have the closest player on hand to make a tackle.
It should be noted that some people have trouble with the player indicators as I have personally
found it rather annoying so I keep the trainer on purely for the reticle.
Besides switching you should try to develop a keen sense of awareness and judgement since for me this is absolutely essential to defending well and after a while it will become second nature.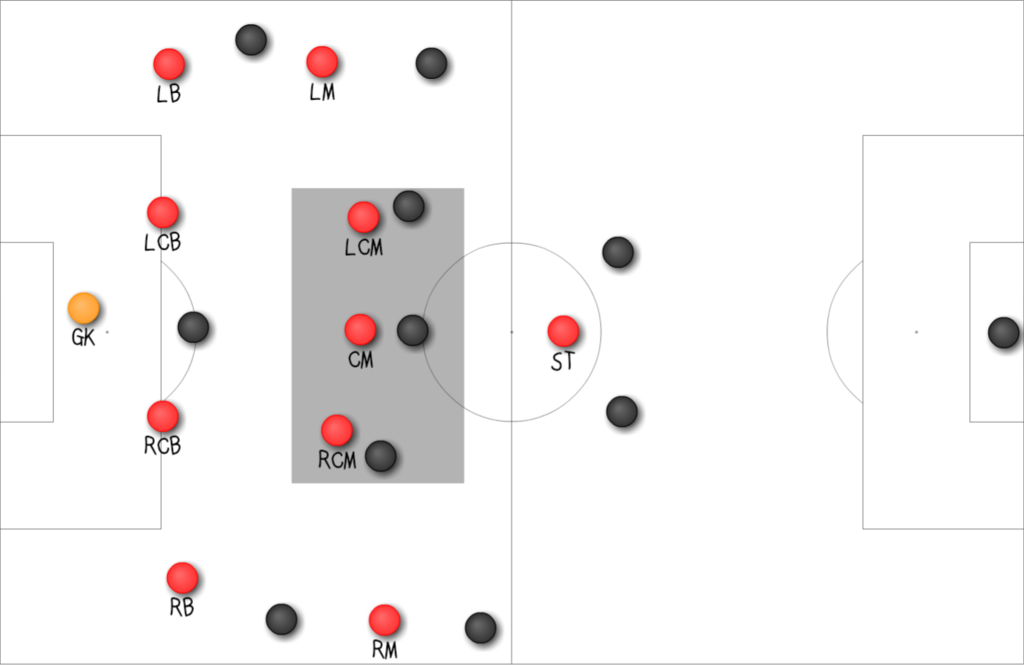 Now at this stage should any of the backline have the ball, we will operate passively and look to control our CM's and mark the opposition midfielders, good positioning will lead to immediate pressure should the opponent pass centrally or even getting the interception to lead to a counter. This is about stifling, I'm not going to hand my opponent space by being too aggressive in winning the ball back. Keep calm and allow the opponent to play into your hands.
I judge each situation on it's merits, Say for example the opposition fullback has the ball, should I be able to nip in with the winger to get the ball I will exercise that option but for the most part I stick to clogging up the middle of the park and not give any freebies.
Should they get the pass and turn past you, I look to be very aggressive to win the ball back by getting shoulder to shoulder with him and using left trigger to out muscle the attacker then make the easy pass to start a attack of my own.
Another great thing about this system is that should you play a team that isn't particularly direct and opts to play possession the midfield will sink and it will clog up the central areas and force the play wide where they will have beat the fullbacks in which skilled defenders can force mistakes. It also can be very dangerous for the opposition as more players commit to the attack, diligent defending can lead to counters where having the right players can produce chances.
As a general rule, losing the ball cheaply will cause no end of problems for you so look to be careful and thoughtful while passing but should you be hit in the counter your main objective should simply be to slow down the attack and force the player wide and narrow his angle so should he shoot the goalkeeper is likely to save it.
Direct Running and Efficient Passing
So we come to attacking side of things and another key trait to have when playing is multiple goalscorers, having 6 players capable of getting goals for me is what makes this system great and it pretty much removes reliance on the striker and you shouldn't look to get goals solely through him, you have a team at your disposal so use it!
I am very direct when using my CM's this draws a lot of attention and as a result of that, opens up space for others whether it be the wide midfielders, other central midfielders or the striker. Speaking of the striker one thing you should look to refrain from doing is immediately giving the ball to the striker once you're on the attack, use the width and numbers you have pushing the forward and allow the striker's run to make the openings as you move up, I can't stress this enough as I've noticed how many attacks have simply stalled because he has been isolated because of the lack of support beyond him.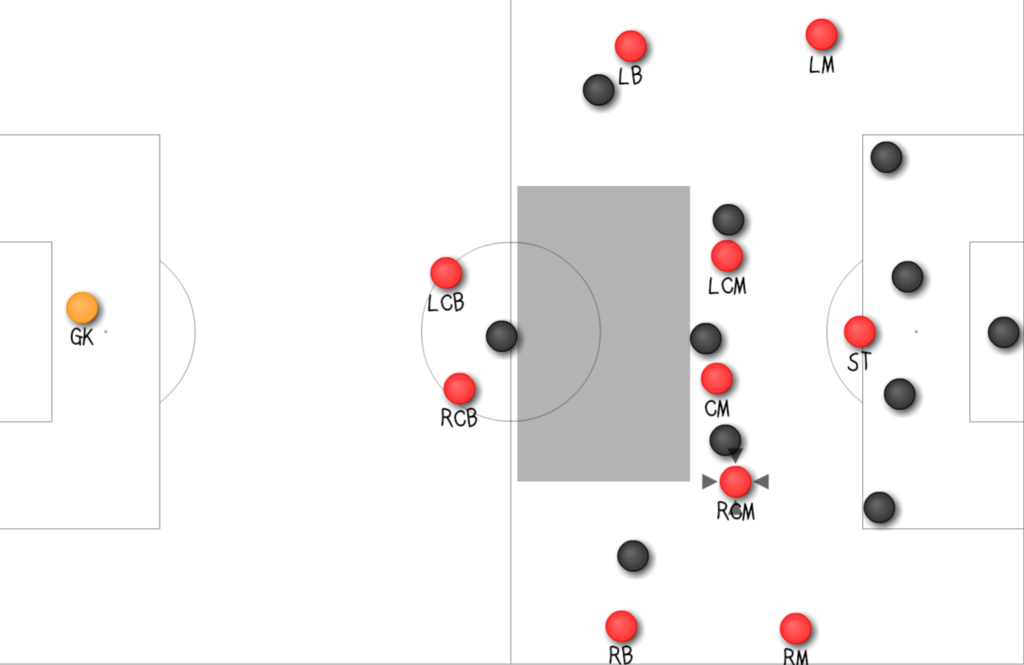 Now of course this picture isn't exact in it's depiction but I think the message is clear that cheap passing can leave you exposed as the midfield pushes on there is a large gap that can and will be exposed if you face a good enough player but with time and practice you can grow and adapt accordingly.
Passing is something I've thought about on this guide and after playing games I've come to the conclusion that less is more and cutting out unnecessary passes that offer no real positional advantage, for me the name of the game is to move forward quickly and not allow the opponent time to set up so thoughtful passing and keen individualism is the optimal mix I aim for.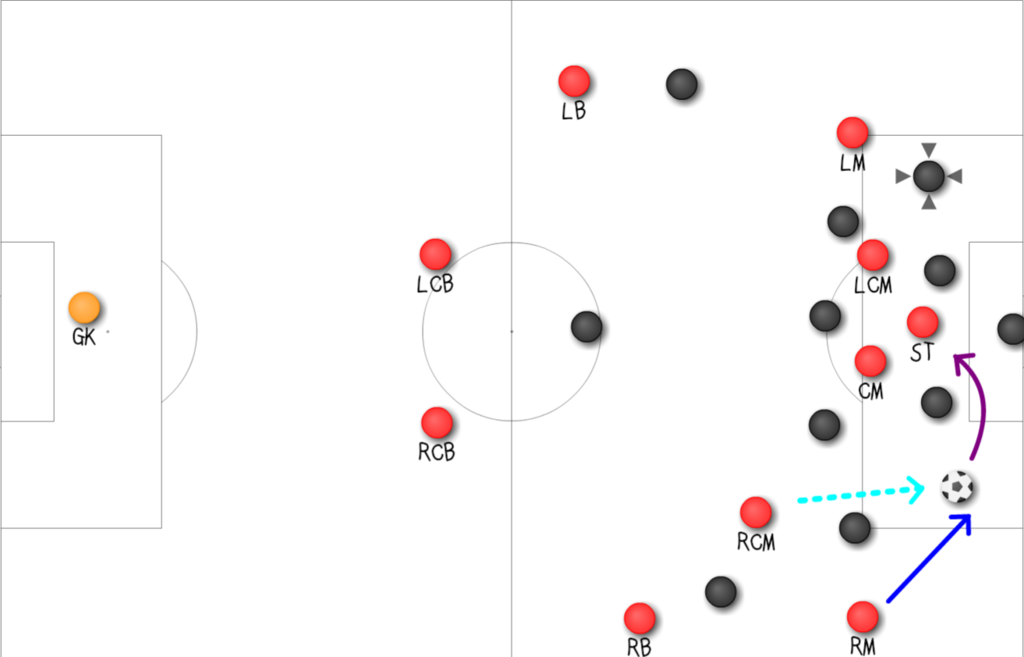 A relatively short piece as for the most part I treat the wide men as I would my striker and use the wide CMs to draw attention from the fullback and allow the winger to make inroads and focus on getting to the byline and drive in low passes or crosses. I rarely if ever cross outside the box purely because I find them inaccurate and not effective but should you have the knack of getting them to work than by all means mix that into your play.
Again, the picture is not exact just something to give you a rough idea of how things can pan out.
Skill Sets and Conclusion
So below will be a brief rundown of the skill sets for each area.
GK: Nothing special here, get the best possible within your budget or scheme of team
LB/RB: Pace is nice but do not sacrifice defending and physicality for it purely
CB: Much in the sam vein as the GK, get the best possible.
LM/RM: Solid all-rounders are best but a slight preference to pace and dribbling is understandable.
CMs: Again, all rounders are the order of the day, being able to shoot, pass and defend are
necessities will maximise your potential.
ST: This really is of personal preference due to how I play but target men are good as well as nimbler more technical strikers so this is really down to what you feel comfortable with.
So we come to the end, I think I've covered the main bases of this system but I feel beyond this, questions will help with the finer details.
Thank you for reading!