4-3-1-2 Formation Guide
For the Past 2 FIFAs, 4-3-1-2 has been my go to formation not only for FUT but for other FIFA modes, (Most specifically Pro Clubs). What I aim to achieve with this guide, is to give the community my style of play, my setup and how I approach each and every game with the formation and players being used.
I'll explain first why I like to use this formation, defensively as the forums of the last year showed many a time, it's a nuisance to play against, constant pressure from a narrow midfield leads to a lot of misplaced passes and mistakes in general. Combine this tight and compact midfield with the normal spacing of a back 4, and your defence is reasonably solid.
As for the attacking side of things, 4-3-1-2
WAS
renown for being too narrow and play being focussed through the middle. But as FIFA evolves so does the tactics during attacks and as many know playing through the middle is a lot harder with through balls and lobbed through balls this year and It will be explained further down how it's not so narrow in attack.
How 4-3-1-2 plays out
I like to think of 4-3-1-2 as split up perfectly into the 3 compartments of any team with Defence Midfield and Attack, the midfield as explained previously are a nuisance and in my opinion determine how well you're going to do defensively and offensively. As helpful as they are tracking back they're also definitely required in attack, so having midfielders with the right work rates and right stamina is key to success.
I don't count the CAM as a midfielder in this formation, much like the older adaptations of FIFA I treat the CAM as a CF, this role is as key to the attacks as the two strikers are, he needs to be able to link up play and also have the ability to score himself.
As for the defence, full backs will naturally want to go forward and they often help you in attacks, work rates for me aren't as important with the full backs as they seem to go forward no matter the work rate (Which isn't necessarily a bad thing). The CBs will do their duty too of sitting deeper, I myself have a tendency of using the offside trap when teams are attacking due to how close the midfield and defence get to each other, when timed it works like a charm and catches players out but I would not recommend trying the Offside Trap every attack as you're more prone to being caught out.
I'll now go through each positions and explain their roles for me and who I use in these positions.
Strikers & CAM/CF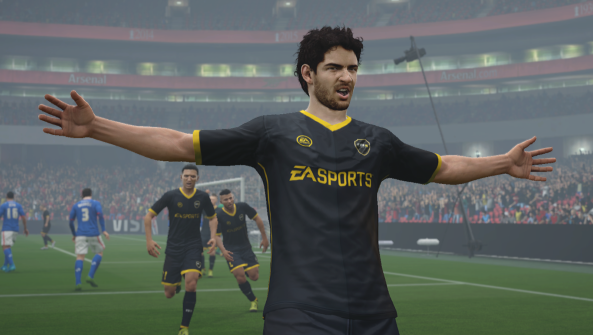 Alexandre Pato celebrating a 4-3-1-2 goal in style
I'll first address the narrowness of the attack because it is what the formation has been labelled as being. The strikers this year naturally without instructions/tactics move out wide and will sometimes actually stay on a wing, this for me is so helpful as it then allows the CAM to push up and join the front line of attack, which in turn also allows the CMs to push up.
Play does go through all of these attackers and depending on which side you attack on the ST on that side will go out wide, the CM from that side will then to do the same and act as support, this is great for wanting to pass around and bring play back inside the middle.
A lot of my goals particularly stem from this kind of attack, whilst one ST is out wide the CAM and other ST will be in the central spots, and a pass into either of these allows for an intricate little piece of passing to finally get in behind the defensive line.
I usually go with the classic big man small man combo up top, a bit of power and pace works well. As for CAM, I prefer a guy who can shoot and is able to get on the end of through balls so requires a bit of pace, these guys score a lot of the goals in game.
The Midfielders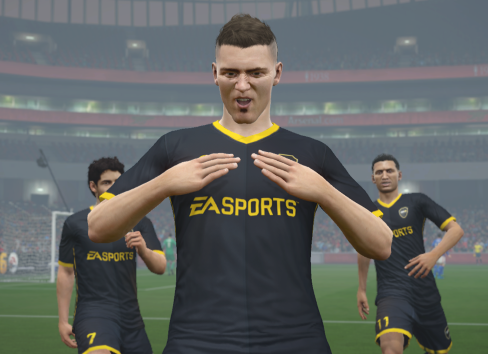 Andres D'Alessandro happy with his goal
I treat the 3 CMs this year as one whole unit, to sum this up in short which is all I need to do really, is use 3 box to box midfielders with great stamina and all round abilities. (I have used M/Ms who still go box to box regardless of work rates not suggesting so)
These guys pile the pressure on whether it's in defence or attack, they are especially helpful in defence as they can do the closing down for defenders, and no gaps can be made in the back 4, which is a great base to build from when retrieving the ball and beginning a counter attack.
In attack, they act more as a supporting role, they tend to be open for passes, and if there's space they will run in behind defences but don't expect a lot of goals from these guys unless you have the likes of Pogba/Guarin in your midfield. Naturally the wider CMs push the furthest whilst the central CM sits deeper and acts as an anchor in front of the defence.
An absolute key role in this formations success for me, I wouldn't use anyone with Low defence on their workrates, I have tried Yaya here and he failed to do much in defence (But as a CAM he was incredible!!!!!)
Alternative to the CCM as
@Barslund
describes here:
CCM Playmaker
The Defence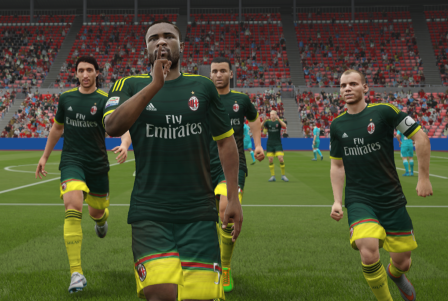 Aurelien Chedjou silencing the 4-3-1-2 hate
I'll start with the full backs who I like a lot this year unlike on FIFA 15 where I'd prefer them to stay back and mark wide areas, their supporting runs out wide on 16 are a fantastic help to keeping the ball. Whether you're playing possession play or simply recycling possession at the back they're very helpful in attack and I don't mind them going all the way up the pitch for potential crossing opportunities or to simply support all the way down the line.
Defensively they sometimes stick a little too close to the CB on their side, and can get caught out if you're playing against a wide formation with quick attacking wingers. So a bit of pace and a decent passer is what I'd use at fullback.
With all the defending the midfield does, the CBs still have a job of holding the shape at the back and keeping players in front of their line. Do not bring these guys out of position to close down unless it's the only thing you can do because as soon as there is a gap you're exposed and it's almost a guarantee you will allow chances. I prefer them to not have high attacking so they do keep a nice line, there's also the obvious traits for a CB like decent pace and height.
I feel that FIFA 16 revolves a lot more around the fact that whoever can create the most chances will inevitably win and whoever can stop chances being made too.
For me 4-3-1-2 has done this often and whether it's a containing high presser who is a constant pain when you're trying to play the game beautifully. I pass it around and patiently pick my moments, they aren't going to tackle you if they're containing so avoid running at them and pass sidewards or backwards. It may not be the right way to approach a game but contain will track you no matter what so always try and pass around it.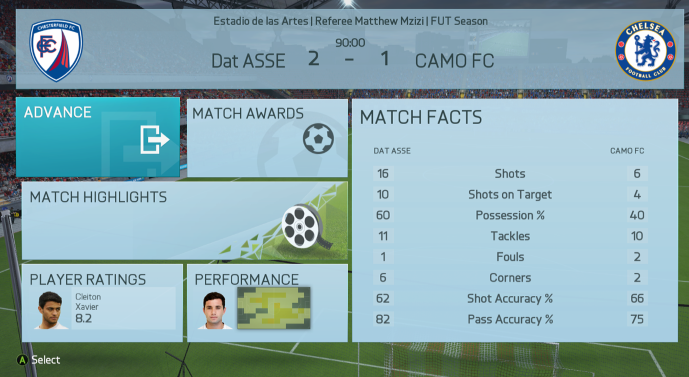 These were my stats with a Liga Do Brasil team against a Premier League team, as poor as my finishing may have been I still dominated the possession and chances which in the end allowed me to win relatively easily.
Teams I use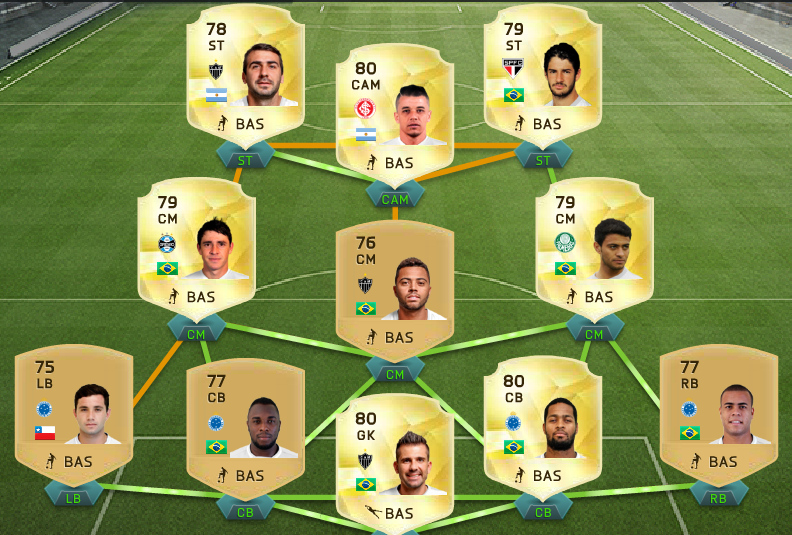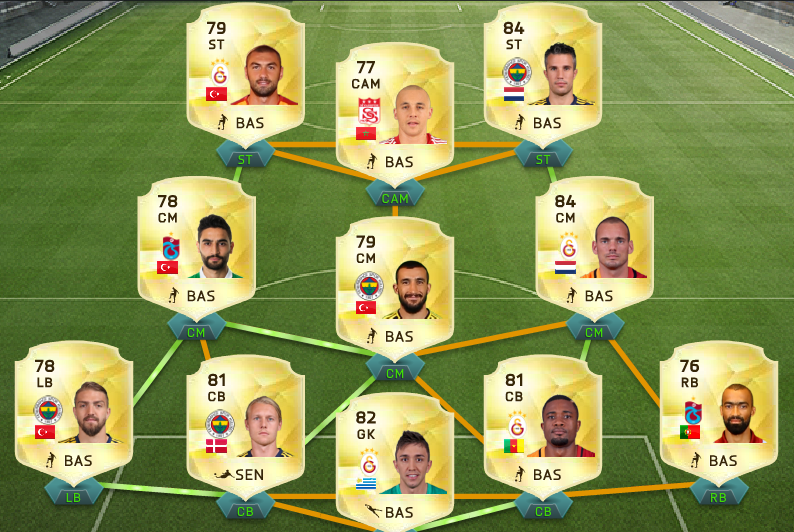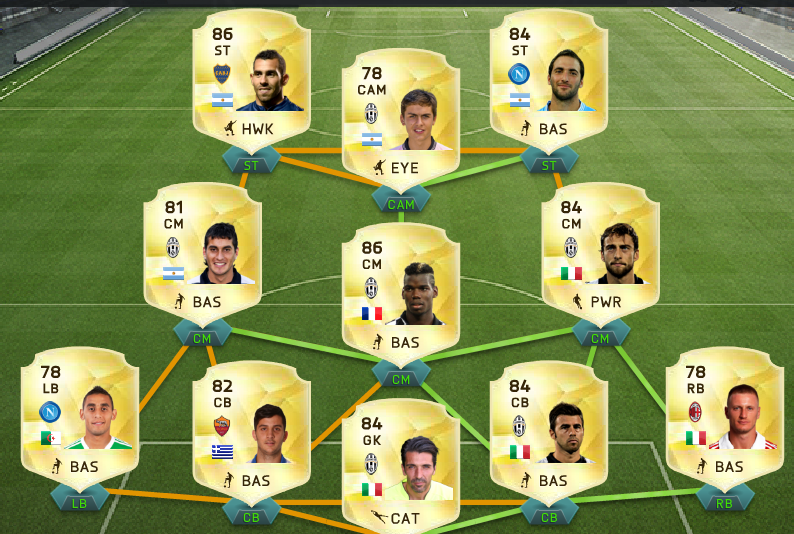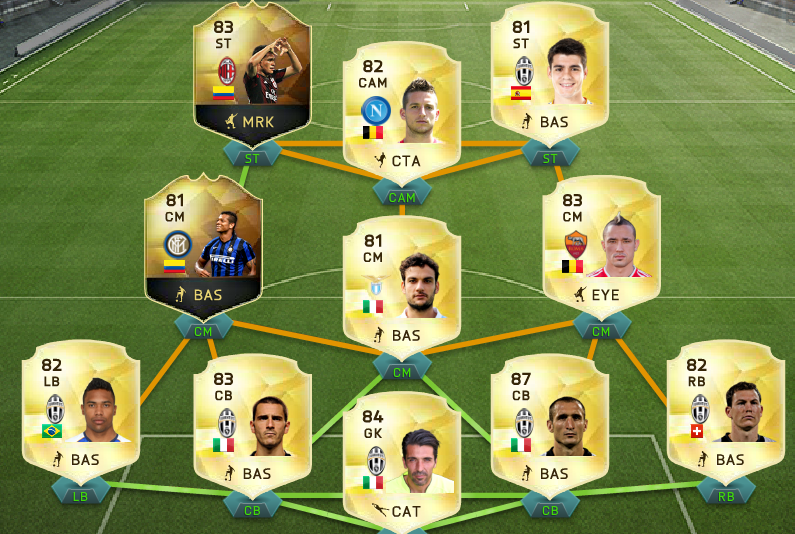 As boring and not creative as these are :P I'm just testing out leagues at this point, but they do work for me and Serie A has grown on me tremendously, the midfielders of that league work for 4-3-1-2 perfectly and are a treat to use.
I'll happily build teams for people if need be, I'd just require a budget so I can make it economically good value for you too
How 4-3-1-2 differs from 4-1-2-1-2 (2)
To sum up really quickly and easily I could just say, 4-1-2-1-2 is more possession based and 4-3-1-2 suits a more direct play. But there is more than meets the eye in their differences.
The midfield as I explain and still believe to be true is what makes 4-3-1-2 great. They're a unit and cause havoc for 90 mins, however in 4-1-2-1-2 (2) They do not work like this, the players are spaced out more and therefore are more useful in a keep ball system rather than a high pressing direct system. The CDM (who for me this year doesn't act like a CDM) pushes way to high up the pitch for my liking and I rather prefer the CCMs in 4-3-1-2.
I will soon be looking into new ways to utilize 4-3-1-2, and I am keen to experiment more throughout TOTY time.
Thanks for reading and if you have any questions feel free to reply in the thread or PM me
To anyone who tries this on your own good luck!!!